Are you aware of the dangers of sparing without the best BJJ cup?
How many times have you been hit in the testicles by some unsuspecting knee, maybe with enough force which could cause potential and permanent damage?
Nature wants to use to protect our manhood for a reason. Unfortunately, this gland is not protected by any bone or muscle, and with a direct blow, it would receive the whole force of impact and cause real damage.
Not needing a cup for jiu-jitsu is a common thing many practitioners repeat. 
Many argue Brazilian Jiu-Jitsu is a slow, methodical ground-based martial art system, and for this reason, direct blows to the groin are very rare and usually mild.
But anyone who has had any experience rolling hard in BJJ knows this simply is not true!
Let's not listen to anyone except our consciousness to protect our bodies and let's dive right in and I will help you discover the best BJJ cup according to your needs.
A quick look at the best bjj cups
How we chose
Quality. We included items produced by reputable manufacturers that adhere to good manufacturing processes.
Vetting. We take product selection seriously. We only want to recommend the highest quality products, which is why we carefully vet every potential supplier.
Price. We try to provide options for everyones budget preferences.
3 Best BJJ Cups
Here is a list of the best bjj cups on the market this year.
Best Overall
It has a 4-strap jock system and a drawstring which enables more stability during transitions. It is overall the best cup for BJJ and MMA.
Diamond MMA Athletic Cup Groin Protector is made of bulletproof military-grade spandex, and you can choose between 8 various sizes. It is lightweight and comfortable; you won't even feel it when training.
Diamond MMA cup reviews on many sites are overall positive, and many others share similar experiences as ourselves, we highly recommend the model, despite it is on the more expensive side, it's excellent.
Value for Money
It offers you to choose between eleven sizes! The level of protection is right, and it has an internal system that keeps the cup in place during submission or transition attempts.
It is also is the best cup for jiu-jitsu if you want a high-quality product at a low price. It offers two colors and two designs.
Shock Doctor's BJJ Cup is not made of bulletproof material, but this is definitively the best groin cup for BJJ competitions.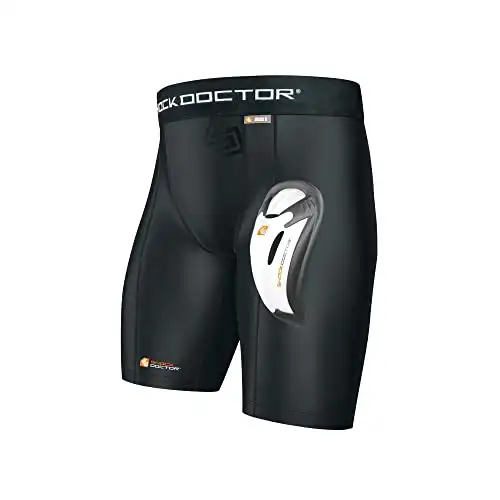 Best Looking
It is the best cup for BJJ for someone who wants a great modern design. The protection is supreme with double-layer shock absorbers, and it is reasonably priced.
The jockstrap keeps the cup in place. This is a great piece of training gear for a long training session. It is also comfortable and fits appropriately.
You should know this model doesn't offer the best protection of the lateral sides of your testicles, it is made of synthetic material, and you can choose between two sizes only. However, it is good for training.
How To Buy The Best BJJ Cup
You shouldn't purchase the first thing you see. When choosing the best athletic cup for jiu-jitsu you should focus on the parameters such as material, size, comfort and fit, price/quality ratio, and protection level.
However, the best cup for BJJ is chosen by one more important parameter, individual needs. Humans are different physically and like different styles in terms of cups.
There are two types of Jiu-Jitsu cups – jockstraps and compression shorts.
With compression shorts, a protector is put into a built-in compartment, although it's a solid product, you can't tie or untie it.
However, a jockstrap can be adjusted and jockstraps have a high potential to be the best cup for Jiu-Jitsu.
Best BJJ Cup Buying Guide – what to look for
1. Material
There are two options:
You can choose something made of military-grade spandex, polycarbonate, or Thermopolymer (a bulletproof material).
It is the best cup for BJJ if you plan to compete in MMA, you are a grappler or a submission specialist.
However, the best athletic cup for Jiu-Jitsu might be a synthetic one also, but only if you plan to compete in Brazilian Jiu-Jitsu competition and nothing else!
2. Size
A good model should offer more than two dimensions, while the best manufacturers provide 8 or more.
It won't be the best athletic cup for jiu-jitsu anymore if it stands too tight or too loose. The best cup for BJJ is the one that doesn't put your testicles under pressure.
It also shouldn't let them move too much, and the rule "more size" certainly applies here.
3. Price to Quality Ratio
The cheap protector usually doesn't solve all the problems. Spending some extra cash will surely help you get better performances.
However, you can find the best cup for BJJ at an affordable price too, if you plan to be a pro grappler only why not spend a little money.
4. Comfort, Fit, and Weight
The best cup for BJJ shouldn't move during rotations on the ground. It should remain stable and centered during sudden movements.
The best athletic cup for Jiu-Jitsu is light as a feather – you shouldn't feel it at all during the fight or training session.
5. Protection Level
Try to check whether the cup is wide enough to protect the lateral side of your testicles.
When you grapple, the opponent might accidentally press his knee sideways, and this can hurt tremendously.
6. Individual Needs For The Best Cup For Jiu-Jitsu
Are you emotionally related to the manufacturer, color, design, or something else? Which some people are and there is no shame in this.
Keep in mind these essentials and you can definitely choose whatever pleases you. It's your money, you get to choose what to buy.
Final Words
The choice of the best cup for BJJ definitively depends on your budget and the qualities you want.
Buyers with a low budget may get excellent quality, choice of sizes, excellent protection, and two colors and designs with Shock Doctor.
If you have more money and your goal is maximum protection, followed by superb comfort and fit, try Diamond MMA Athletic Cup Groin Protector out.
But those who want great design, colors, and a secondary cup for training sessions will probably need to stick to Venum Challenger.
For those who are afraid of cauliflower ear, try out one of these amazing BJJ headgear.