The best overall headgear that was tested is the Matman Ultra Soft Wrestling Ear Guards.
Always go see a medical professional if you feel there are any serious injuries.

Note
I did not start using Jiu-Jitsu headgear until last year and I don't wear it regularly. I don't mind having some cauliflower ear, but having an extensive cauliflower ear has a lot of drawbacks and I try to minimize the damage to my ears.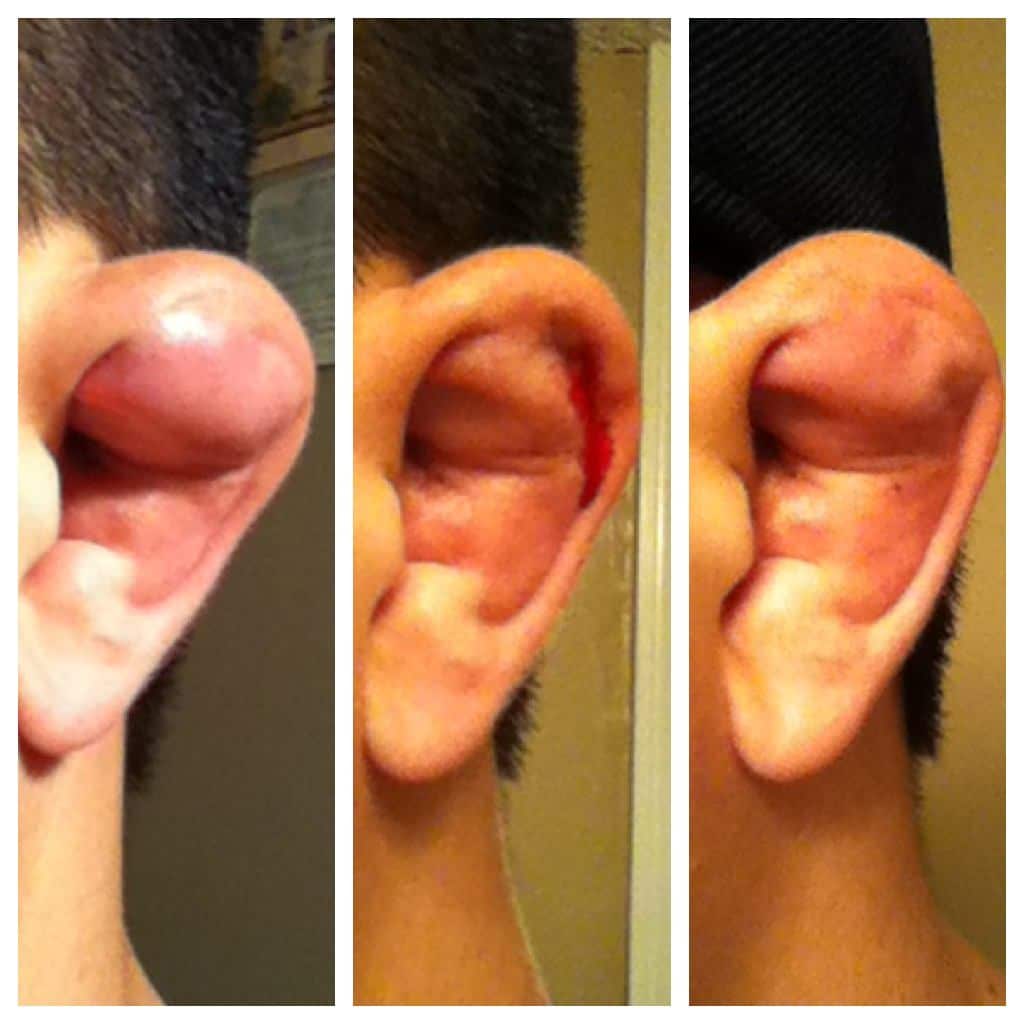 This is what cauliflower ears look like!
Sometimes, when you have a bout of cauliflower (after draining your ear), you will want to wear your BJJ headgear for 1-2 weeks. That way, It will be healed properly.
A Quick Look at the Best BJJ Headgear and Ear Guards
Recommended: (Cauliflower Ear)
What is Cauliflower Ear?
Cauliflower ear is a condition that can occur when the outer part of the ear is injured. The injury causes the cartilage in the ear to break down and bleed. Over time, the cartilage will heal but it will not look normal. The ear will be permanently misshapen and may even have a lumpy appearance. Cauliflower ear can occur in any sport where there is a lot of contact to the head, such as boxing, bjj, wrestling, and football. It can also occur in non-contact sports such as basketball, where a fall or collision can damage the ear.
How to Prevent Cauliflower Ear
Wearing headgear is the best way to prevent cauliflower ear. If you have already suffered from cauliflower ear, you can try massaging the area and using a topical steroid to reduce swelling. You can also try wearing a headband or ear wrap to apply pressure to the area and help keep the ear from filling with fluid. If your cauliflower ear is severe, you may need to have surgery to correct it.
BJJ Ear Guards
The primary goal of headgear is to safeguard the ears, not the head as the name implies. As a result, equipment is often referred to as ear guards or ear protectors. The wearer's ears are completely covered.
The majority of these ear guards have two straps that go behind the head, two that go over the front and top portion of the head, and one strap that goes under the chin. In some situations, an elastic band will be used instead of a leather or plastic chin strap.
Disadvantages of Wearing BJJ Geadgear
There are pros and cons to wearing ear guards. After reading the above, it is clear that we should all wear them. However, we do not see many people wearing them, even during training. There are several reasons for this. Some people don't like to wear ear guards because they are uncomfortable or can give the opponent a better grip on your head. They can also be inconvenient for training partners because they can cut into their body and cause them pain.
Another reason you might not want to wear protective gear during grappling competitions is that you are not allowed to wear them. Headgear, for example, is not allowed at IBJJF events because it can obstruct chokes and other techniques. That means that during the most important and intense parts of the competition, your ears are unprotected. So, many people choose to keep their ears free all the time instead of protecting them during training and then exposing them to potential damage during the competition.
Although they believe that such protection can make things worse, they also think it is important to have ear protectors in case of harder training sessions. During these times, our ears will be exposed to a lot of pressure, so it is helpful to have the ear protectors.
Why you Should Wear BJJ Headgear
Having cauliflower ears can be painful. It can also inhibit your training, as you'll have to take time off to let them heal.
Sleeping on hard pebbles in your ears is extremely uncomfortable. Sometimes having damaged ears gets so bad that it's hard to wear earbuds to listen to music and may even impact your hearing.
Ear protectors guard you from more than just cauliflower ears – it can protect you from serious injury, including concussions.
Recommended: (Best Martial Arts for Smaller Guys)
7 Best BJJ Headgears and Ear Guards
Here is my list of the top-ranked and reviewed BJJ headgear and ear guards for this year.
1. Matman Ultra Soft Wrestling Ear Guard
The Matman Wrestling Ear Guards are soft shell ear guards. It is also designed to keep you cool during training or competition. This headgear is made with a comfortable and breathable neoprene inner liner. The Matman Wrestling Headgear also has an adjustable chin strap.
It fits people aged 13 and up who weigh less than 100 pounds or have a hat size of 7 or larger. It is breathable and strong with a soft exterior and a durable hard shell insert for protection. It can stand up to the roughest of abuse on the mat. The material is also easy to hand wash and hang dry for repeated use.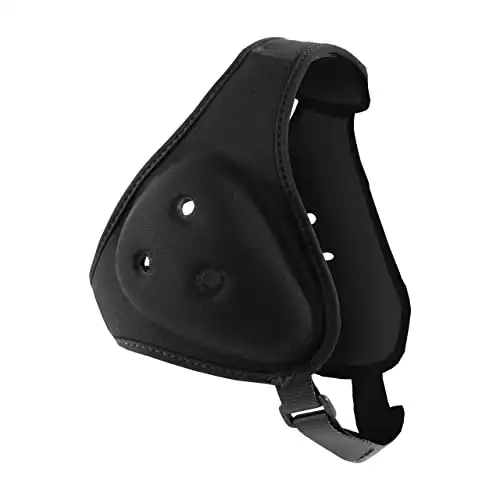 2. Cliff Keen F5 Tornado Headgear
Another Jiu-Jitsu headgear I enjoyed and recommend for top-heavy players.
Tornado Headgear by Cliff Keen is probably the best headgear for BJJ if you want a headgear to be 100% secure and stable. The straps are made in such a way that slipping is minimized.
It has a power tab on-the-fly strapping system, which means it's very easy to undo it while holding it in place always.
It is also the most breathable and less "heating". The Tornado BJJ headgear is built with a patented "Air Vent System" technology. This cup is also carved out to have a comfortable and protective feel.
Cliff Keen F5 Tornado Headgear
Pros:
Patented technology that uses air vents to help keep your head cool

Improved padding plus improved sound quality

Adjusts snuggly in seconds

Ultra-deep ear cups provide maximum comfort and protection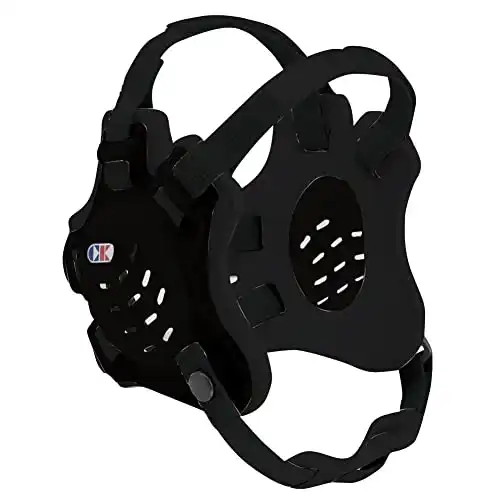 Recommended: (BJJ Gear)
3. Roar Ear Guard
The Roar Ear Guard is a quality and affordable option for those looking for ear protection while training in Jiu-Jitsu. It is made specifically for Jiu-Jitsu so keep that in mind while looking at different options.
Roar Wrestling Ear Guard
Pros:
One-Size fits all

Made of soft spandex material

Padding on chin

High-density foam

30 day, money-back guarantee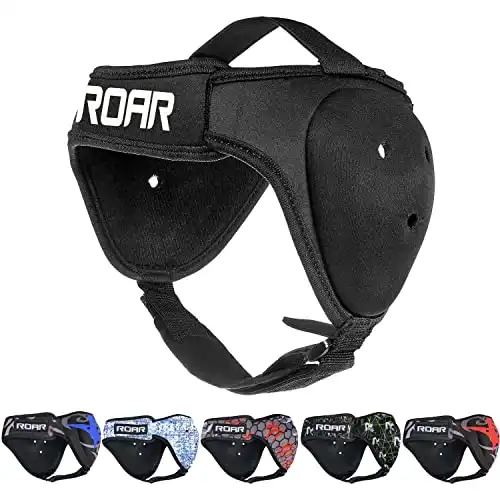 4. Geyi Wrestling Headgear
The Geyi Wrestling Headgear Features an ergonomic design. It is perfect for people who want a comfortable and secure fit with also allowing for a minimal design. It is made with a soft foam that will contour to the shape of your head for a snug fit. The ear cups are also covered with a soft and durable foam. It also has several durable digital designs that can be printed on the surface of the ear guards.
Geyi Wrestling Headgear
Pros:
One size fits all, straps are fully adjustable

Soft foam offers comfort under a durable PU finish for a long-lasting top-coat

TPU coated nylon straps allow for maximum adjustability and won't absorb sweat

Most themed design variations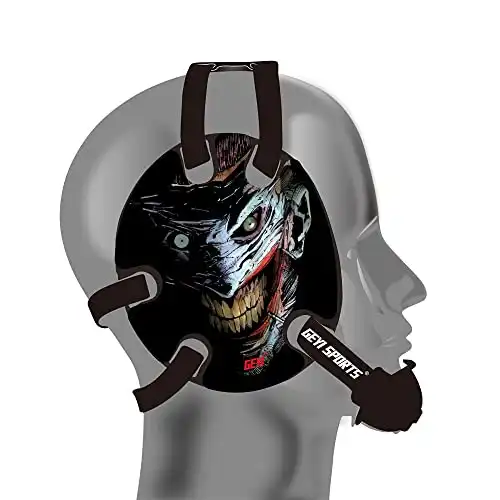 5. Adidas Response Headgear
The Adidas Response Headgear is a good-quality headgear that is made to protect your ears. It has a comfortable and adjustable design and a moisture-wicking fabric that helps keep you cool and dry. There is foam padding on the inside and outside of the ear cups.
Adidas Response Earguard
Pros:
Most bought for teens

11 colors

Low Profile And Soft Foam Cover

Adjustable Vinyl Straps

Soft Chin Pad And Soft Foam Covered Ear Cups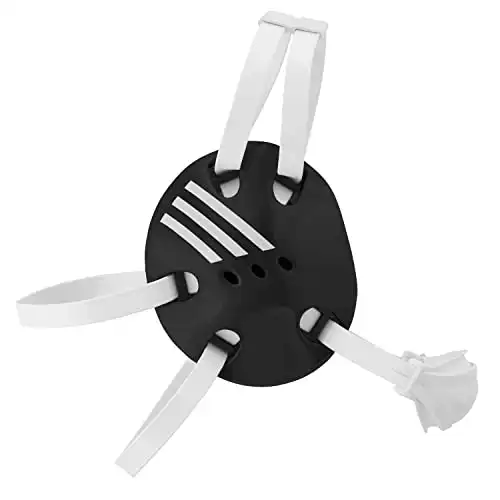 6. Victory Headgear
The Victory Headgear Ear Protector is designed to protect your ears while you are training or competing. One of the better-looking ones although it does cover more surface area of your head when compared to the minimalist designs.
This design has two sizes, one for adults and one for kids. This headgear is versatile and can be used with multiple ground fighting sports.
Note: it has been noted that it fits a size too small for some.
Victory Headgear
Pros:
Foam padding on the forehead

Clean design with positive feedback

Covers more surface area

3 points of adjustment

Versatile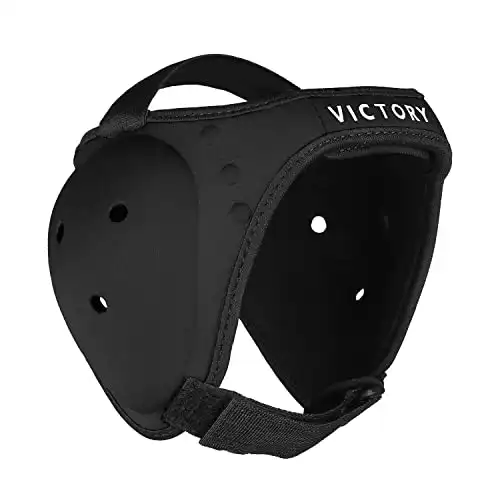 7. RDX Headgear
The RDX Headgear is a great choice for BJJ practitioners because it has the best features of other top-selling RDX ear guards.
The RDX Headgear's uniquely engineered 3-Strap design provides for a secure and comfortable fit. This headgear is also made with a high-density foam that covers the entire ear and forehead area. It has a moisture management fabric liner that helps keep you cool and dry during competition.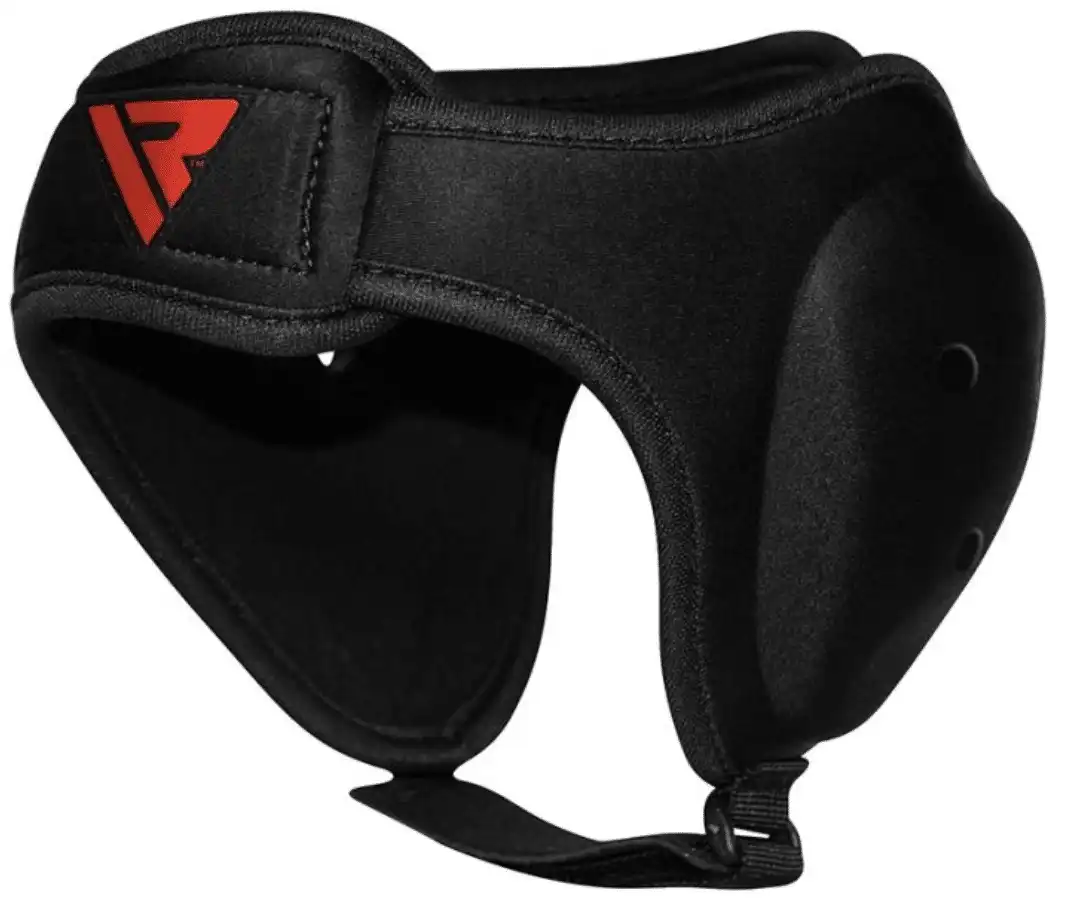 Recommended: (Best Grappling Dummies)
Buying Guide
Types of BJJ Headgear
The face mask and ear protector are the two primary types of headgear.
Faceguards
Ear guards are less expensive than gauntlets. They give the greatest degree of protection against wrestling-related ailments. They can protect your ears, nose, face, head, and chin all at the same time.
Ear Guards
Ear protectors are made up of two cups that fit over the ears. These two cups help to prevent ear injuries by keeping the ears protected. Straps pass under the chin, back of the head, and over the top of the head to keep these cups in place. They're also usually vented to allow for ventilation and so that you can hear your coach's commands.
Recommended: (Best BJJ Cup)
Features
There are a several headgear producers in the business. To avoid being influenced by extravagant marketing strategies, here are some key characteristics that must be met.
Shell Cup Materials
When looking for wrestling headgear, look under the features tab to see what kind of materials are used in the design and production of the headgear. The greatest materials are long-lasting and pleasant to wear. They give a cushioning effect by providing some level of ear protection while also ensuring breathability.
There are two distinct cup shapes. The hard shell and the softshell are the two most popular designs.
Soft Shell
In the case of light-shaped shells, however, they may be used in any style of wrestling match. They are frequently built from polymers or rubbers. Because they are so pleasant to both you and your opponent, youth wrestlers enjoy them.
Hard Shell
The majority of hard-shell cups are constructed of hard plastic. They are, however, less heavy than soft-shell versions. The user hears better thanks to them and is quite long-lasting. In addition to this, hard-shell cups may sometimes have padding on the side of the head, which makes them more pleasant to wear.
With all of these advantages of a hard shell, you may be wondering if there are any disadvantages. In fact, there are several. One of them is that it is not permitted in certain wrestling tournaments, such as the Greco-Roman wrestling event and international freestyle competitions. This is due to the fact that when struck by your opponent, it might cause damage to him or her.
Recommended: (Wrestling)
Adjustable Straps
A headgear with adjustable straps is required for obtaining a wrestling headgear that fits properly. These straps are made of a variety of materials, all of which contribute to their fitting. Because they offer greater grip than textile straps, we suggest Spandex and Neoprene. Furthermore, these two materials do not slide off when you sweat.
The number of adjustable straps on your headgear is also an important feature to look for. Many headgears have around 3-5 adjustable straps that aid in the headgear's fitting and keep it in place during use. Finally, some manufacturers include cushioned chin straps, which is a fantastic improvement.
Ventilation and Sound
Earholes not only help you hear better, but they also assist to alleviate ear discomfort. They allow airflow through and aid in the drying of sweat, which can irritate the ears.
Other Things to Consider
Many wrestling headgear manufacturers, for example, do not prioritize the appearance of this personal protective equipment. They attempt to concentrate more on the gear's quality, safety, comfort, and fitting.
Quality
Invest in high-quality headgear made of long-lasting and comfortable materials. During a fight, your headgear should be able to take a beating without breaking apart or coming off.
Price
Never compromise quality for price when selecting any PPE. Many excellent wrestling headgears don't cost nearly as much as you would think. Cheap headgear may have a few straps missing and be constructed of lower-quality materials. Headgears tend to be less expensive than $50 and, when compared to the damage and expense of treating cauliflower ear, this becomes obvious.
Fit and Adjustability
Having to change your wrestling headgear every second in a match is an inconvenient experience for both you and the crowd. To avoid this, make sure your headwear fits well. Choose the best size based on your child's age. Children under the age of 10 should use youth-size headgear.
You should also think about this if you have a lot of hair or extremely long hair.
When you walk out onto the mat, your headgear fitting will have a significant influence on your overall performance. As a result, stay away from headgears that are too loose. If the PPE is too flimsy, it might slide down off of your ears and face. The efficacy of the headgear is diminished when it is loosened PPE, making you more susceptible to cauliflower injury.
It's also a no-no to wear tight helmets. They can obstruct blood flow to that region of the head, causing unconsciousness. Tight headwear might cause ear wounds, neck and chin abrasions. The effectiveness of tighter helmets than loose helmets is reduced by about 10%.
The Research
How we do the research
We start by looking at hundreds of product reviews on major retailers, forums and product databases. Where possible, we then check with experts on what to consider when purchasing and what their top picks are. For each product, we check to see if the retailer and the manufacturer are reliable. You can see more about our process here. You can also read more about who we are on the about page.
Who this is for
Ear guards are used in a variety of sports such as wrestling, jiu-jitsu, mixed martial arts and more. They are designed to protect the wearer's ears from injury.
Key Decision-Making Factors
Durability: You want a bjj ear guard that is going to be able to withstand the rigors of training and competition. Look for one that is made from tough and durable materials.
Comfort: Comfort is important because you want to be able to wear your bjj ear guard for extended periods of time without having it become uncomfortable. Look for one that has a comfortable and adjustable fit.
Moisture Wicking: Moisture wicking is important because you want to be able to wear your bjj ear guard during training or competition without it becoming soaked with sweat. Look for a bjj ear guard that has a moisture management fabric liner.
Price: BJJ ear guards range in price from $20 to $50. Look for a bjj ear guard that is priced within your budget.
Frequently asked questions
How tight should BJJ headgear be?
When you're wearing your BJJ headgear, it should not be too tight. It should have adjustable straps that secure the back of the head, top of the head, and under the chin. Headgear that is too tight can cause more problems than it solves.
Does ice help relieve cauliflower ear?
Yes, an ice pack to the afflicted region can help with cauliflower ear. When you realize you've incurred an ear injury, this should be the first thing you try. Applying ice will prevent cauliflower ear from developing and will also aid in reduction of swelling.
Recommended: (Best Kids BJJ Gi)
Final Thoughts
Ranking the best BJJ headgear and ear guards can be a difficult task because there are so many different factors to consider. However, we hope that this article has helped you to understand some of the key features to look for and given you a few good options to choose from. Thank you for reading!
Remember — Protect Yourself Against Cauliflower Ear!
Recommended: (Best Mouthguard)