Are you looking for the best MMA gloves for heavy bag? If so, you've come to the right place. In this post, we will rank and review seven of the best MMA gloves for heavy bag on the market.
Most MMA gloves range between 12 oz – 16 oz in weight. The best MMA gloves for heavy bag tend to be the heavier and more durable ones. It really comes down to personal preference between using MMA gloves, hybrid gloves, or boxing gloves.
We'll take a look at each pair of gloves and provide rankings based on pricing, quality of material, existing reviews, brand reputation, durability, comfort, and more. So whether you're a beginner or a seasoned fighter, read on to find the perfect pair of gloves for your needs!
A quick look at the best MMA gloves for heavy bag
How we chose
Quality. We included items produced by reputable manufacturers that adhere to good manufacturing processes.
Vetting. We take product selection seriously. We only want to recommend the highest quality products, which is why we carefully vet every potential supplier.
Price. We try to provide options for everyones budget preferences.
Best MMA glove for heavy bags
Recommended Reading: BJJ Gear List
Here are my top picks for the best MMA gloves for heavy bag this year.
Best for quality
1. Hayabusa T3 LX Leather Boxing Gloves
The Hayabusa T three LX Leather Boxing Gloves are made of premium full-grain leather and offer excellent craftsmanship. These gloves provide superior comfort with their triple-density foam padding and are perfect for those who train regularly. The gloves' wide Velcro closure ensures a secure fit, while the perforations on the palms offer breathability. These are among the highest quality gloves on the market. These are also great as sparring gloves.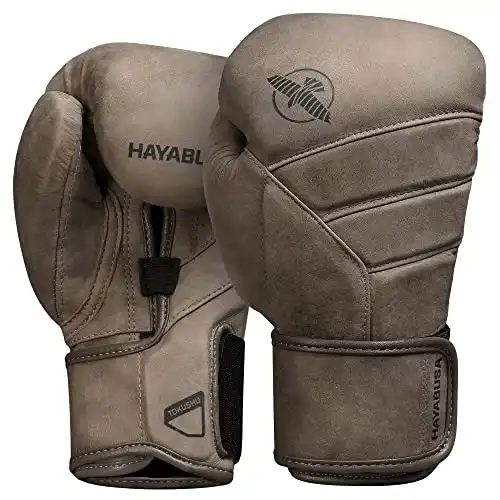 Best Budget
2. Everlast MMA Grappling Gloves
The Everlast MMA Grappling Gloves are a good choice for those who are looking for gloves that offer both value and quality. Everlast is one of the most well known boxing and mma gloves brands.
Premium synthetic leather provides long-lasting durability and functionality. Full wrist wrap strap provides superior wrist support and allows for a more customizable fit. Their new design has a refined glove shape for improved finger flexibility and hand protection. There are articulated finger ridges for ease of movement. These are used for grappling, mitt work, and bags.
Everlast Pro Style MMA Grappling Gloves
Pros:
Made from premium synthetic leather

It uses EverDri technology to keep your hands cool and dry during your training

It is backed with a four-month warranty

Great grappling gloves

Available in two different colors
Cons:
It is not the most durable pair of MMA gloves

According to some buyers, the gloves aren't pre-curved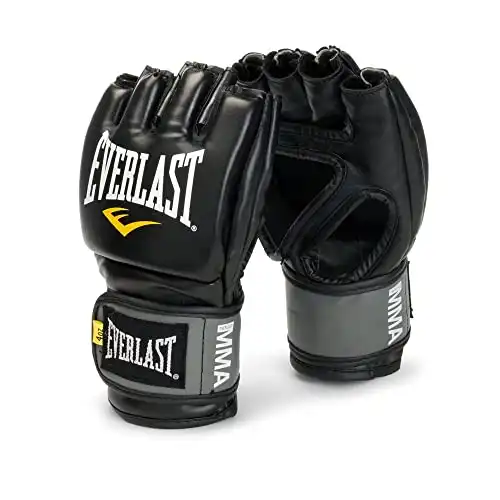 Best Value
3. Venum Challenger MMA Gloves
If you're looking for a pair of gloves that offer both quality and value, then look no further than the Venum Challenger MMA Gloves. Made of high-quality synthetic leather, these gloves are built to last and provide a comfortable fit.
The double-closure design makes it simple to get in and out of these fighting gloves, ensuring excellent comfort and support. The wide Velcro closure decreases the risk of the gloves coming undone during training. These are generally great MMA training gloves.
4. Everlast EverGel Wristwrap Heavy Bag Gloves
The Everlast EverGel Wristwrap Heavy Bag Gloves wrist wrap strap provides wrist wrap support and allows for a more customizable fit. Their EverGel technology in the palms for maximum shock absorption. They have a reinforced thumb for added protection. These are used for heavy bag workouts and mitt work. These are great MMA training gloves.
Everlast EverGel Wristwrap Heavy Bag Gloves
Pros:
EverCool and EverDri technology keeps your hands dry and gloves fresh

Made of synthetic leather

Ideal for mitt work, heavy bag workouts, and reflex bag workouts

Washable
5. Sanabul Essential Gel Punching Bag Gloves
The Sanabul Essential Hybrid MMA Gloves are part of the Essentials Striking Series which was created to provide high-quality equipment at a low price point. These gloves are made with professionals in mind.
From UFC champions like Michael Bisping to pro boxers like Mike Lee, Team Sanabul athletes demand the best. We make the same gloves for you as we make for them. Built for Hard Use: Engineered leather construction to take you through hundreds of rounds. This glove will age well and be in your gym bag for years to come.
6. Athllete Training Boxing Gloves
These Athllete boxing gloves are made of high hydrolysis resistance PU leather, which has great durability and resistance to tear, corrosion. PU leather is industry standard. The silken cotton inside protects your hands and helps to avoid friction.
Athllete Training Gloves
Pros:
Full padding on the front and back of the wrist promotes proper technique; Foam padding boxing gloves use latex and PVC foam with a shock absorber.

Thumb-Lock feature keeps thumb and fist positioned correctly to prevent injury during practice.

Velcro wrist closure; Easy to put on and take off; Secure fit and excellent wrist support

Great bag boxing gloves for both men and women, beginners to advanced boxers and comfortable to wear during training.

Ideal for sparring and bag work
7. Liberlupus Boxing Gloves
The Liberlupus Boxing Gloves have an outer shell that is made of microfibre leather. This synthetic PU leather has been proven to perform better for flexibility, surface abrasion, tear and crack resistance than real leather.
Liberlupus Training Gloves
Pros:
Durable and Tough: The highest-quality synthetic leather and sponge, with an ergonomically-improved pre-curve design, makes these gloves for long-lasting durability and toughness.

Comfortable and Breathable: You can't expect to feel cool when you're sweating and hot in the middle of a workout. You won't sweat or become overheated since there are perforations on the palms for increased breathability, allowing you to feel chilly throughout the training process.

Wrist Support: Wrist strap allows for a more customizable fit while providing solid wrist support, to protect your fist during intense training.
8. Hayabusa T3 Hybrid Glove
The Hayabusa T3 Hybrid Glove is a great hybrid glove that provides a little extra padding when looking to train with a heavy bag. These are good sparring gloves and grappling gloves too.
Hayabusa T3 7oz Training Gloves
Pros:
Protection: The Dual-X Closure provides Hand & Wrist Stabilization while the Delta EG layered, high-density padded foam absorbs impact & dissipates energy so your hand is ready to land the next strike.

What Makes it a Hybrid: It has the padding you need for heavy bag work with the flexibility of an open palm glove. This glove allows you to go from striking to grappling with ease while staying in place the whole time.

Material: Microfiber Vegan Leather provides good tear strength, crack and abrasion resistance and the high quality-lining ensure our gloves are durable and smell fresh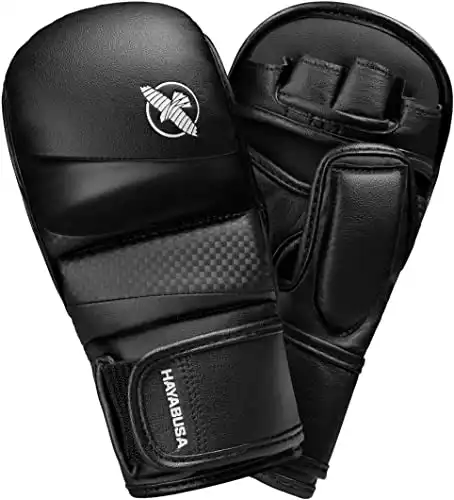 9. RDX MMA Gloves
The RXD MMA Gloves are made of Maya Hide ConvEX Skin Leather, which makes them durable and long-lasting for use in combat sports training. The DenZo-Tron grip bar in the top palm region aids in the formation of the fist and allows pupils to deliver stronger punches. These are great mma sparring gloves.
RDX Bag Gloves
Pros:
Maya hide convex skin leather

Elastic wrist wrap

Grip bar in upper palm
Recommended Reading: MMA Gear List
Frequently asked questions
Can i use MMA gloves for heavy bag?
Yes, you can use MMA gloves for heavy bag training. However, it is important to keep in mind that 12 oz gloves are recommended. Gloves that are thinner may result in more wear and tear on the body including potential injuries.
How do I clean MMA gloves?
It is best to be proactive. You can do this by wearing handwraps, washing your hands before putting on your gloves, spraying your gloves with cleaning spray after use, and hanging your gloves to dry immediately after workouts. You can also add the deodorizing powder to your gloves occasionally.
How do I pick the right MMA glove size?
Yоu'vе dесidеd on thе tуре оf MMA glоvеѕ уоu want, уоu'll need tо pick the right size. If thе glоvеѕ are tоо big, they won't fit snugly аnd саn fall off during training. This can lead to injury if you're not careful. On the other hand, if the gloves are too small, they'll be uncomfortable and restrict your movement.
To find the right size MMA gloves, measure the circumference of your hand just below your knuckles (excluding your thumb). Once you have that measurement, соnѕult thе size chart below to find the gloves that will fit you best:
MMA glove sizes
UFC official glove sizes:
Gloves SizeHand Measurement (in.)
| Gloves Size | Hand Measurement (in.) |
| --- | --- |
| Women's Strawweight | 5″ – 5.5″ |
| Women's Bantam | 5.5″ – 6″ |
| Women's XS | 6″ – 6.5″ |
| Men's XS | 6.5″ – 7.25″ |
| Men's Small | 7.25″ – 8″ |
| Men's Medium | 8″ – 8.75″ |
| Men's Large | 8.75″ – 9.25″ |
| Men's X-Large | 9.25″ – 10″ |
| Men's 2X-Large | 10″ – 10.75″ |
| Men's 3X-Large | 10.75″ – 11.5″ |
| Men's 4X-Large | Over 11.5″ |
If you're still unsure about what size MMA gloves to get, it's always best to err on the side of caution and go with a larger size. You can always stuff the gloves with hand wraps to make them fit snugger if needed.
Do you need gloves for a punching bag?
You don't necessarily need gloves to use a punching bag, but it's always best to err on the side of caution and wear some sort of protection. It's really easy to cause damage without gloves.
What kind of gloves do you use on a heavy bag?
The kind of gloves you use on a heavy bag really depends on your preference. Some people prefer to use MMA gloves, while others prefer boxing gloves.
Should I wear hand wraps under my MMA gloves?
You should wear hand wraps under your MMA gloves. This is important to protect your hands and wrists. Remember that MMA gloves are very thin and do not provide as much padding as boxing gloves do.
Types of MMA gloves
Competition Gloves: Most professional fights have the fighters wear gloves that weigh 4 ounces (110 grams).
Sparring gloves: The gloves have padding to protect your knuckles. The weight of the padding is usually 7 ounces. This means that the weight of the padding inside the gloves is 7 ounces, not the overall weight of the gloves.
Grappling gloves: Otherwise known as hybrid or training gloves, these are used mainly for clinch work/grappling. This type of glove has less padding than sparring or competition gloves. In addition, each finger can be moved independently, allowing for more gripping ability.
How should MMA gloves fit?
Your MMA gloves should fit snugly on your hand. They shouldn't be so tight that they restrict blood flow, but they also shouldn't be too loose so that they fall off during the fight.
What's the difference between MMA gloves and Muay Thai gloves?
MMA gloves typically have less padding than Muay Thai gloves. They also have fingers, which allows you to still grip your opponent. Muay Thai gloves, on the other hand, have more padding and no fingers.
The final word
In conclusion, the best MMA gloves for heavy bag depends on your budget, style preference, specific goals, and more.
We hope you enjoyed this post. If you have any questions, feel free to leave a comment below and we'll get back to you as soon as possible.