Having the right pair of gloves will play a very important role in your performance as an MMA athlete. As a fighter, it is crucial for you to have many pairs of MMA gloves. If possible, match your gloves to your training needs or activities.
Gloves are a crucial piece of protection that you should wear during your MMA training. A lot of people think that MMA gloves are made to protect your opponent/partner the same way a pair of boxing gloves do.
These days, there are lots of MMA gloves where you can choose from. However, remember that the best MMA gloves are the ones that offer wrist, hand, and finger protection while keeping your fingers and hand movable and unrestricted for an extension.
Further, top gloves should be durable and comfortable to prevent any injury during your MMA training.
A quick look at the best MMA gloves
How we chose
Quality. We included items produced by reputable manufacturers that adhere to good manufacturing processes.
Vetting. We take product selection seriously. We only want to recommend the highest quality products, which is why we carefully vet every potential supplier.
Price. We try to provide options for everyones budget preferences.
7 Best MMA Gloves
Here is my list of the best MMA gloves from this year.
Best Overall
1. RDX MMA Gloves Cowhide Leather for Grappling Martial Art
This pair of gloves from RDX is suitable for MMA practitioners looking for high-grade leather sparring gloves that they can also use for grappling. 
The RDX MMA gloves are made of various kinds of materials, in fact, this one reason why we considered it as the best overall. Its primary shell is made using pure and genuine cowhide leather essentially for durability purposes. Further, this material has great flexibility so that you will be able to move your fingers with ease.
For enhanced quality, these 100 percent authentic MMA gloves are strengthened with secure stitching. 
Available in different sizes, (extra-large, large, medium, and small) these MMA gloves are tailored to be put with ease owing to the Quick-EZ Velcro closing system and considerately sized fingers. 
It also has a Nabla-palm construction for maximum grappling that has special punctures on the inside fingers. Additionally, it comes with thumb stealth that will help in enhancing sweat management.
RDX MMA Gloves
It is made of 100 percent authentic cowhide leather. Available in different sizes. Made of various kinds of materials. They come with reinforced seams for improved durability. The gloves' perforated fingers and mesh palms will keep you dry.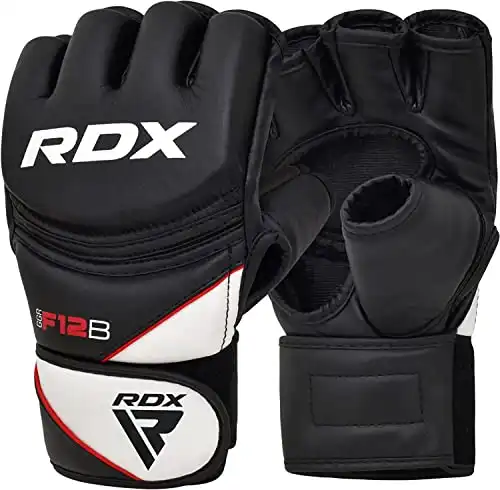 Runner-Up
2. Venum Undisputed 2.0 MMA Gloves
Next to RDX MMA Gloves is the Venum Undisputed 2.0 MMA gloves. Though it is not considered the top product this pair of gloves is still a great investment. 
From the premium quality Nappa leather material to high-density stitching, the Venum Undisputed 2.0 radiate quality. 
Nappa leather is actually a kind of full-grain leather typically obtained from lambs and calves by tanning. The leather is extremely breathable and very soft to touch. However, it is difficult to spoil, super tough, and durable.
Aside from the top-end materials, another good thing about the Venum Undisputed 2.0 gloves is that they've been handmade in Thailand. 
Moreover, the foam layers of these gloves will create natural curves in your hands for good ergonomics as well as immediate comfort. The thumb openings and fingers have been smoothened and reinforced as well to prevent hurting your skin and for durability.
Since they are made of leather, you are certain that these gloves will last longer. 
In addition to that, the support of the wrist runs high and it is secure using an extended Velcro warp system to aid with hand pre-positing and to cap the deal.
Venum Undisputed 2.0 MMA Gloves
Pros:
made from top-end materials

Comfortable, soft, and durable

They come with reinforced thumb openings and fingers

Handmade in Thailand
Cons:
It is a little expensive, but considering the features, it is still a great investment

When the inside padding went bad your knuckles and hands will not be fully protected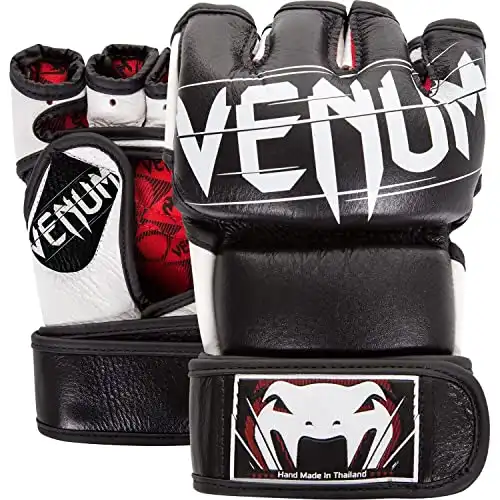 Budget Pick
3. Sanabul Essential MMA Hybrid Sparring Gloves
Sanabul is one of the most renowned manufacturers of MMA equipment today. Though they are the most affordable gloves in this list, they do not look like they are withheld in quality.
The Sanabul Essential MMA Hybrid Gloves are ideal for athletes who need professional equipment that they can use day-out and day-in at the gym.
This pair of MMA sparring gloves are fitted in order to protect your hands when striking.
What's more, during grappling these gloves will offer you modest handiness. One of the best things about this product is that it will not slow down your performance.
And since Sanabul wants their products to be a staple of one's gym bag, it ensures that these gloves will last long.
In fact, the gloves have performance engineered leather built. Meaning to say, they are made of durable materials that are easy to maintain and clean. 
Further, the advanced hook and loop closure system makes the gloves an addition to your hands. 
Keep in mind that these gloves are made for MMA sparring training only. Thus, make sure not to use them for punching bags. Because if you do, your hands will be injured or the webbing on your fingers will be irritated.
Sanabul Essential 7 oz MMA Hybrid Sparring Gloves
Pros:
has a considerable amount of padding.

Ideal for beginners

Cost-effective

Made of durable materials
Cons:
It can't be used on punching bags

The stitching looks less effective in a number of places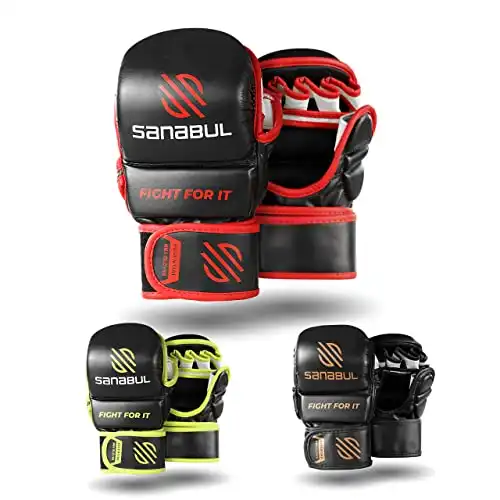 4. Hayabusa T3 MMA Gloves
The Hayabusa T3 is one of the best MMA gloves for competition, though you can also use them for speed development and light sparring.
These gloves are made of genuine leather. Actually, Hayabusa claims that their shells have been assessed for strength and to withstand abrasion, tears, and cracks.
Another interesting thing about this product is that it comes pre-curved, it is a type of design that allows you to maintain strong fists and clench easily without shattering easily. 
Further, the gloves gave excellent hand and wrist stabilization and support. Considering the insignificant padding provided in these MMA gloves hand and wrist stabilization and support are must-have aspects.
These gloves, on the other hand, are tailored with two technologies: multiple directional Dual-X closure system and Fusion splinting technology.
The first technology is a closure system that guarantees excellent ergonomic firmness around your wrist while the latter offers stable and optimal wrist and hand alignment.
Hayabusa T3 MMA Gloves
Pros:
Durable construction

Excellent hand and wrist stabilization and support

It sports a pre-curved shell design that helps in minimizing wrist fatigue

Available in a wide variety of colors
Cons:
These gloves may take some time to break-in

The provided padding is minimal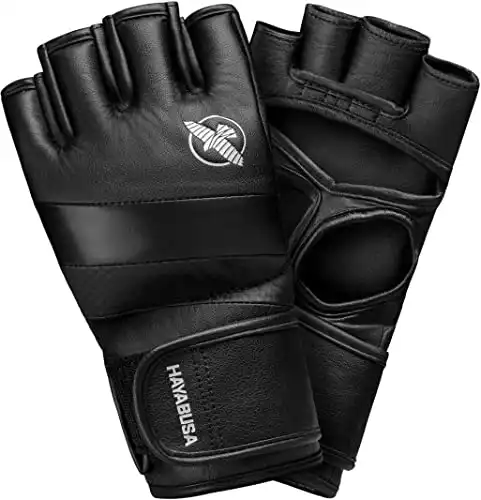 5. Everlast Pro Style MMA Grappling Gloves
These MMA gloves from Everlast provide premium synthetic leather together with great glove construction that offers functionality and long-lasting toughness.
One of the best parts about these gloves is that they use EverDri Technology. This technology will keep the gloves dry and cool even after long training sessions. 
On the other hand, the Everlast Pro Style MMA Gloves are great for grappling gloves. But they do not offer the best support for your palms. 
Nevertheless, these gloves come with a full wrist wrap that will offer superior support for your wrist. It also allows for more customizable fits. 
When it comes to warranty, Everlast warrants its items to be free from damages in workmanship and materials for a period of four months from the date of acquisition, provided they haven't been subjected to noticeable neglect, misuse, or abuse.
The sole liability of Everlast, however, is limited to replacing or repairing items that are returned within this four-month period, unless certain product literature determines otherwise.
Everlast Pro Style MMA Grappling Gloves
Pros:
Made from premium synthetic leather

It uses EverDri technology to keep your hands cool and dry during your training

It is backed with a four-month warranty

Great grappling gloves

Available in two different colors
Cons:
It is not the most durable pair of MMA gloves

According to some buyers, the gloves aren't pre-curved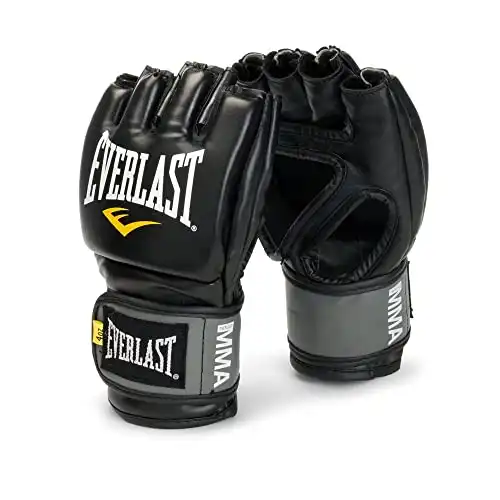 6. Combat Sports Max Strike MMA Training Gloves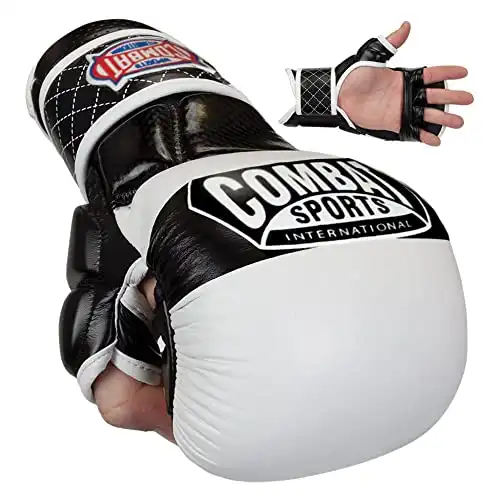 7. Liberlupus MMA Gloves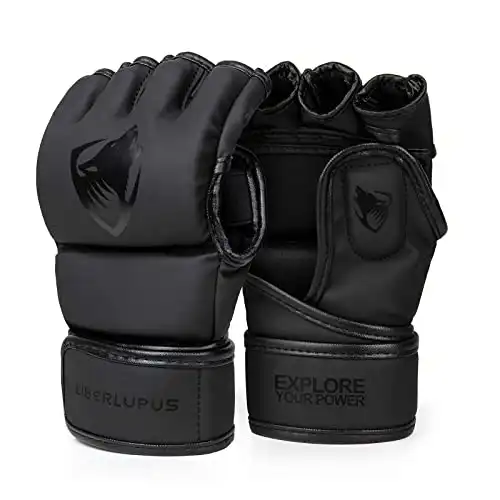 Frequently asked questions
How much do MMA gloves weigh?
In professional fights, the fighters often wear gloves that are 4 ounces (110 g) in weight. For amateurs, the gloves are sometimes heavier at 6 ounces (170 g). The UFC allows gloves between 4-6 ounces, depending on their size.
Types of MMA gloves
Competition Gloves: Most professional fights have the fighters wear gloves that weigh 4 ounces (110 grams).
Sparring gloves: The gloves have padding to protect your knuckles. The weight of the padding is usually 7 ounces. This means that the weight of the padding inside the gloves is 7 ounces, not the overall weight of the gloves.
Grappling gloves: Otherwise known as hybrid or training gloves, these are used mainly for clinch work/grappling. This type of glove has less padding than sparring or competition gloves. In addition, each finger can be moved independently, allowing for more gripping ability.
How should MMA gloves fit?
Your MMA gloves should fit snugly on your hand. They shouldn't be so tight that they restrict blood flow, but they also shouldn't be too loose so that they fall off during the fight.
How do I clean MMA gloves?
It is best to be proactive. You can do this by wearing handwraps, washing your hands before putting on your gloves, spraying your gloves with cleaning spray after use, and hanging your gloves to dry immediately after workouts. You can also add the deodorizing powder to your gloves occasionally.
Can I use sparring gloves in a MMA match?
No, competition gloves are what MMA fighters wear in competitions. These gloves have less padding so that it is easier to grapple with someone.
Should I wear hand wraps under my MMA gloves?
You should wear hand wraps under your MMA gloves. This is important to protect your hands and wrists. Remember that MMA gloves are very thin and do not provide as much padding as boxing gloves do.
MMA glove sizes
UFC official glove sizes:
Gloves SizeHand Measurement (in.)
| Gloves Size | Hand Measurement (in.) |
| --- | --- |
| Women's Strawweight | 5″ – 5.5″ |
| Women's Bantam | 5.5″ – 6″ |
| Women's XS | 6″ – 6.5″ |
| Men's XS | 6.5″ – 7.25″ |
| Men's Small | 7.25″ – 8″ |
| Men's Medium | 8″ – 8.75″ |
| Men's Large | 8.75″ – 9.25″ |
| Men's X-Large | 9.25″ – 10″ |
| Men's 2X-Large | 10″ – 10.75″ |
| Men's 3X-Large | 10.75″ – 11.5″ |
| Men's 4X-Large | Over 11.5″ |
The final word
There are lots of reasons why you should invest in MMA gloves. For instance, having a decent pair of MMA gloves will open up your training exponentially. What's more, your palms, wrist, fingers, and knuckles will be protected (in addition to your opponent's teeth, lol.)
Aforementioned, there are lots of options to choose from, so when in doubt, opt for RDX MMA Gloves Cowhide Leather for Grappling Martial Art.
They are made of 100% authentic cowhide leather and come with reinforced seams for improved durability. The perforated fingers and mesh palms of these gloves will keep you dry as well.