If you train in any kind of MMA, one of the most crucial pieces of protective equipment you will need is a mouthguard. Without the proper fitting Mouthguard, things such as jaw injuries, missing teeth, and even head trauma can happen (use a high-quality headgear for extra safety.)
And mouthguards are exactly what they say on the tin, guarding our teeth and mouths against intentional and accidental trikes to the face. Even if you are partaking in just a light sparring session, it is always a good idea to play it safe.
It is surprisingly easy to lose or chip a tooth and even frustratingly harder to get it fixed. All it takes is for a single well-placed strike to a loose jaw and it is a trip to the dentist for you. So, if you are looking for a mouthguard, but cannot afford the custom-fitted guard from your dentist, then I have the solution just for you.
A quick look at the best mouth guards
Best Mouthguard For MMA
Here are my top picks for the best mouth guards for this year.
Best Overall
1. Impact Custom Professional MMA Mouthguard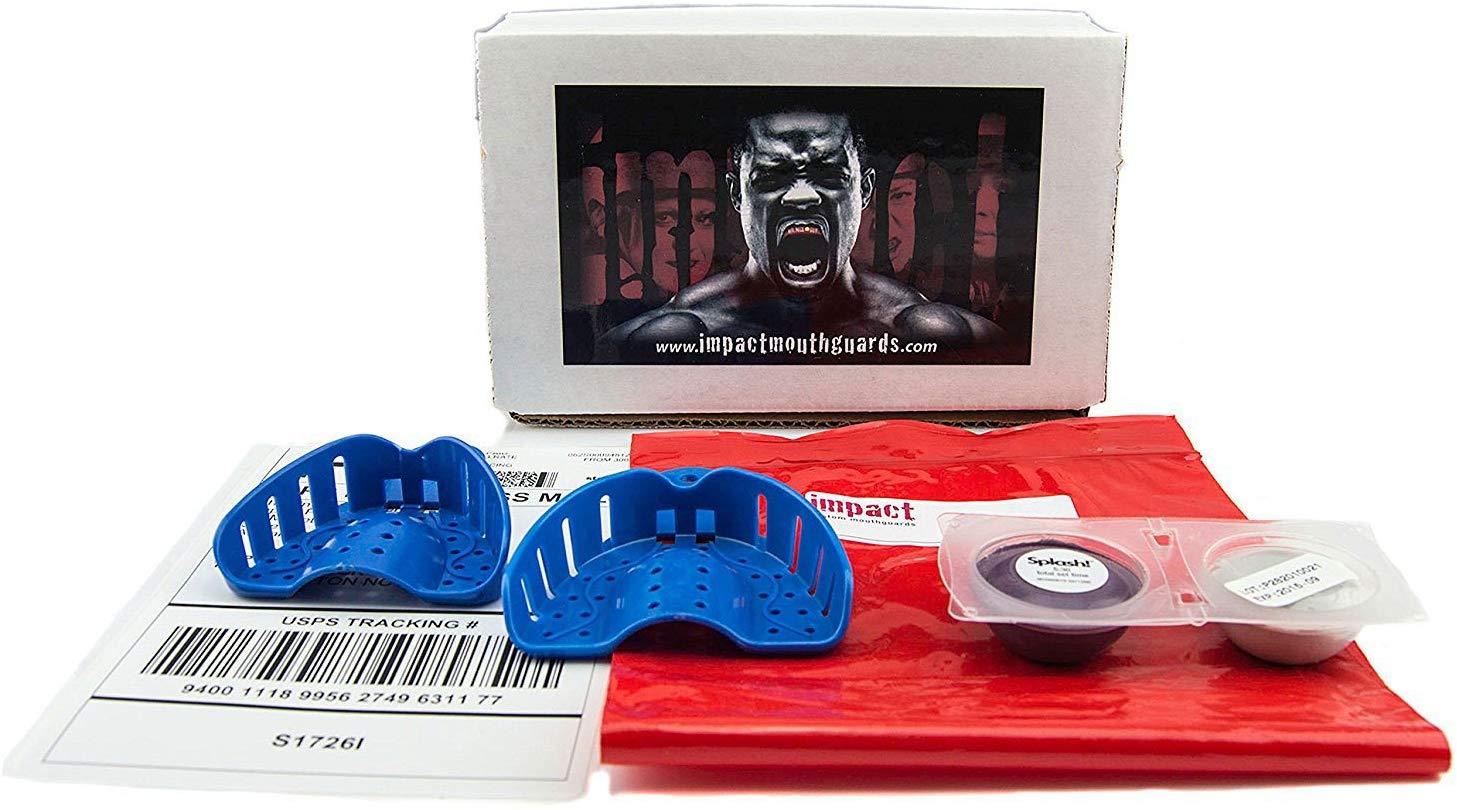 Impact Custom Mouthguards has been a major player in the MMA game for several years now and their custom Mouthguards are known to be one of the very best mouthguards out there.
As a matter of fact, this mouthguard boasts a 4.6-star rating on Amazon alone. The plastic in this Professional MMA Mouthguard is guaranteed BPA-free and comes with a range of thickness from 5–7 mm depending on your needs.
Although you might think that this mouthguard is thick, the fit is extremely tight, preventing any breathing difficulties related to the boil and bite kind of Mouthguards.
Since it is a custom mouthguard, once you order the kit, Impact will send you what you will need in order to make a mold of your teeth.Then you will send the mold back on their own expense and will send you your custom made mouthguard, all at a price tag that is much lower than having a trip to the dentist.
PROS
Kit includes 3 size trays so you are sure to have the best fit for you
Features 6 – 7 mm thickness for optimal protection with a minimalist feel
Best overall mouthguard for professionals and serious competitors
Speaking and breathing is super easy
Extremely durable
CONS
Taking the mold is awkward and tricky
Takes longer to get the product
Higher price
Impact Pro Mouthguard
Impact pro is a custom mouthguard. This comes with a kit to take an exact mold of your teeth.
Runner-Up
2. Venum Challenger Mouthguard
With a 4.2-star rating on Amazon, the popular Venum brand with its "Challenger" is Amazon's Choice for "MMA Mouthguard". And if you are not familiar with Venum, then you probably have not grappled long enough. Venum has been producing reliable sports equipment that is specifically designed for MMA and BJJ, so it guarantees that the Challenger is going to be specifically tailored to your needs. 
This Mouthguard is outfitted with a high-density rubber frame which guarantees excellent protection in addition to its superior shock management. Not only that, but this mouthguard also features a gel frame that allows you to stay comfortable throughout your training or fight and can even be customized as per your specific needs.
Also, the design of this mouthguard also allows you to breathe properly as you fight with its exclusive breathing channel. To top it off, the product comes with its own protective casing, you can rest assured that you can easily prevent any problems regarding poor hygiene. Plus, it is super easy to wash off. 
PROS
Boil and bite
Nexfit Gel Frame
High-density rubber frame
Breathing channel at the center
Includes carry storage case
CONS
Rubber tends to be stiff
Can make speech difficult
Might not fit adults or those with wide jaws
Venum Challenger Mouthguard
The Venum Challenger Mouthguard is a great product. This is made of rubber on the outside and a gel on the inside.
Budget Pick
3. NXT NXTRND Rush Mouthguard
For a reliable mouthguard (mouthguards, in this case) that does not cost a fortune, try the Rush from NXT NXTRND. From division 1 players to the championship fighters, this mouthguard is specially designed for every professional.
Featuring a dual-density frame with high impact outer shell, the protection the Rush mouthguard offer goes well above the industry standards, protecting your jaw, teeth, and lips. After you mold the mouthpieces, its whole shock-resistant body should be able to snap into place on your gums and teeth. And this snug fit ensures an unpaired comfort while the total ease of speech.
NXT NXTRND also understands that oxygen is essential to high performance, so this Mouthguard features an undercarriages channel system, boasting maximum airflow and helps in breathing. It comes with a minimalistic protective case for both mouthguards. You will also like that the manufacturer offers an unlimited defective warranty that covers both mouthguards and the protective case.
PROS
Superior airflow and helps in breathing
Ensures a snug fit comfort that allows speech
Dual-density frames with high impact outer shell for better mouth protection
Unlimited defective warranty
Available in vibrant colors
CONS
Melts in hot water
Too small
4. Redline Sportswear Custom Mouthguard
Redline Sportswear offers a Mouthguard with a one-size-fits-all design making it convenient but also a concern for other people with a uniquely larger or smaller mouth.
However, its easy to use boil and bite design helps create the custom mouthguard for ultimate comfort and enough protection for your mouth. This mouthguard features a dual-layer, gel liner, providing the right protection for all MMA fighters.
And since your health also matters a lot, you will be glad to know that it is also made of 100 percent FDA approved materials. The mouthguard does not contain any traces of BPA, PVC, or latex materials.
The mouthguard is available in several stylish color combinations and also comes with its own protective carrying case. You will also find a Carabineer with the carrying case so you can conveniently clip the mouthguard case to your gym bag or hanging in your locker.
PROS
Dual-layer technology to help absorb blows
Several color combinations
One-size-fits-all design
FDA-approved materials
Free carrying case with carabineer
CONS
Can be difficult to get used to at first use
5. Shock Doctor Double Braces Mouthguard
Shock Doctor is a reputable brand that has been producing some of the best custom mouthguards for MMA for years now. And this mouthguard features a gel fit liner which is super easy to fit, forming to your teeth and gums for superior protection. 
Called the Double Braces Mouthguard, this one is specifically developed for use with orthodontics and ergonomically designed to sit atop of your brackets and keeping your lower and upper teeth protected. Not only that, but this Mouthguard is also outfitted with a durable and heavy-duty exoskeleton shock frame, offering you super protection and shock absorption against the hardest impacts. 
In terms of fitting, the mouthguard features an Instant Fit, Pop In and Play design, meaning that you can just wear it directly out of the packaging without any molding requires. It easily adapts to changes in your teeth position as your braces adjust. 
Highly durable and built to last for years, this Mouthguard is constructed from high-quality medical-grade silicone that is comfortable and protective without rough edges or materials that can cause irritation such as phthalate, BPA or latex. 
PROS
Specifically designed for those with orthodontics
Outfitted with heavy-duty exoskeleton shock frame
Instant fit design
Made of medical-grade silicone
Contains no latex, phthalate or BPA
CONS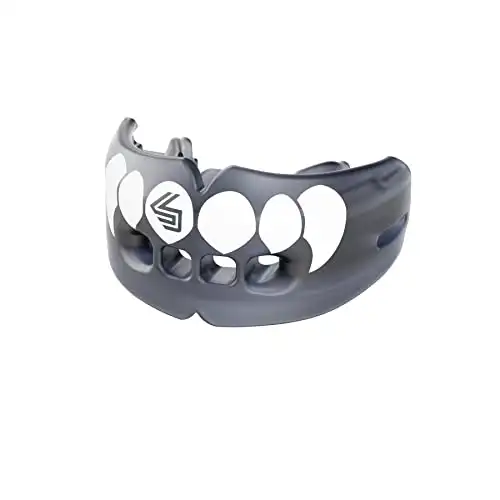 Final Words
It is a reliable piece of safety equipment that helps protect your pearly whites while enjoying a fight and preventing a trip to the dentist's office. 
I highly recommend you to try the Impact Custom Professional Mouthguard. And although it has the highest price on the above list, Impact's promise of reliability, superior protection and the best custom fit like no other is worth the wait and every penny spent.
However, if you are on a tight budget, then I highly recommend the Challenger from Venum which is just 1/6 of Impact's price tag.
Also made from a reputable brand name, this mouthguard is specially designed for MMA sports, providing superior protection and shock management as well as the utmost comfort and speech while wearing.
Hopefully, I was able to help you find the best mouthguard for MMA. Please don't forget to share this with your friends and MMA buddies!