Most of the BJJ athletes look for premium quality BJJ-gis at an affordable price range. You'll notice that majority of sellers who offer high-quality Gis will demand very high prices for those uniforms. Others offer affordable Gis but their quality is not quite satisfactory or long-lasting.
FUJI offers a rare combination of quality and affordability. And for this reason, most of the BJJ practitioners look towards FUJI for most of their BJJ-Gi needs.
In this Fuji Suparaito review, I will get you through some of those exclusive features that set Suparaito apart from its competitors in the Gi market.
How we chose
Quality. We included items produced by reputable manufacturers that adhere to good manufacturing processes.
Vetting. We take product selection seriously. We only want to recommend the highest quality products, which is why we carefully vet every potential supplier.
Price. We try to provide options for everyones budget preferences.
Fuji Suparaito BJJ GI
Pros:
Pearl Weave

Lightweight

Stiff Rubber

Triple reinforced pants with Bungee Cord

Traditional - White, Blue, and Black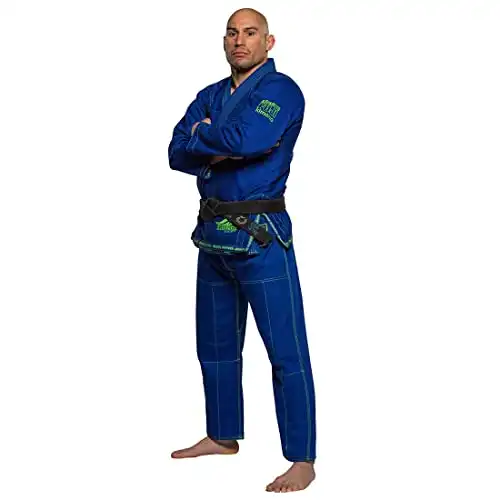 Fuji Suparaito BJJ Gi Specifications
What We Liked The Most
1. Material
Jacket
Made with 350 GSM cotton fabric, the jacket is very soft to the touch. Living to its name- 'Suparaito' that translates as "Super Light " in Japanese, is ultra-light wear. It offers extraordinary comfort even during the extra-long drill sessions and competitions.
The jacket has very high breathability. It, therefore, does not let the sweat accumulate and cause discomfort during hot and humid weather conditions.  
Trouser
Ripstop and cotton, the mix of the two top materials are what makes Suparaito rugged and long-lasting trousers. The trousers are further strengthened through triple-reinforced stitching.
Moreover, the extra reinforcement in the knee pads imparts extra ruggedness to the most fragile part of the trousers.
Apart from the durability and comfort BJJ pants need to stay secured in place during rough training sessions. The bungee cord drawstrings provided with the pants offer excellent snug around the waist.
Besides, the four-belt loops give further security to the pants in the most difficult playing situations.
2. Design
FUJI gis mostly has simple and aesthetic designs. FUJI Suparaito BJJ Gi follows the league. It offers a clean design with a simple embroidery displaying, 'FUJI Suparaito Kimono' on the upper part of the left sleeves and the back of the jacket.
The Suparaito logo is also printed on the lower left part of the jacket.
The brand letterings with the name 'Suparaito' run through the bottom edge of the jacket in English and Japanese characters.
Collar covering is made with ripstop cotton. The lapel is pretty thick and strong. The edges are strengthened and secured through reinforcement with tape and ripstop.
Overall, the Gi gives a very simple and cool appearance to the viewer and a highly comfortable experience to the wearer.
3. Colors
White, blue, and black are the three traditional colors of BJJ-gis. Fuji offers all three colors in its Suparaito brand. White and Black are for athletes who prefer a more traditional appearance.
For those who love to wear an unconventional outfit, blue adds to their attraction with its exclusive neon stitching.
What We Didn't Like
As is evident from the above features, Suparaito has all elements of a high-quality gi to make it a preferred choice of many BJJ athletes. Having said that, it also has a few minor downsides, as well.
One of the drawbacks is slight shrinkage after many washes which is pretty common with cotton uniforms. The shrinkage, however, is not very significant and does not much affect the overall fitting of the Gi.
The other drawback is related to the trousers which show some signs of fraying around the stitching inseams' after multiple washes.
The last one is related to the elasticity of the cotton fabric which makes it hard to grab onto. It may be difficult for your trainer to practice some of the BJJ techniques with this Gi.
Pros
Ultra-light and highly comfortable
Very convenient to move in
High breathability
High-quality cotton fabric
Ripstop collars for added strength
Triple reinforced stitching for high durability
Secured through bungee cord drawstrings and belt loops
Simple and cool design
Cons
Gi Shrinkage after many washes
Low elasticity making it difficult to grab
Fraying of pants' seams after multiple washing cycles
A shade pricey considering the lightweight of the Gi
About FUJI Brand
FUJI was established by Frank Hatashita in 1969. Hatashita was a former Judo practitioner. He held the esteem position of Vice-President of the International Judo Federation (IJF) and also President of Pan American Judo Federation.
Hatashita also served IJF as a referee in many international tournaments. He was one of those individuals who had put sincere efforts towards successfully getting Judo into the Olympics.
At FUJI, they continuously work towards designing high-quality Gis at a low cost. FUJI is led by two passionate individuals Lia Hatashita and Jimmy Pedro. Jimmy is 2 times Olympic Gold medalist in his 4 appearances.
He is also the proud winner of the World Judo Champion. He has successfully coached the US Judo team including Kayla Harrison, who is a two-time Olympic Gold medalist.
With so much involvement in the game, they know the ins and outs of the game and perfectly understand the requirements of the athletes.
Apart from BJJ Gis, they are also into making high-quality gears for Judo, MMA, and Karate practitioners. They also sell BJJ mats; bags, backpacks, and so on.
All the products offered by FUJI are known for their high quality and affordable price range. FUJI Suparaito is no exception. It is one of the most comfortable Gi. The lightweight and stylish Gi offers many unique features.
Fuji Suparaito BJJ GI
Pros:
Pearl Weave

Lightweight

Stiff Rubber

Triple reinforced pants with Bungee Cord

Traditional - White, Blue, and Black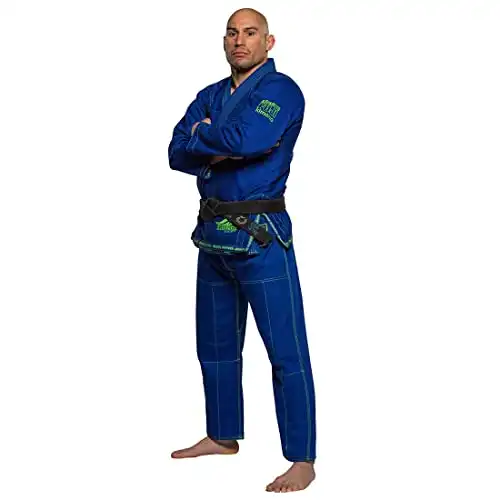 Final Words
The Suparaito stands perfectly to its name. It is ultra-lightweight and gives you highly comfortable wearing even in the toughest drills or competitions. Ideal for hot and humid conditions, the Suparaito high breathability will protect you from the menace of heavy sweating.
The Gi fitting offers you quick and free movement and allows you to pass guards at superfast speeds. Though you may observe some fraying of inseams in stitching yet the Gi otherwise is rugged and highly durable.
With its simple design, it offers a decent and professional look to the practitioner while giving a cool and clean impression to the viewer. The Gi may seem slightly pricey at such a lightweight.
However, the lightweight of the Suparaito only adds to the quality and comfort of the Gi without compromising with the strength and durability of the Gi in any way.
Overall, FUJI Suparaito offers a wonderful BJJ-Gi at a reasonable price range.