Among the many frequently asked questions we receive, how to pick the right gi size is probably the most common.
The best way to find your BJJ Gi size is to use a jiu-jitsu gi size chart. We've compiled a list of the 19 best jiu-jitsu gi size charts from some of the top jiu-jitsu gi brands.
Although a Gi size chart contains all the needed measurements people are looking for, various sizes such as one's weight and height have to be considered and can become a little confusing when trying to find the perfect size.
Sizing Guide
BJJ Gi's vs Judo Gi's
The judo gi is looser fitting, with larger sleeves. The best BJJ gis are more fitted and have a rigid collar and shorter sleeves. This is due to the fact that they are intended for various purposes: the judo gi is loose so that you can move freely, while the BJJ gi is tighter to provide more protection.
How Do I Measure Myself?
In order to calculate the size of your BJJ gi, you'll need two measurements: your wingspan and outseam.
To calculate your wingspan, start at the back of your neck and measure to the center of your wrist. Then double this figure. Make sure to take the measurement when your arms are hanging by your sides and not stretched out.
Measure from your natural waist to the ankle for the length of your pants. To figure out which size gi you need, measure the gi sleeve and outseam.
There are several distinct types of gis on the market, so it might be difficult to pick the best one for you. Consider what matters most to you while selecting a gi. Is weight really important, or do you want your pants to have plenty of room?
What if I'm in Between Sizes?
If you look at the size chart, you may see that you fall between two sizes. If this is the case, there are a few alternatives to consider. You might be able to use your height (A4 if you fulfill the height requirement, A3 if you exceed the weight limit), or vice versa.
If you prefer a tighter fit or are shorter and don't want the gi to be too big, you can go down a size. You may shrink the gi by washing it hot and drying it. Gis are generally preshrunk, but they occasionally shrink as a result of being washed and dried at high temperatures.
How to Read a Gi Size Chart
A Gi size chart is not difficult to read. The most important measurements are listed on the left vertical column, while the corresponding size is written on the top horizontal row.
To find your correct size, you will need to measure your height and weight. Once you have these numbers, locate them on the chart and find the matching size.
Brazilian jiu-jitsu GIs come in a variety of sizes for both men and women. The most common sizes are A0-A5 for men, and 0-5 for women. However, there are some jiu-jitsu specific brands that make GIs in larger sizes like A6 and A7. The chart below shows the general sizing guidelines for jiu-jitsu GIs.
Recommended Reading: (BJJ Gear List)
Typical Men's Gi Size Chart
| Size | Height | Weight |
| --- | --- | --- |
| A0 | 5ft 4" – 5ft 7" | 60 – 65kg |
| A1 | 5ft 7" – 5ft 9" | 65 – 72kg |
| A1L | 5ft 11" – 6ft | 65 – 72kg |
| A2 | 5ft 8" – 6ft | 72 – 82kg |
| A2L | 5ft 11" – 6ft 2" | 72 – 82kg |
| A3 | 6ft 1" – 6ft 3″ | 82 – 95kg |
| A3L | 6ft 3" – 6ft 4" | 82 – 95kg |
| A4 | 6ft 1" – 6ft 4" | 95 – 120kg |
Typical Women's Gi Size Chart
| | | |
| --- | --- | --- |
| F1 | 4ft 9" – 5ft | 39kg and 45kg |
| F2 | 5ft – 5ft 4" | 45kg and 55kg |
| F3 | 5ft 3" – 5ft 6" | 52kg and 65kg |
| F4 | 5ft 6" – 5ft 8" | 64kg and 77kg |
Recommend: Best Women's Rashguards
Typical Kid's Gi Size Chart
| | |
| --- | --- |
| M000 | 100 cm |
| M00 | 110 cm |
| M0 | 120 cm |
| M1 | 130 cm |
| M2 | 140 cm |
| M3 | 150 cm |
| M4 | 160 cm |
Recommended Reading:
Popular Brands + Their Gi Size Charts
Here are my top picks for popular gi brands along with their standard Gi size charts.
Sanabul is one of the most popular brands in the space of BJJ. If you're planning to buy a Gi from Sanabul, refer to the below size chart: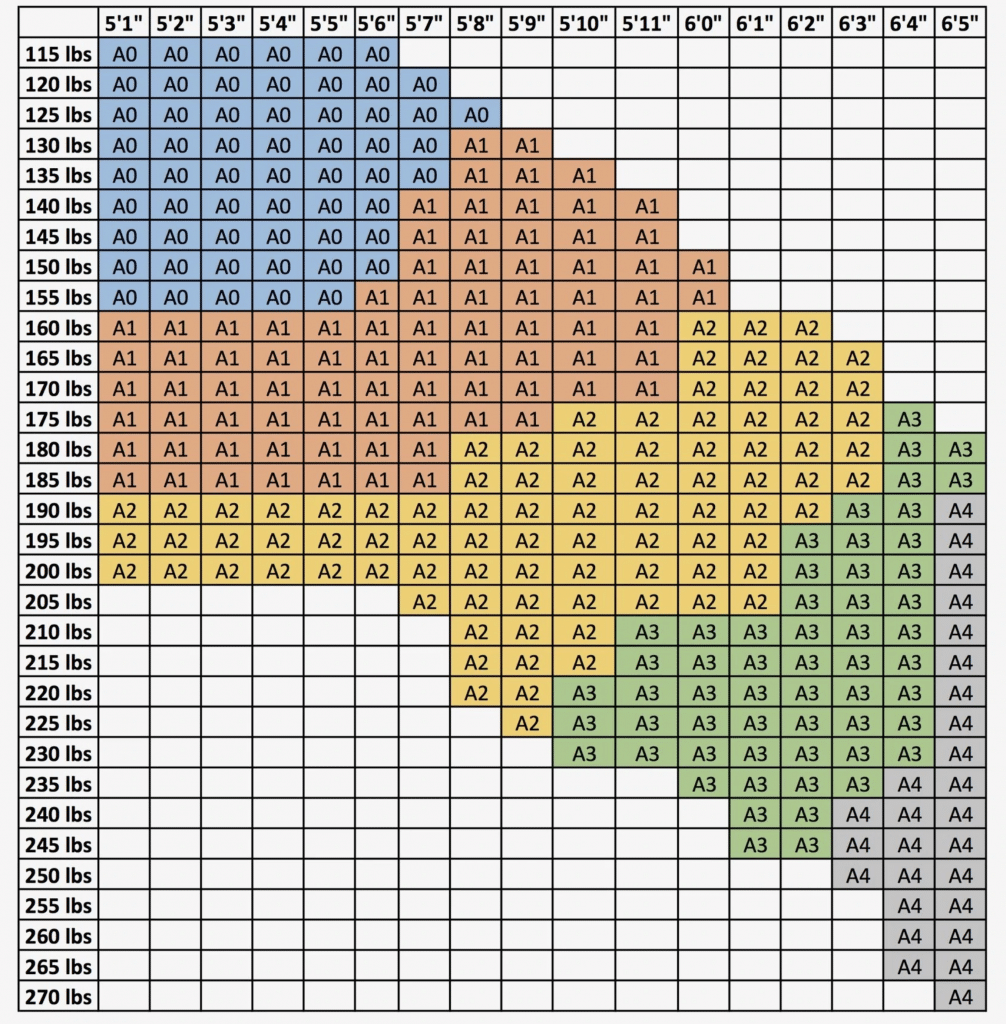 Recommended Reading:
Elite Sports is also a very popular BJJ Gi brand. Here's their size chart for reference: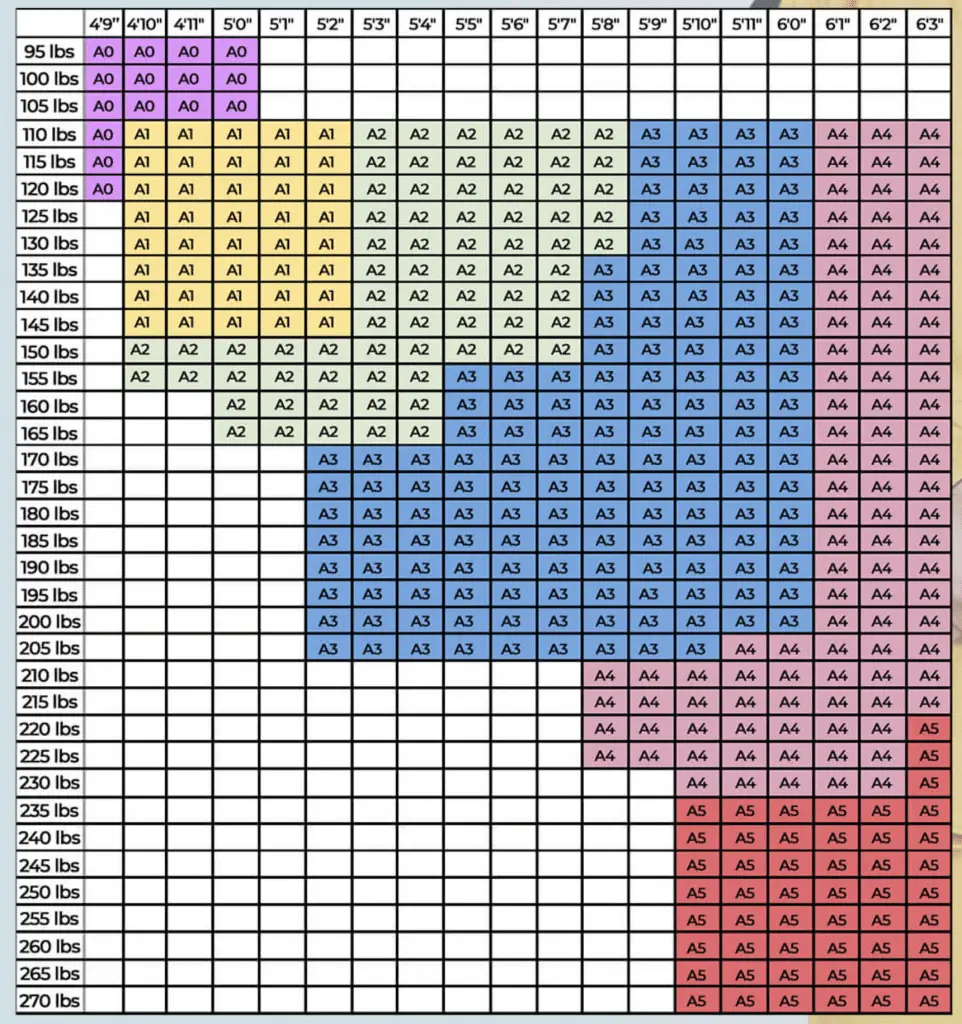 Fuji is a brand that needs no introduction in the world of Jiu-Jitsu. Below is their sizing chart: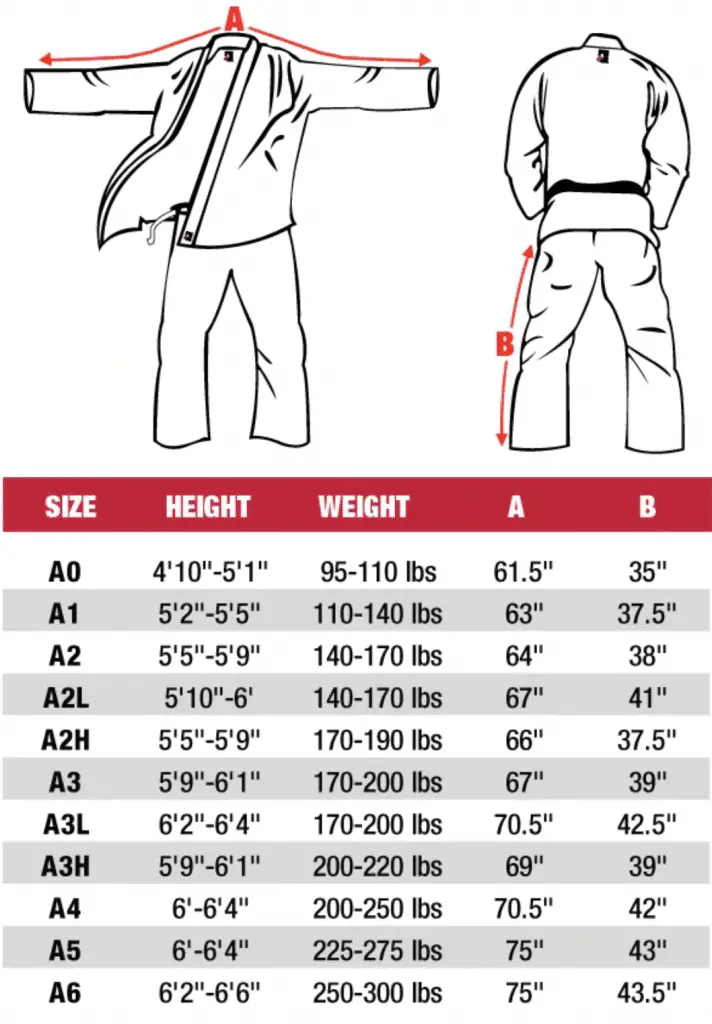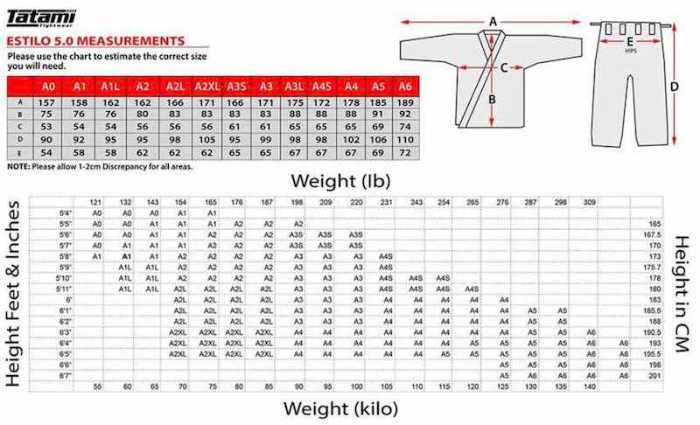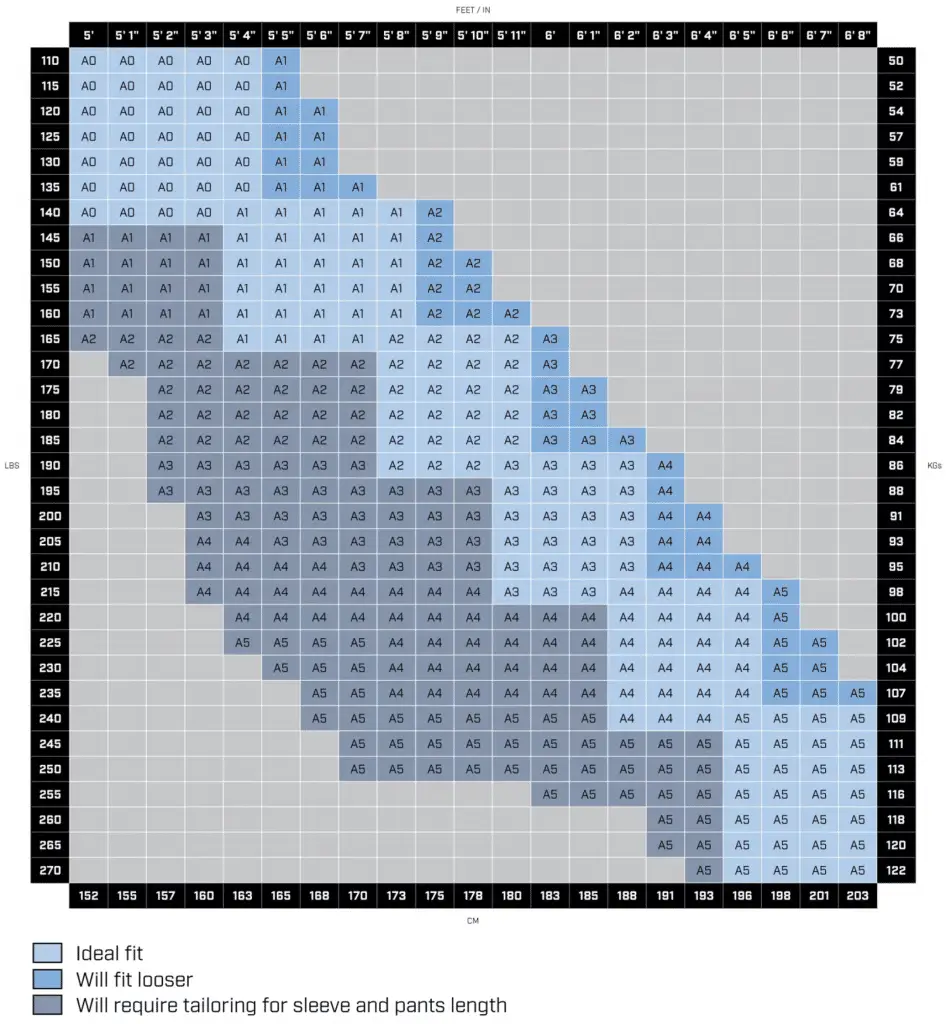 Recommended Reading: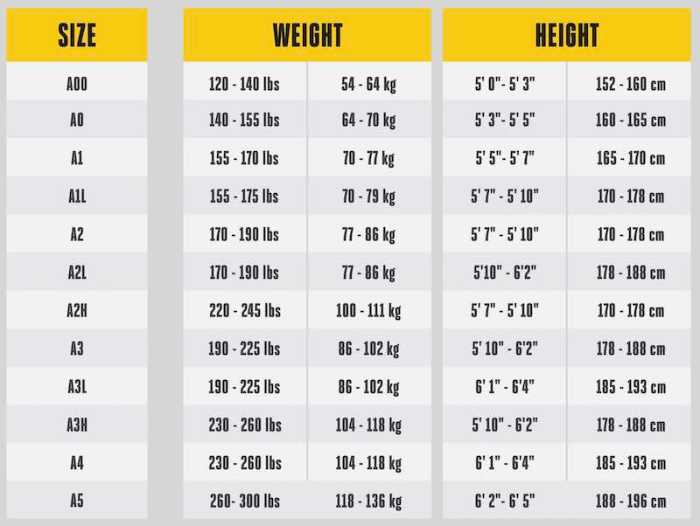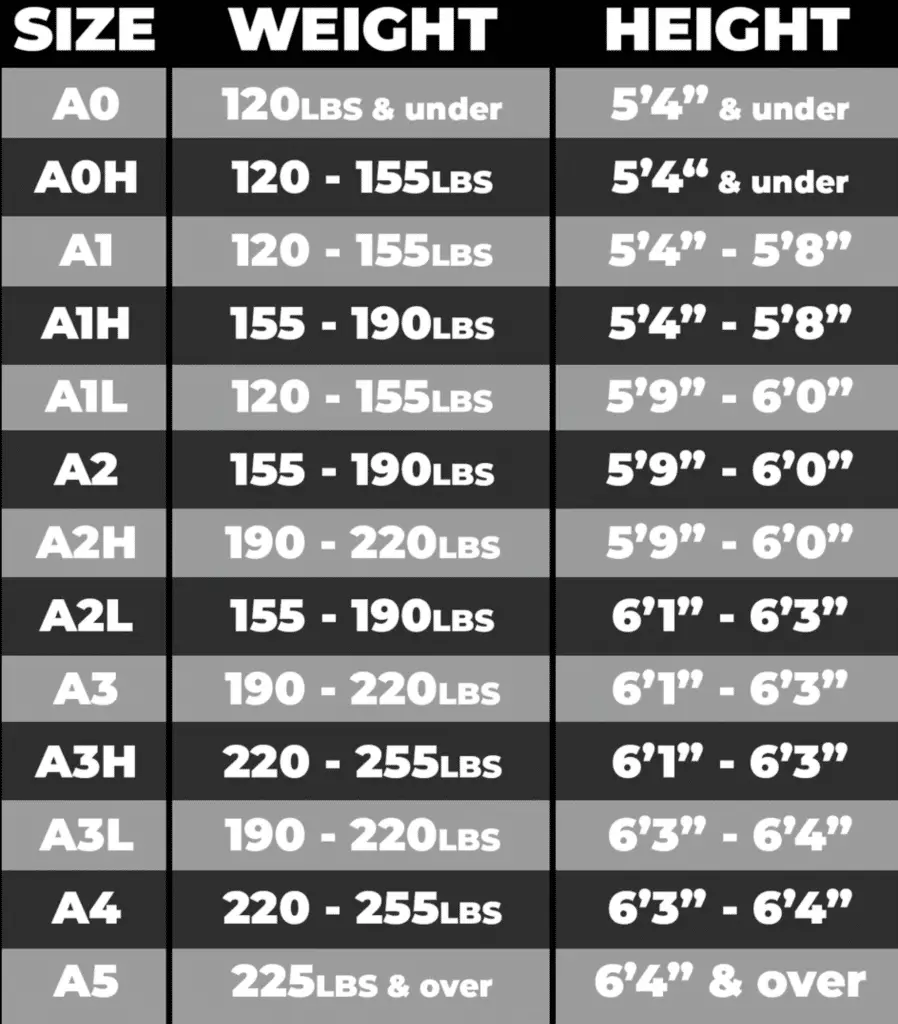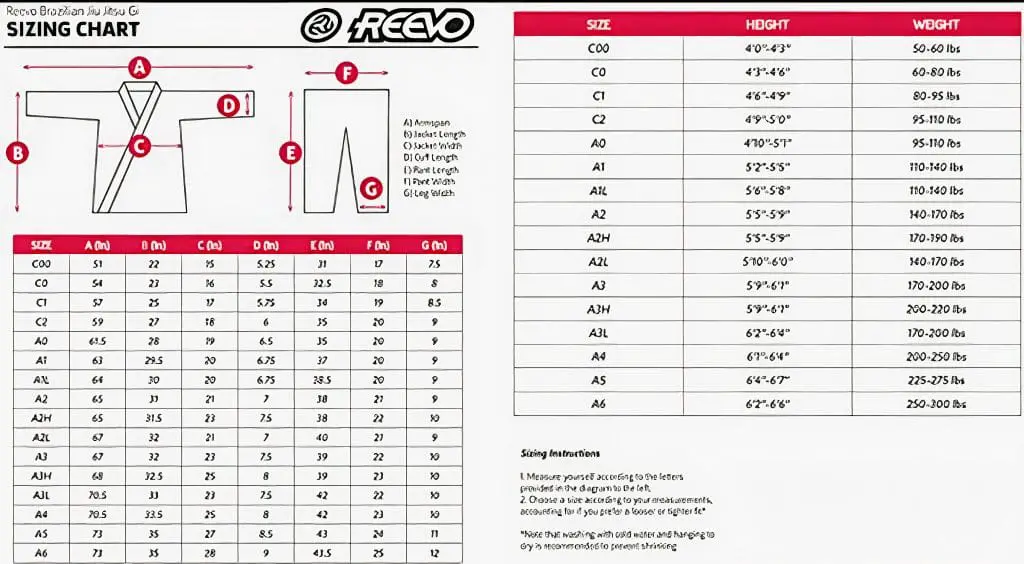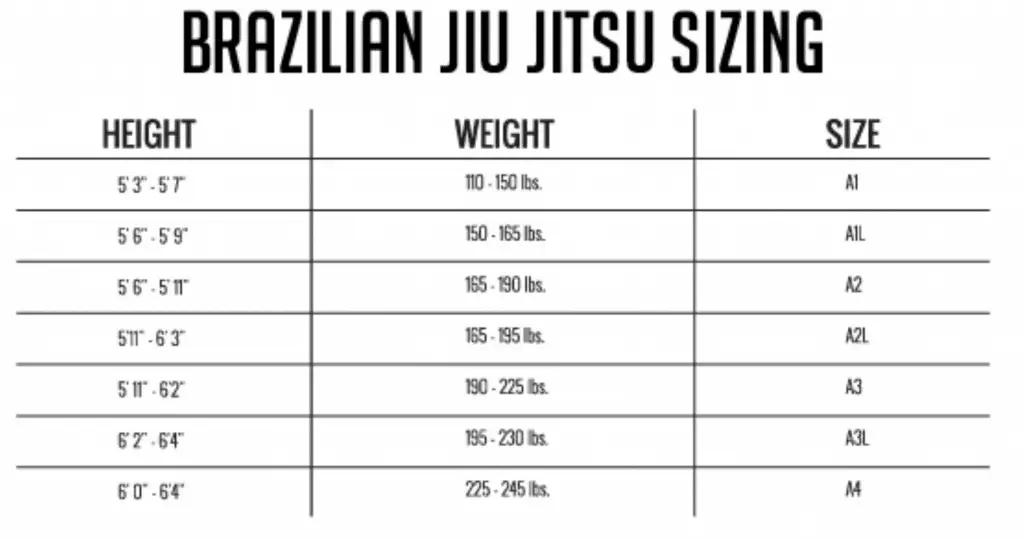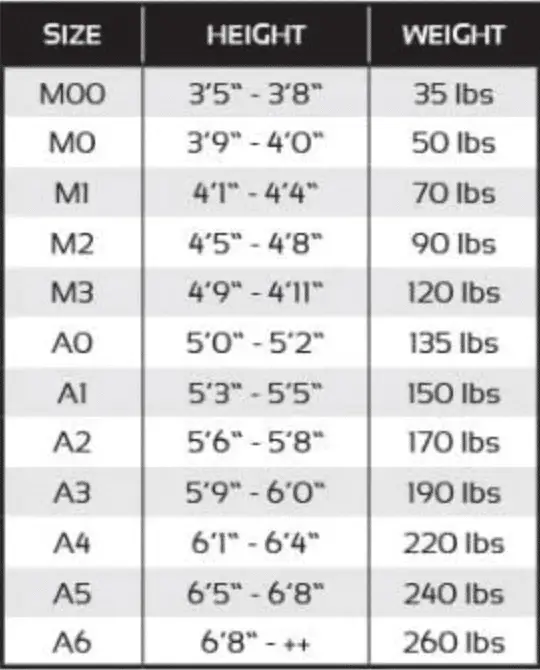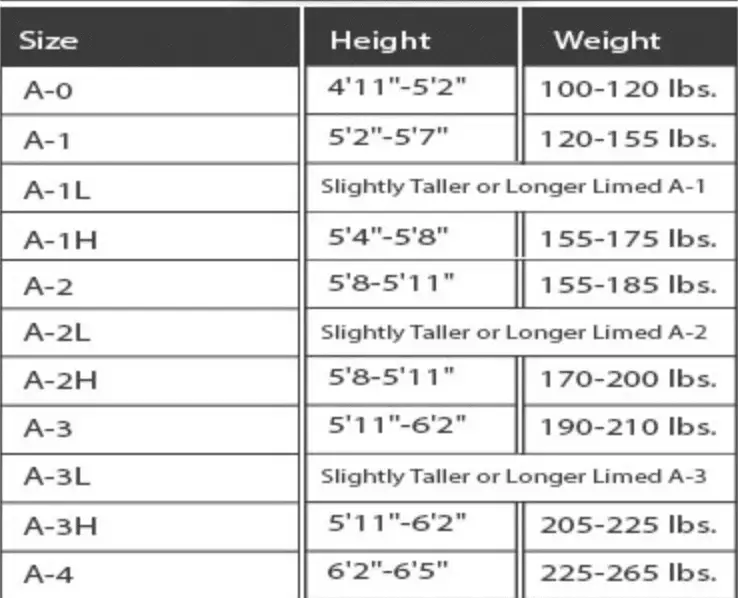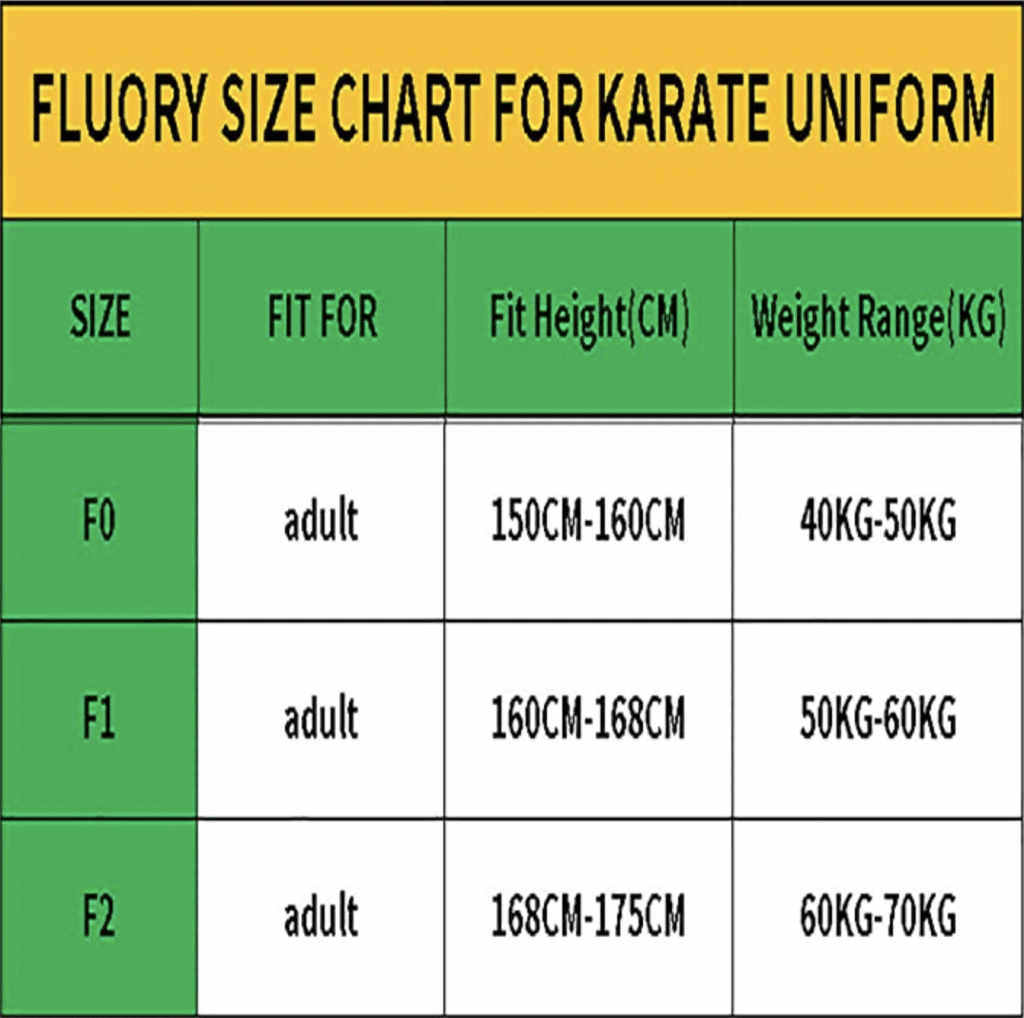 Recommended Reading: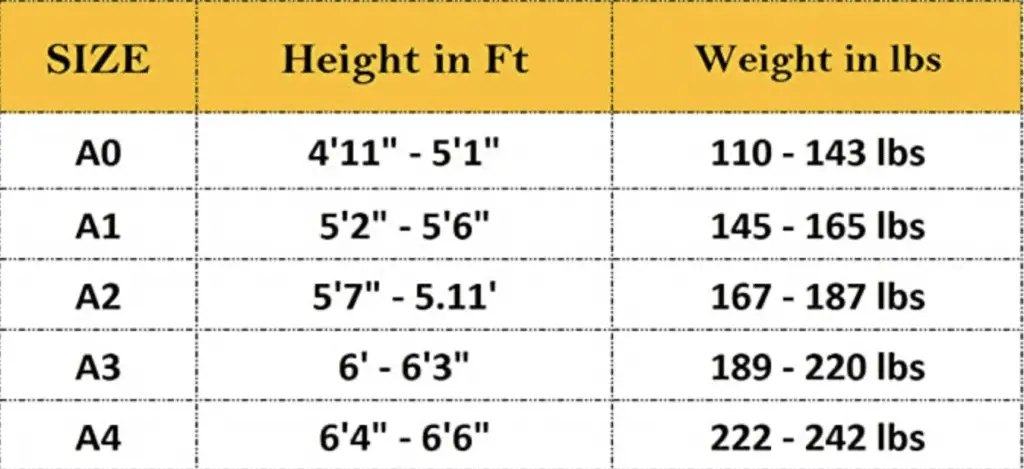 Frequently asked questions
Recommended Reading: (Best Grappling Dummies)
Brazilian Jiu-Jitsu Gi sizes versus traditional martial art sizes.
When determining a size for someone in a regular martial art kimono, it's quite simple. You simply measure their height and select a size. With BJJ GI sizing, you'll figure out the size by combining a person's height and weight, which should produce the best fit for that person. This generally works well, but there are a few exceptions, such as people who are tall or thin or who are on the larger side.
What are some of the best jiu-jitsu GI brands?
Some of the best jiu-jitsu GI brands include Vulkan, Fuji, Gameness, Atama, and Moya Brand. These brands make high-quality GIs that are perfect for jiu-jitsu training.
The Most Common GI Size Chart Confusion
If you take a look at the BJJ GI size chart we showed above, you may find that there are some weights and heights that cross over between sizes; this is normal because we each have our own body built.
It's the most common confusion because you'll have a hard time determining which size to pick if your body measurements fall right between two different sizes. When in doubt go with a size larger.
Recommended Reading:
Other Important Factors to Consider To Find Perfect Gi
Now, let's discuss the other important attributes you need to consider along with understanding Gi size chart guidelines.
1. Weave
You must not overlook the material or weave used on the GI. Take note that there are materials that will easily shrink after you wash them while others hardly do.
In most cases, pearl weaves are better than gold or single weaves because they shrink less.
The type of material matters because it will help your body adjust to your Gi size chart measurements.
You will have the choice to fall under A1 sizes as the material does not shrink right away while you may need to choose an A2 if you bought a gold weave as it shrinks to fit.
2. The Weight, Thickness, and Durability of The Gi
It all depends on the type of material or weave you choose.
If you're currently shopping around for some weave while checking your copy of a Gi size chart to match your measurements.
Make sure it's lighter as it is comfortable to wear during hot weather; it must be thick as it helps protect you once the opponent tries to grab you and it prevents him to have a tight grip.
Lastly, check durability in order for your best BJJ Gi to last especially if you're training every day.
Please note that the above points are only basic information on how a BJJ Gi sizing works, choosing the right Gi size, and tips on what material to use.
You may still have to figure out which size best fits you.
We are all formed in different shapes and sizes, as soon as you understand that, you'll have more patience to find the perfect fit for you with the help of a BJJ Gi size chart.
Final Thoughts
Picking the right jiu-jitsu gi is essential for comfort and performance during training and competition. A jiu-jitsu gi size chart can be a helpful guide, but it's also important to keep other factors in mind such as weave, weight, thickness, and durability. With so many different brands and styles on the market, it can be daunting to find the perfect BJJ Gi. But with a little research and trial and error, you'll be sure to find a BJJ Gi that fits both your body and your budget.
Thanks for reading!