We all know how important it is to protect our groin area. Whether you're an athlete or not, a groin protector is a must-have for anyone who wants to stay safe and comfortable while participating in activities that could potentially injure this sensitive area.
Unfortunately, finding the best groin protector can be a bit of a challenge. There are so many different brands, materials, and sizes to choose from. It can be hard to know where to start!
That's why we've done the research for you and put together a list of the seven best groin protectors on the market today. We've also included a buyer's guide to help you choose the right one for your needs.
Best Groin Protectors
Without further ado, here are the seven best groin protectors from this year:
Top Pick
#1 Venum
The shock absorber protects you from getting hurt. The fit is good and anatomical, so it matches your body shape and you can move around in it easily. It's also comfortable because of the rubber gel shield, which minimizes the impact effects. And finally, it has support because of the included supporter made with Dry Tech material.
Also Great
#2 lobloo Thai Cup
Their products have been tried and tested by elite athletes from a variety of sports. They have unrestricted movement and their patented fitting system provides 100% protection and agility. You can set it up just once, and it will last forever. It is also CE-certified, meaning it meets European health, safety, and environmental standards. Plus, you can wash it with just a little water or pop it in the washing machine.
Budget
#3 Shock Doctor Jock Strap
Shock Doctor is the leading sports protection company. They make products that shield you from shock and protect important areas. The Core Supporter is made with breathable, four-way stretch mesh to fit you perfectly. It also has a comfortable waistband so you can play without irritation. The vented bio-shape cup protects the areas where you need it most.
This BioFlex Cup is perfect for sports where protecting that area is important. This cup can be used for Baseball, Hockey, Softball, Lacrosse, Football, Soccer goalies and More. It is worn by professional and college athletes worldwide.
#4 Shock Doctor
Mesh fabric with 4-way stretch helps keep you cool and comfortable. The Ultra Cup Retention System helps keep your cups in place, while the dual mesh cup panel provides extra ventilation. The ultra-comfortable micro-knit waistband ensures a perfect fit.
#5 Diamond MMA Athletic Cup
The Diamond MMA Cup is the best groin protector for men. It can take a direct hit and you will not feel any pain. You will also not have any nausea or injuries. The Diamond MMA Cup has been endorsed by many people who love contact sports, such as MMA fighters, NHL professionals, NBA pros, UFC champions, and more. It is designed for repeated high impacts in contact sports. Take direct hits to the groin with no recovery time needed. The Diamond cup geometry deflects and distributes force evenly. The soft elastomer edge minimizes vibration and chafing or rubbing on your skin. The rigid cup is made from the same material as bulletproof glass. Eliminate the possibility of permanent injury to your penis and testicles.
The Diamond MMA compression shorts or 4-strap jock systems (sold separately) will keep this cup in place. No matter how many times you get hit, it will stay in place. The other guy will feel the impact more than you will.Tougher than the other athletic cup brands! They tested the Diamond MMA Cup against competing brands by smashing them repeatedly with a 20 pound sledgehammer. The alternative brand shattered with one blow. Which one would you trust with your family jewels? The Diamond MMA cup stands up to repeated strikes because it is made from a durable polycarbonate core — the same material used in bulletproof vehicles designed to protect VIPs from assassination.
The Diamond MMA cup has been endorsed by MMA athletes, doctors, Stanford University engineers, and urologists for injury prevention and comfort. Joe Rogan has recommended this cup to MMA athletes for its durability and the comfort of wear. This product has gone through extensive review by medical professionals to verify its protective qualities and durability.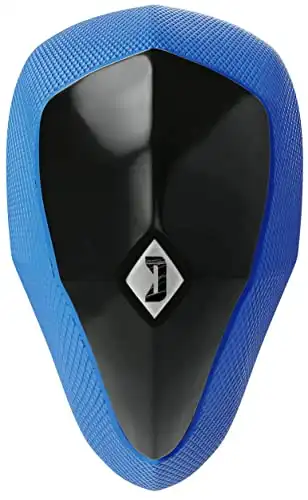 #6 RDX Groin Protector
This groin protector is handcrafted with tough Maya Hide leather for long-lasting life and durability. The Supremo Foam technology dissipates force of shock upon impact, efficiently guarding the vital areas such as the groin and kidneys. The Double layered closed cell foam with hard shell plastic cup does away with unfortunate shots to the region. The handy cup compartment allows you to use additional cups for double the security. The ergonomically designed shape provides the best fit and comfort during training, with a compartment to conveniently place a groin cup.
#7 Shock Doctor Adult Compression
The fabric of these underwear is 88% Polyester and 11% Spandex. The Crotch area is made from 89% Nylon and 11% Spandex. They are imported. The Pull On closure makes them easy to put on and take off. They can be machine washed. The Bio-Flex Cup has a vented bio-shaped design to shield areas where protection is most crucial. It is designed to form flawlessly to your athletic frame providing unrestricted movement, airflow and comfort. The Positions the lower third of the cup in a more natural position between the legs for a close, more comfortable fit during a wider range of motion when running and moving
This shirt is made with moisture wicking four-way stretch fabric. This means that it will move with your body and also get rid of sweat. It also has dual mesh cups, flatlock seams, and a comfort-fit waistband to make sure you are comfortable while wearing it.
The Research
Why trust us
We start by looking at hundreds of product reviews on major retailers, forums and product databases. Where possible, we then check with experts on what to consider when purchasing and what their top picks are. For each product, we check to see if the retailer and the manufacturer are reliable. You can see below for how we do this.
Who this is for
Groin protectors can be used by anyone who wants to protect their groin area from potential injuries. This includes athletes, martial artists, skaters, and anyone else who participates in activities that could potentially cause groin injuries.
How we chose
In order to compile this list, we did extensive research on the topic. We looked at customer reviews, manufacturers' claims, and expert opinions to find the best groin protectors available.
We also considered important factors like comfort, fit, and protection when making our selections.
Comfort is key when it comes to choosing a groin protector. After all, you don't want to be constantly adjusting or readjusting your gear while you're trying to participate in your chosen activity. The last thing you want is for your groin protector to be so uncomfortable that you can't focus on what you're doing!
Fit is also important. A good groin protector should stay in place and not move around too much. It should also be easy to put on and take off.
Protection is, of course, the most important factor to consider when choosing a groin protector. It should be made from high-quality materials that will safeguard your groin area from impact.
How we find reliable products:
Search for retailer reviews: merchant name + 'customer reviews'
Look for red flags: repeat failure to fulfill order, fulfill wrong items, poor customer customer service.
Read policies: check to see at least a 30 day warranty. For big expensive items at least a one year manufacturers warranty. For mid-priced items a 60 day warranty is good. 
Look for Digital Payment Methods: Do they have digital wallet services like PayPal or Amazon Pay.
Third-party sellers: Check if they're fulfilled by Amazon. Check to see if the seller has consistent reviews. Check for a high customer satisfaction rating; 85% with 4+ stars.
FAQ
Q: How do I know if a groin protector is comfortable?
A: The best way to determine comfort is to read customer reviews. Look for reviews that mention how comfortable the groin protector is. Also, look for reviews that mention any discomfort that was experienced.
Q: What is the best material for a groin protector?
A: The best material for a groin protector is one that is durable and will protect your groin area from impact. Some of the most popular materials used in groin protectors are foam, gel, and plastic.
Q: How do I know if a groin protector is the right size?
A: Most manufacturers have sizing charts that you can use to determine the right size for your body type. If you're unsure, it's always best to err on the side of caution and choose a larger size.
Q: How do I clean my groin protector?
A: Most groin protectors can be cleaned with soap and water. However, always check the care instructions that come with your particular product. Some manufacturers may recommend specific cleaning methods.
Q: Do I need a groin protector?
A: While there is no legal requirement to wear a groin protector, doing so can help reduce the risk of injury. If you participate in any activity that could potentially cause groin injuries, it's always best to err on the side of caution and wear one.
Q: What are the different types of groin protectors?
A: The most common types of groin protectors are cup-style, jockstrap-style, and compression shorts. each has its own benefits and drawbacks, so it's important to choose the one that's right for you.
Cup-style groin protectors offer the most protection but can be uncomfortable to wear. Jockstrap-style groin protectors offer less protection but are more comfortable to wear. Compression shorts offer a middle ground between the two in terms of protection and comfort.
Final thoughts
In conclusion, there are many factors to consider when choosing a groin protector. Comfort, fit, and protection are the most important factors. However, other factors such as price and durability should also be considered.
Sources