If you're an aspiring fighter who yearns to get into the UFC, you can apply to the UFC to be a fighter, just like how you would apply for a regular job. However, be warned – you may not be selected that easily. Only a few really know how grueling the path is into making it to the international stage. In order for UFC to select you as a fighter, you must create a mark for yourself as a great fighter in the MMA world which will make them take an interest in you.
You have to train hard and become a great fighter, well rounded, and specialize in at least one discipline. Learn arts like wrestling, Muay Thai, boxing, kickboxing Judo, or Sambo to a level where you can focus on stand-up fighting, full-contact fighting, and hold your own against good grapplers.
Today, we are not only going to discuss training hard or working on your techniques because it is common sense which you must have in order to be the Ultimate Fighting Champion through competing in UFC. Let's take a look at the necessary steps and processes on how to get into the UFC.
1. Start by Competing in Beginner Competitions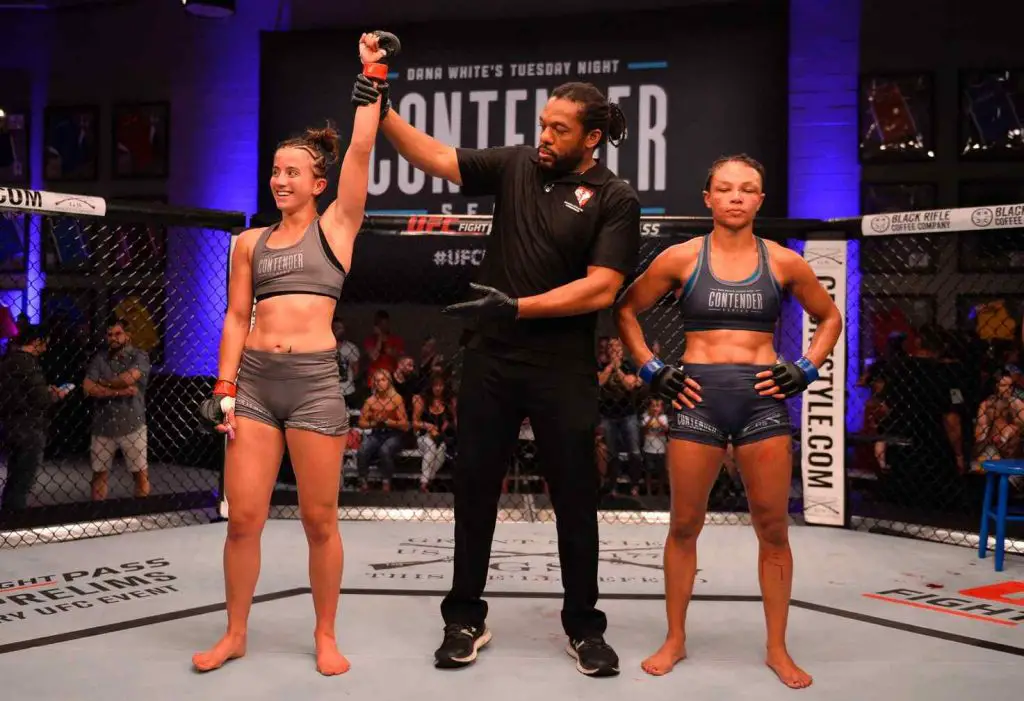 No matter how many years of training or talent you have, you must need experience, and the best way to gain that is by fighting in amateur competitions. You know what happens to inexperienced fighters who arrive into the UFC, like CM Punk, and we had seen how he brutally got beat up twice before the UFC team removed him from their roster before he got more gravely injured.
Join Feeder League MMA organizations that have collaborated with the UFC, where the UFC will hire the best fighters who have already fought in those establishments. Combat your way to the top, and become so noticeable that the ones working for the UFC or the other fighters find out about you and want you to fight for the UFC.
2. Get a Manager
Once you start fighting professionally, in order to grow and make your way up the ladder to the big stage, you must start looking for a manager or an agent. A manager can help you gear up the complete process immensely by allowing you to focus only on improving your fighting every day and winning every competition you get.
While the manager can book fights, pick the opponents, put your name on the UFC map to get bigger promotions for you, find out about the next trials for The Ultimate Fighter and add you to take part in them, and make connections which can get you into UFC. Like for example, Khabib Nurmagomedov – the UFC champion whose teammates and friends have also joined the UFC following Nurmagomedov's success.
Of course, you should do your part of the deal and win fights, make connections by socializing and training at gyms where other UFC fighters are training, and somehow you manage to make a friend who is in the UFC then you may have an easier time joining the organization. Even though winning every fight is not possible, the more wholly you do it, the higher the chance you have of getting recognized by organizations and the UFC.
3. Keep Fighting and Make Your Way Up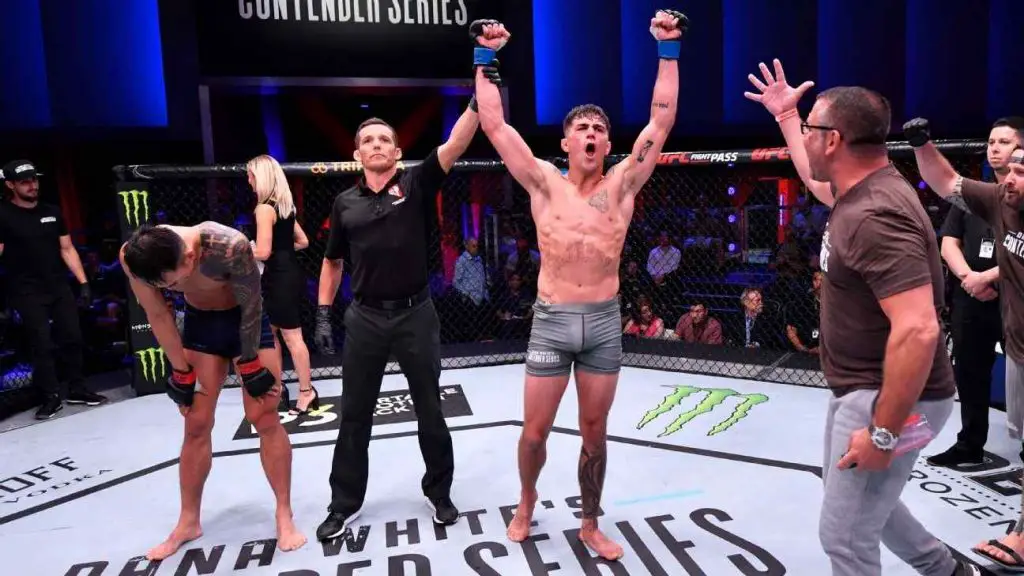 Keep fighting and gain experience, as it is rare getting the UFC contract to fall into your lap without grinding hard. For example, McGregor wouldn't be where he is today if he didn't keep on fighting and knocking people out.
Fight and win competitions with pros because a good manager can land you a deal in a great promotion only after a few pro wins.
Other Ways to Get into the UFC
There have been numerous fighters who have won everyone in front of them but have never joined the UFC. You are fighting in the leagues, undefeated and making connections – but it does not seem to get to the next level?
Well, if it was a few decades ago, you would be powerless in that situation, but worry no more for the UFC has developed ways to get talent unusually by vigorous scouting or from one of UFC's many talent-seeking shows.
Applying for The Ultimate Fighter or the Dana White's Contender Series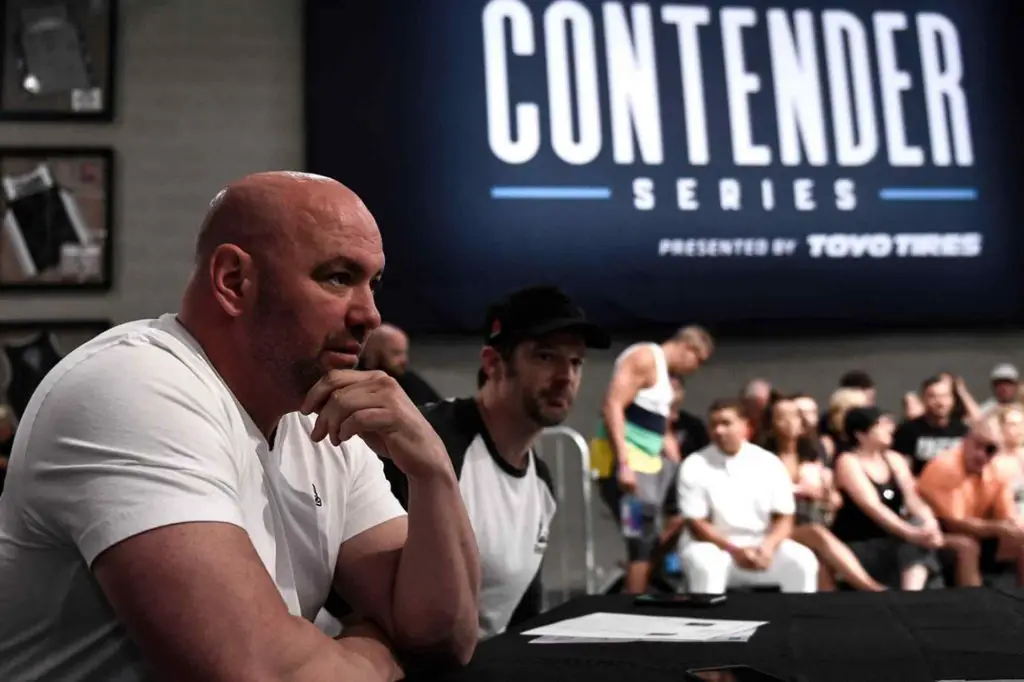 If you are tired of waiting for the UFC or anyone to recognize your talent and hard work, take a risk and make a bet on yourself by applying to compete either in Dana White's Tuesday Night Contender Series or UFC's The Ultimate Fighter (TUF), for the winning fighter of every TUF season will get a guaranteed UFC contract.
Even though the competition can be very hard, and the fighters might be unknown, you must bite harder and take a real test to check if you got what is needed to fight in the UFC. Some fighters impress the UFC president Dana White with their skills and performance and receive contracts even though they don't win all fights.
When it comes to Dana White's Contender Series, getting into UFC is easier, although it's very difficult to get into the Contender Series; if you have some excellent wins on your resume that can be considered, things can get even quicker.
Conclusion
You may not know that the UFC sends out dozens of its scouts all around the globe to go into MMA gyms and to try finding great hidden talents.
If you can manage to make it into one of these MMA gyms, you not only have to give just 100% of your talent but more for each practice as you would never really know who might be out there scouting and taking notes.
Even though this is not a guaranteed ticket into the UFC, and even if nobody is watching you, aspire to be the best you can be every single day, and maybe one day, somebody will show up and see the sacrifices you're making, and make it all worth the struggle. Also, if not, you will know that you have given it all to make yourself into the great fighter you can be.