Looking for the perfect dummy to help you improve your judo skills? Check out our list of the 7 best judo dummies on the market, ranked and reviewed according to quality and price. Whether you're a beginner or a pro, there's sure to be a dummy on this list that will suit your needs! So get ready to do some serious shopping – let's get started!
What is a Judo Dummy?
A judo dummy is a training tool that is used to help improve judo techniques. It is usually made from a soft material such as cloth or foam and is designed to be thrown or manipulated in the same way as a real opponent. Judo dummies come in a variety of sizes and shapes, but all share the common goal of helping judokas (judo practitioners) to improve their skills.
What are the benefits of using a Judo Throwing Dummy?
Improved strength and flexibility in your muscles. Throwing and manipulating a judo dummy is an excellent way to build strength in the shoulders, arms, legs, and core. It also helps you improve your flexibility, as you need to stretch out and contort yourself to control your dummy.
Better coordination and reaction time. Practicing judo throws on a judo dummy helps you improve your coordination, as well as your ability to react to different situations quickly. – Increased focus and concentration. Focusing intently on controlling and manipulating a judo dummy requires mental strength and concentration – skills that can be applied to all areas of your life.
More practicing time. One of the best things about having your judo dummy is that you can practice whenever you want, for however long you want. You don't have to wait for someone else to be available to train with you – simply set up your dummy and get started!
The 7 Best Judo Throwing Dummies on the Market
Without further ado, here are the seven best :
#1 Suples Power Dummy
This Suples wrestling dummy is XXS size and is perfect for youth. It is very sturdy and never complains about getting thrown too hard. It is made of vinyl and should not be shipped to Hawaii, Alaska, or anywhere outside the USA.
Suples Wrestling Dummy with Legs - Black Vinyl - (XXS, 22 lbs) Freestyle, Judo, MMA, Jujitsu, Grappling, Wrestling, Boxing, Fighting, Throwing Dummy, Crossfit, UFC
(Legs) Vinyl (Judo, MMA, Jujitsu, Grappling, Wrestling, Boxing, Fighting, BJJ, Throwing Dummy)

#2 Defy Sports
This punching dummy is double-sided for submission-style training. It can be weighed up to 70 kg and is made of faux leather. It's a great value for your money and 100% guaranteed quality. If you have any problems, just let them know through Amazon and they'll solve your issue as soon as possible.
DEFY Leather Dummy
Jiu Jitsu MMA Grappling Dummy Judo Martial Arts Punching Bag Karate Black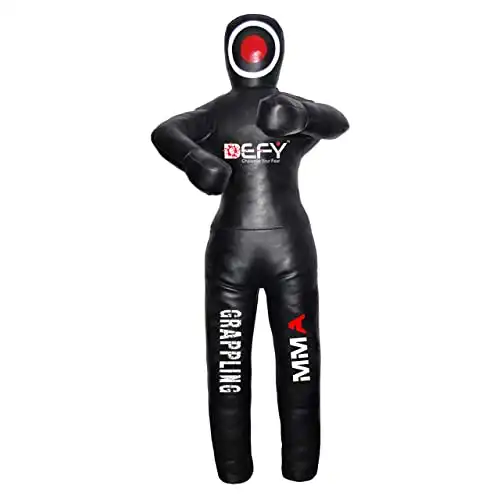 #3 Aoneky
This dummy is made of super-strong triple-ply synthetic leather. It is a great value for the price and can be used over and over again. The dummy is black and is best for kids who practice mixed martial arts, judo, Jiu-Jitsu, or kickboxing.
This dummy is perfect for people who want to practice martial arts. It has reinforcement in certain areas and it can be filled with different materials depending on what you are practicing. The dummy also comes unfilled so you can choose what material you want to fill it with.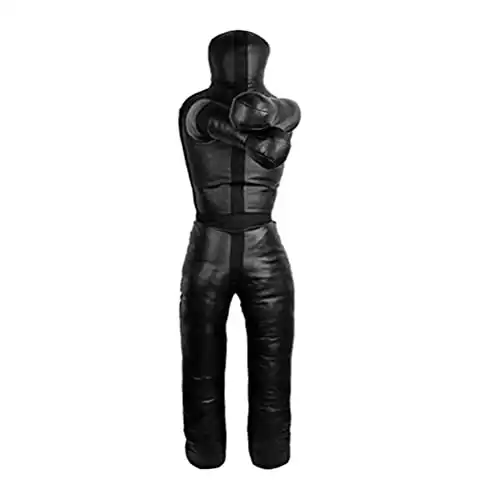 #4 F Nine Sports
This grappling dummy is perfect for practicing mixed martial arts techniques. It moves in all directions, so you can strike, punch, and kick from any angle. The dummy is made from faux leather and is designed for adults. There are many different types of punches that you can use. You can use a straight shot, point punch, uppercut, and more. You should practice using all of these in different ranges. Be prepared for anything by practicing your take-downs and ground-and-pound.
You can use recycled textile cuttings or shredding to fill up this product. It can also be filled with raw cotton or any other suitable filler material. I recommend using used cloths, some plastic bags or cotton as fillers but please make sure not to use sand as it can damage the product.
This dummy is designed to help you train for a real opponent. The arms are positioned like a real person, and the legs are curved so you can practice all types of techniques. Their products are made to be strong and last. This dummy for kids is a great value because it helps kids train like professionals. The target head and round hands help kids learn how to master martial arts techniques.
#5 Speed Dummy
This Bulgarian-made throwing tool is built to last. It comes with a 1-year warranty, and there are no questions or BS involved. This is the best way to learn how to throw with proper technique. Ivan Ivanov, a wrestling Olympian, invented it specifically to train the United States Olympic Greco team.
#6 Celebrita MMA
This dummy comes unfilled. You can fill it up to 100lb, depending on what material you fill it with. The image is for illustration of the final product, once you have filled it. You can fill it with recycled textile cuttings or shredding. It can also be filled with raw cotton or any other suitable filler material. 40″ to 47″ dummies are suitable for kids, and 59″ to 70″ dummies are suitable for adults.
Posture on your knees and elbows so you can be ready for both quarter position/ turtle position and sprawl position procedures. Any leather dummy may smell initially because all dummies made of leather always may have some smell due to fresh leather being used for a few days. Keeps its legs curved at 90 degrees at the hips the way a genuine adversary does so you get more realistic preparation (when compared to the "straight-legged" hooking dummy that is meant for throwing… not accommodation catching).
The jiu-jitsu dummy has curved hips which makes it easier to do moves and catch someone. It is also good for MMA. If you measure it while it is sitting, you will get a different number than if you measure it while it is lying down.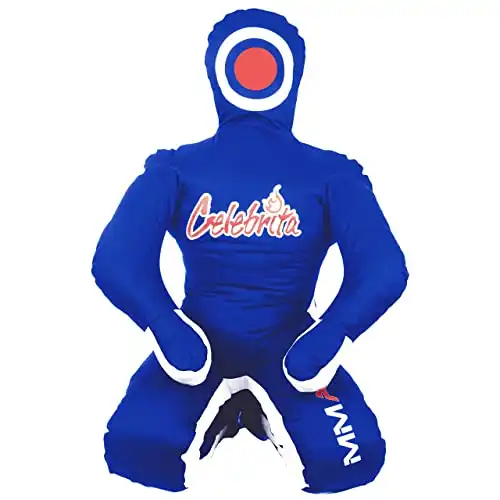 #7 Combat Sports
This dummy is perfect for practicing your takedowns, throws, submissions, and strikes without injuring a training partner. It is made of nylon construction and is weighted to be realistic. The dummy is approximately 70 lbs. and is 5'4″ tall.
The Research
How we do the research
We start by looking at hundreds of product reviews on major retailers, forums and product databases. Where possible, we then check with experts on what to consider when purchasing and what their top picks are. For each product, we check to see if the retailer and the manufacturer are reliable. You can see more about our process here. You can also read more about who we are on the about page.
Who this is for
Throwing dummies can be used by anyone who wants to improve their judo skills, from beginners to experts. They can also be used for other martial arts that involve throws and takedowns, such as Brazilian Jiu-Jitsu (BJJ), wrestling, and mixed martial arts (MMA).
How to choose the right Judo dummy for your needs
Weight: The weight of the dummy will determine how realistic it feels to throw and takedown. If you are a beginner, you may want to start with a lighter dummy so you can get used to the feel of throwing and takedowns. If you are more experienced, you may want a heavier dummy so you can practice with more resistance.
Size: The size of the dummy will determine how easy it is to move around and how realistic it feels to throw and takedown. If you are taller or have longer arms, you may want a larger dummy so you can reach around it. If you are shorter or have shorter arms, you may want a smaller dummy so you can maneuver it more easily.
Material: The material of the dummy will determine how durable it is and how realistic it feels to throw and takedown. If you want a dummy that will last for years, you may want one made of leather or vinyl. If you want a dummy that feels more like a real person, you may want one made of cloth or foam.
Price: The price of the dummy will vary depending on the size, weight, and material. Judo dummies can range in price from around $50 to $200.
Frequently Asked Questions
What are the different types of judo dummies?
Judo dummies come in a variety of sizes, weights, and materials. The most common type of judo dummy is made of vinyl or leather and is filled with sand or rice. These dummies are usually around 5 feet tall and are suitable for beginners or intermediate judo practitioners.
Another type of judo dummy is made of cloth or foam and weighs around 70 pounds. This type of dummy is suitable for advanced judo practitioners who want to practice more challenging moves, such as submissions and takedowns. Some dummies can also be customized with different weight bags to add resistance and make the training more realistic.
How to stay safe?
To stay safe while practicing judo with a dummy, it is important to always use the proper form and technique. You should also be careful not to try too many difficult moves at once, especially if you are a beginner or have less experience with judo. Additionally, it is important to always warm-up before training and take frequent breaks as needed. Finally, it is recommended that you consult a doctor or physical therapist before starting any new exercise program.
How to make a Judo Dummy?
Materials needed: GI Jacket, 2 Pillows or Teddy Bears, 2 towels, Belt, 2 hoodies.
You may construct a grappling dummy at home in just a few minutes by following these easy instructions:
Pop your teddy bear or pillow dummy inside the GI.  Tie the belt around it to keep it all together. Fill it with anything you like, whether sand, rice, old clothes, or anything else that will give it weight and stability. You're now ready to begin training!
How to fill a grappling dummy
You have to fill them up with different materials according to your preferences and fill it with a mixture of paper, clothes, sand, foam, and any other material you think will make your grappling dummy work better. if you still have any questions feel free to ask any suggestions about this article kindly tell us in the comments box.
What is the Judo dummy called?
Judo dummies are also called grappling dummies, jujitsu dummies, throwing dummies or simply judo training dummies.
Final Thoughts
Whether you are an experienced judo practitioner or just starting out, a judo dummy is a great tool to help you improve your skills, build strength, and stay safe while training. To find the best judo dummy for your needs, it is important to consider factors such as size, weight, material, and price. With these tips in mind, you can easily select the perfect judo dummy for your needs and start improving your practice today!