Do you want to get into judo? Have you been practicing for a while, but don't have a place to do it? Check out the best judo mats on the market today. We've ranked them and reviewed them so you can make the best decision possible. Whether you're looking for something cheap and cheerful or an all-inclusive set-up, we've got you covered. Let's take a look at what's available!
What are judo mats and what are they used for?
Mats like the Combat Grappling Mats would be used as crash pads when judo athletes are practicing throws. When a fighter falls to the ground, the foam collapses under his or her weight. Fighters that start their bouts on the canvas may benefit by avoiding bruising, scrapes, and other injuries.
The different types of judo mats
EVA Foam: EVA foam, also known as ethylene-vinyl acetate, is a popular kind of material used in practice and dojo judo mats. EVA is a closed-cell foam with a softness, flexibility, and traction level that combines the best characteristics of tough rubber and heavily cushioned foam.
Polyethylene Foam. In judo mats, linked polyethylene (PE) foam provides a somewhat thicker cushioning alternative than EVA foam. You'll still be using a closed cell material with polyethylene that offers high durability in a lightweight package.
XPE Foam. An XPE foam is used in some judo mats, which has a high rebond foam core. This is a smooth-surfaced cross-linked PE foam. It's also long-lasting and lightweight, making it ideal for cushioning martial arts students at high levels of intensity.
Polyurethane Foam. The core of soft judo mats should have polyurethane (PU) foam for the most cushioning. The PU foam has an open-cell structure, resulting in maximum softness. These crash pads will be used by judo athletes to soften the force of a fall when practicing throws. When the weight of an athlete falls to the ground, the foam collapses.
Reviews of the Best Judo mats on the market
Without further ado, here are the seven best :
#1 We Sell Mats 
The blue fitness gym mat is made of vinyl and is hand washed only. The dimensions are LxWxH=72x48x8 inches and the thickness is 50 millimeters. The weight of the item is 10.6 pounds. This product can be used for home workouts and bodyweight exercises.
This design makes the product lightweight and foldable so it can be stored easily. It also has carrying handles for easy transport. This is perfect for personal trainers, athletes, or anyone who wants to exercise outdoors or indoors. The foam is designed to handle bodyweight exercises such as push-ups, sit-ups, crunches, squats, lunges and more.
#2 Giantex
This Giantex mat is black and made of epe foam. It is 47.24 inches long, 31.5 inches wide, and 2.01 inches thick when folded. The mat weighs 16 pounds. The mat can be connected to other mats with hook and loop fasteners on each end.
The mat is filled with thick, high-density foam which makes it soft and safe for beginners. The surface is covered with waterproof PU leather which makes it easy to clean and maintain. The space-saving folding design and easy carry handle make it easy to store this mat. You can fold it in four and put it away horizontally or vertically. It also can be used as a seat on the floor. The hand straps make it easy to carry around. This mat is designed to be comfortable and easy to move around in.
We will deliver your order as soon as you place it. We also have 24-hour online customer service in case you have any questions or complaints. We guarantee that you will get VIP service and be completely satisfied.
#3 GXM Mat
The Gxmmat black real brand mat is made of polyvinyl chloride foam. For best results, sprinkle some sea salt on your mat and rub it in by hands. Let the salt sit for 24 hours and then scrub it with a soft brush.
This mat is ideal for a variety of workouts like P90X, Insanity, T25, and Zumba. It's extra long and wide, so you can move around easily. The no-skid surfaces on each side provide enhanced traction and grip. The textured surface prevents hands and feet from slipping out of position, reducing the risk of injuries.
The 7mm High-Density Memory Foam is a great material because it provides cushioning and stability. This foam helps the body feel good while you are working out and protects you from getting injured. The foam is also durable and long-lasting, easy to clean, and easy to roll up. It comes with 1 pair of gloves, 3 Velcro storage straps, and 1 carry bag. This oversized jump mat can also be used for kid's play areas or as furniture for fitness equipment. They stand by the quality of their exercise mats and provide lifetime services.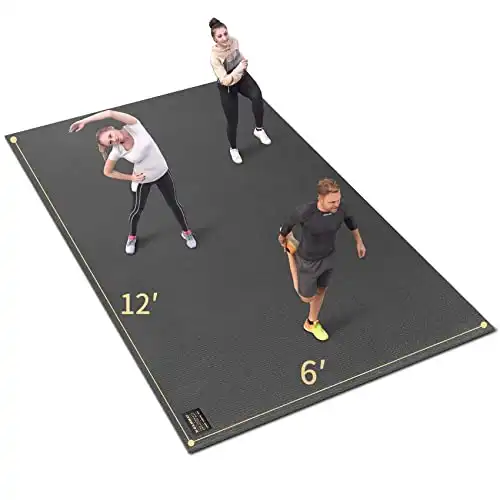 #4 Pro Source
This foam roller is black and made from durable material. It is lightweight and easy to transport. You can clean it by applying a combination of warm water and dish soap with a soft cloth or towel, then rubbing gently. For tougher stains, you can use a mild laundry detergent solution. The roller should be air-dried or wiped with a dry cloth.
The textured tiles on the floor protect your floors while you are working out. The lightweight pieces connect quickly and easily and can be taken apart just as easily for quick storage. The water-resistant and noise-reducing design is easy-to-clean, great for use in garages, gyms, home fitness rooms, or even children's play areas.Air dry or wipe with a dry cloth. Each tile measures 24" x 24" x ½"- thick from the highest point of the texture; Contains 6 tiles and 12 end borders for a polished look. High-density EVA foam provides excellent support and cushion; DOES NOT contain toxic phthalates.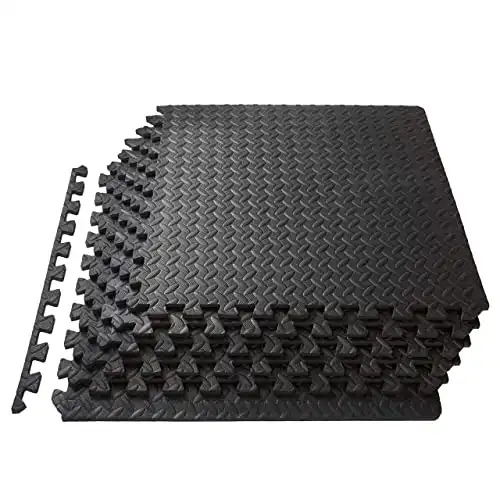 #5 Balance From
The BalanceFrom black yoga mat is made from vinyl and is 49x31x9 inches. It is 0.33 decimeters thick and weighs 15 pounds. The mat is good for activities such as yoga, aerobics, Pilates, and martial arts. The surface of the mat is non-toxic, lead-free, durable, puncture-resistant, and non-absorbent. It also has moisture-resistant technology that allows it to be easily washed with soap and water.
The Velcro on all sides of the mat will help you attach multiple mats together to make a large workout area or tumbling run. The folded shape is easy to store and transport. When it is expanded, the dimensions are 10′ x 4′ x 2″. The warranty for this product is 2 years.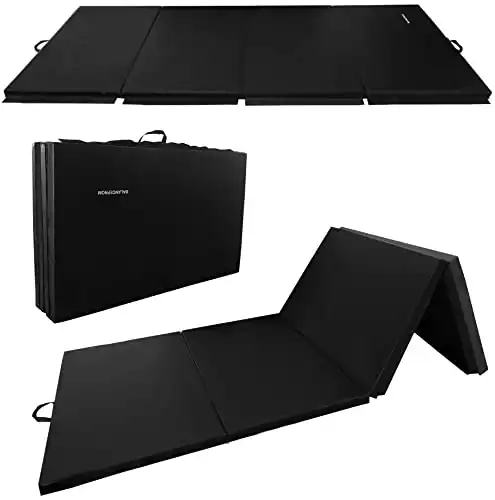 #6 Inc Stores
Their exercise mat is made of foam. It is easy to clean and ready for impact. It is also very durable. You can use it at home, in the gym, or on the road. Their exercise mats are designed for a variety of activities such as gymnastics, cheerleading, and back handsprings stunts. They are also great for wrestling, Jiu-Jitsu, and other martial arts. For more than a decade, IncStores has been outfitting every room in your world with high-quality large workout mats for home gyms in countless styles, because a stronger, safer home starts from the floor up.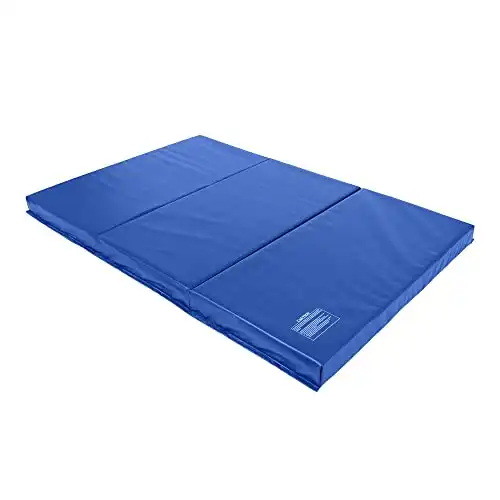 #7 Polar Aurora
The Polar Aurora gymnastic mat is made of high-density, environmentally friendly foam. It is soft and resilient, making it perfect for training or exercising on. The holster is thickened and waterproof, preventing cracking and slipping. It also has strengthened stitching for durability.
The whole gymnastics mat is easy to fold and can be stored away easily. It has two handles so it is easy to carry. The PU leather is durable and easy to keep clean.
The dimensions of a 4'x10'x2″ yoga mat are perfect for many types of training and exercise. This size is good for a variety of training or exercises such as Yoga, dancing, light stretching, wrestling, martial arts and general exercise. Their mats are designed and manufactured to meet or exceed industry standards in all areas.
The Research
How we do the research
We start by looking at hundreds of product reviews on major retailers, forums and product databases. Where possible, we then check with experts on what to consider when purchasing and what their top picks are. For each product, we check to see if the retailer and the manufacturer are reliable. You can see more about our process here. You can also read more about who we are on the about page.
Who this is for
Judo mats can be used for several different activities, but they are most commonly used for martial arts training. They provide a safe and cushioned surface to train on, which is essential for preventing injuries. Judo mats can also be used for other activities such as gymnastics, yoga or general exercise.
How we picked
When choosing the best judo mats, we considered a number of different factors. These include the material used to make it, how easy it is to clean and whether it can be left outdoors or not. We also looked at the price, customer reviews and how realistic the product claims were.
Frequently Asked Questions
How do I clean my Judo mat?
Judo mats should be cleaned with a mild soap and water solution. It is important to avoid using harsh chemicals or abrasives, as this can damage the mat.
Can Judo mats be left outside?
No, Judo mats should not be left outside as they are not designed for outdoor use. exposure to sunlight and rain will damage the mat and make it unsafe to use.
What is the best material for a Judo mat?
The best material for a Judo mat is one that is durable and easy to clean. PVC, vinyl and PU leather are all good choices.
What size Judo mat do I need?
The size of Judo mat you need will depend on the type of training you are doing. A 4'x10'x2″ mat is a good choice for general training or exercise. You can also opt for a smaller size, such as a 2'x6'x1″ mat, if you are looking to save space.
What is the price range of Judo mats?
Judo mats vary in price depending on their size and material. They are generally quite affordable, however, you can expect prices to be slightly higher if you want one that is made from high-quality materials or has additional features.
How often should I clean my Judo mat?
You should clean your Judo mat at least once a week, but more often if it is being used frequently. A mild soap and water solution is all you need to keep it clean. Avoid using harsh chemicals or abrasives, as these can damage the mat.
Can I use my Judo mat outdoors?
No, Judo mats are not designed for outdoor use and should not be left outside. Exposure to sunlight and rain will damage the mat and make it unsafe to use.
What is the warranty on Judo mats?
Judo mats generally have a one-year warranty. This covers any manufacturing defects or damage that may occur during normal use.
Final Thoughts
In conclusion, if you're looking for a high-quality judo mat, the best bet is to go with one of the top three. They offer safety, reliability and value for money all in one package. No matter what activity you plan on using your judo mats for, they are sure to serve you well.