Knowing the bare minimum of what gear to buy vs gear that's considered splurging when you buy are important differentiate. In this article, we'll cover the minimum gear that you need, the best, and compare and contrast.
The basic no-gi gear that you need in order to get started with training Jiu-Jitsu includes grappling shorts, grappling spats, mouth guard, rash guard, finger tape and a water bottle.
Jiu-Jitsu Shorts
There are a few types of Jiu-Jitsu shorts, including board shorts, mid-thigh shorts, and gladiator shorts which have slits on the sides. The gym you work out at may have requirements so it's best to stay with an all-black pair of shorts, with no laces showing, and slightly above the knee. When competing, it's important to keep in mind that uniforms are more strict. Below you can see the requirements and some of the logic behind the rules. 
The rules below apply for both men and women:
Board shorts colored black, white, black and white, and/or the color of the rank (belt) to which the athlete belongs, without pockets or with the pockets stitched completely shut, without buttons, exposed drawstrings, zippers or any form of plastic or metal that could present a risk to the opponent, long enough to cover at least halfway down the thigh, and no longer than the knee.

IBJJF
Also permitted are compression shorts made of elastic material (skin tight) worn beneath the shorts, in the colors black, white, black and white, and/or the color of the rank (belt) to which the athlete belongs.
Best Budget
Roar Grappling Shorts
True to size
No pockets
Check sizing chart before purchase
Drawstring closer
Split out seams
Best Overall
Gold BJJ Shorts
These shorts are good for grappling, MMA, Wrestling, Muay Thai & Boxing, etc. They are IBJJF Approved. They do not have pockets and drape down to the knees. They are also true to size.
Best Mid-Thigh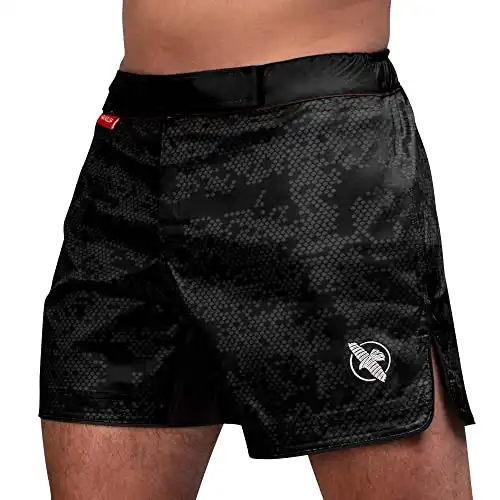 Best Multipurpose Shorts
Compression Shorts and Spats
Compression shorts and spats are good to help keep you modest when rolling. Though most competitions don't allow them, gyms may or may not allow them. There have also been reports showing that they can provide increased performance, decreased injuries, and decreased recovery time. 
Both grappling shorts and spats are fine and allowed in training and competing. The compression pants are good because they can provide protection to your knees and lower legs from getting mat-burn. They are also an added benefit to cleanliness, just that much more protection from potential bacteria that can get to the skin. Plus, they're pretty comfortable. It can also be good for those of you that have hairy legs.
Best Overall
Best Full Length
TSLA Men's Compression Pants
Athletic Sports Leggings & Running Tights
Winter-gear Base Layer Bottoms
True to size
No pockets
No Rubbing
Long longth
Mouth Guards
Wearing a mouth guard is highly recommended. It helps protect against damage to your teeth, tongue, and other soft tissue in your mouth.  There are 3 main types of mouthguards. Stock mouth guards are the standard mouthguard that can't be adjusted. Dentists don't recommend these. The next is the boil and bite mouthguard. These are made from thermoplastic material. When you place it under hot water it softens. The last one is custom-fitted. You can find a dental office or special lab that will take the mold for you.
You can also wear a mouth guard if you wear braces. If you have braces, you made need to get a custom bottom piece though as the ones you find at a store may not fit well.
Best Value
SISU Aero Mouth Guard
This mouth guard can be used for combat Sports, Basketball, Soccer, Hockey, Lacrosse, etc. It is one of the best rated mouth guards for comfort and use with breathing, talking and drinking.
Best Premium
Rash Guards
These are the same shirts you see surfers wear. Rashguards help to protect against mat burns, moisture control and good hygiene. Some rashguards may provide a light compression effect on the muscles which can help prevent muscle strains and sprains. Most Jiu-Jitsu rashguards are thinner than surfing rashguards. Most rashguards have a gel panel at the bottom to help keep you from rolling up while you spar. Tournaments allow both short-sleeved and long-sleeved rashguards. Each gym and tournament has different requirements for the color of rashguard that is allowed.
Both genders must wear a shirt of elastic material (skin tight) long enough to cover the torso all the way to the waistband of the shorts, colored black, white, or black and white, and with at least 10% of the rank color(belt) to which the athlete belongs. Shirts 100% the color of the athlete's rank (belt) are also permitted.
Best by Overall Reviews
Best Budget
Finger Tape
Finger tape is a ¾ inch to 1 ½ inch piece of fabric where one side is sticky to allow adhesion. It is traditionally used for splinting or taping fingers that are dislocated or broken but has been adapted to be used for different purposes for sports. In Jiu-Jitsu it can be used for taping fingers together, for adding additional support to fingers and other joints, and protecting skin from matt burn.
Best by Popular Vote
Johnson & Johnson Tape
This tape sticks well and rips easily. It doesn't come it black so it gets dirty easily. It also does not slip when you're on the mat which is good.
Best Runner-Up
Monkey Tape
Monkey tape is a slight alternative but is still a decent option. It's smaller in size coming in at .2 to .5 inches.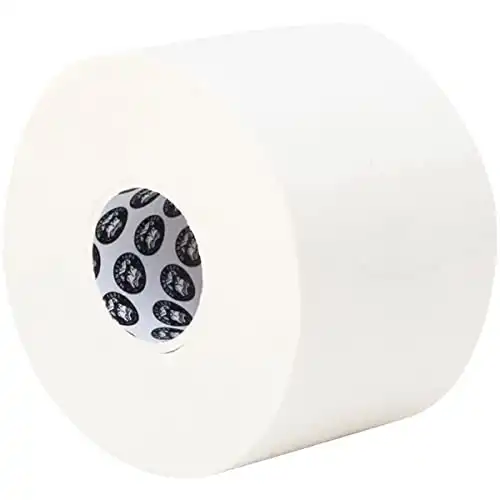 Best Multipurpose Tape
Hampton Adams Finger Tape
Hampton Adams comes in different colors and sizes which is good for having something for each body part.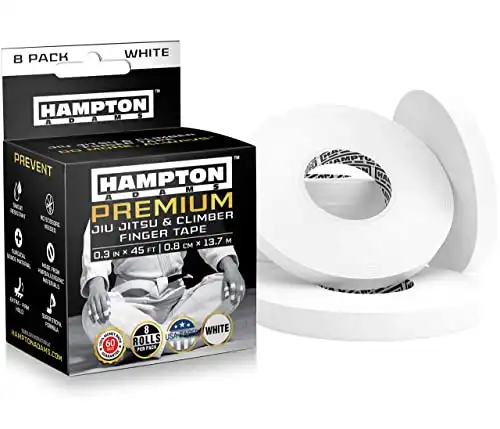 Final Word
In conclusion, it's good to look at what other fighters have used over a long period of time. Good brands will stay consistent over time. If you're unsure of what to buy then look up videos of what fighters and competitions wear then buy the cheapest with the best reviews. The items here have been surveyed to see what is most popular.