If you're looking for a great Taekwondo strike pad or kick shield, you've come to the right place. Here, we'll take a look at seven of the best Taekwondo pads and shields on the market today, and help you find the perfect one for your needs.
Taekwondo is a great martial art for self-defense, fitness, and fun. And while it's certainly possible to practice Taekwondo without any pads or equipment, using a good quality Taekwondo pad or shield can make your training more effective and enjoyable.
Best Taekwondo Strike Pads
Without further ado, here are the seven best Taekwondo pads:
Top Pick
#1 RDX
The maya hide leather used in the manufacturing of the kick shields is lightweight and sturdy, making it capable of withstanding relentless strikes during MMA, Muay Thai, Krav Maga and other similar trainings. The denzo tron sheet and spongex padding is used in the 60cm long, 36cm wide and 13cm thick strike pads to provide a sturdy and wide target area to practice your kicks comfortably. The nylon reinforced handles are strategically placed to provide an easy and comfortable grip while the adjustable straps ensure a suitable fit on the forearms.
Hook and loop closure in the straps makes it easier to adjust the straps quickly so you can spend less time practicing and more time fighting. Reinforced stitching ensures that the kicking pad is tough and resilient, letting you practice for MMA, Kickboxing, Brazilian Jiu-Jitsu and more without having to worry about wear and tear.
Runner Up
#2 Overmount
The Overmont taekwondo boxing pad is designed with an adjustable armband that both adults and children of all ages and sizes can use. It is made of high-quality PU leather and filled with thick sponge, making it durable and lightweight. This pad can withstand strong punches and kicks while weighing only 9oz.
The PU leather handle is ergonomically-designed and the elastic armbands are very comfortable. The blue base is tightly woven with tough strings, making it a great choice for powerful kicks. The character on the front of the pad means strength, power, and bravery.
Best Paddles
#3 Juvale
These are two red, double-sided kickboxing pads. They can be used for training in Tae Kwon Do, MMA, Karate, Boxing, Muay Thai, or Hapkido. They are made to last and are flexible and durable. The karate kick pads are excellent for practicing low and high kicks. They are built to last and have a loud sound so you can measure the quality of your strikes.The striking pads are easy to use. You just have to grab the end straps and wrap them around your wrist. The dimensions of the taekwondo paddles are about 15 x 2.5 x 7.5 inches each.
2 Pack Kick Pad
These are an affordable piece of extra equipment to help practice your high kicks; essential to any karate regimen.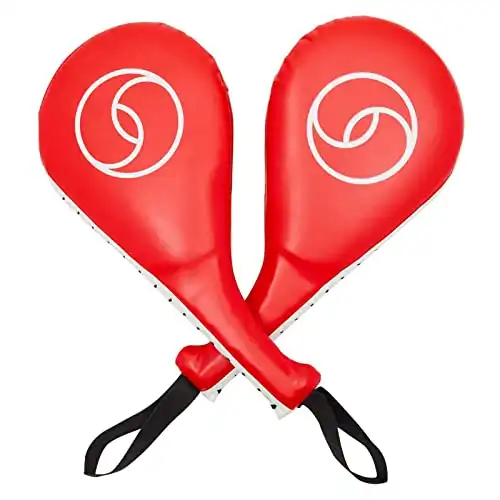 Kit for kids
#4 Odoland
This boxing glove set is perfect for your kids who want to box, do kickboxing, karate, taekwondo or Muay Thai. The gloves are 6oz and fit kids and youth 60 lbs. to 100 lbs. They have extra-thick foam padding and PU leather, which will help protect their fists and thumbs. The gloves also have a secure velcro wrist closure with a stretchable leather wrist strap for the ultimate wrist safety.
These punching mitts are light and effective. They have shock absorption EVA foam to protect your hands while you box or train. They are curved to fit most trainers and have a half ball palm grip for a comfortable and secure grip. They are easy to clean and maintain. The All Ages Kicking Pad – 16" x 8" kick pad is big enough to securely cover your arm and ensures your safety. With PU leather and thick sponge, this kicking punching pad can withstand strong punches and kicks. Also, the adjustable armband fits all ages, ideal for family boxing workouts.
Odoland makes every effort to provide you the best products possible. All of their boxing gloves, punching mitts, and thai pads are made of durable and long-lasting PU leather with thick foam padding. The Odoland kids boxing glove kick pad set will offer you a comfortable experience during your training.
Target System
#5 Syntecso
The Hands-free Kick Pad Target is a great way to improve your kicking skills. The wall-mounted bracket makes it easy to attach to a wall, and you can adjust the height of the kick pad. This is perfect for practicing different techniques. The kicking target pads that come with the set are more durable and can withstand hard strikes without injuring your legs. The dimensions of the kick pads are approximately 15 x 2.5 x 8 inches.
#6 Farabi
The Farabi Real Leather Strike pad is a great tool for fighters to use in order to improve their punching skills. This strike pad is made out of 100% genuine cow grain Nappa leather and is very durable. It can withstand difficult training sessions without getting damaged. The strike pad also incorporates the EC-Gel C-Shock technology, which helps to dissipate the impact of force evenly throughout the pad and resist any transformation that might occur. This reduces the risk of injury to a minimum.
This punching bag is good because it has a dual KXR-Handle Gripping System. This system makes the bag more stable and easier to control. The Aero build curved shape also makes it more comfortable to use and helps you learn how to punch correctly. The posterior TUX-Strength grippers also help you keep a good grip on the bag, which is important during long training sessions. This is a durable pad that uses a RAW triple-needle fleece and Pico-thread. The VB-tech covering makes it even more durable. It is powered by a multilayered FGR-Compressive EU-Padding for enhanced protection.
#7 Tlbtek
The adjustable arm band and elastic wrist band on the muay thai pads make it easy to use for people of all ages. The outside of the karate kick pads are made of PU leather, which makes them durable and functional. The inside of the kickboxing pads is filled with thick sponge, which can help reduce the impact on your wrist if you get hit.
The curved surface on these taekwondo kick pads helps to absorb attack power and makes it more accurate when punching. The unique and generous appearance of these pads also makes them more visually appealing. Additionally, the breathable design of these pads helps to reduce sweat flow during training, while the thick lines of closure on the edges create a good cushioning effect that prevents the target from bursting off.
The dimensions of the front striking area on these muay thai kick pads are about 13.6 x 7 inches. This is a big enough area to securely cover your arm and ensure your safety. The taekwondo target pad is great for daily training and easy transportation.
The Research
Why trust us
We start by looking at hundreds of product reviews on major retailers, forums and product databases. Where possible, we then check with experts on what to consider when purchasing and what their top picks are. For each product, we check to see if the retailer and the manufacturer are reliable. You can see below for how we do this.
Who this is for
Strike pads are for Taekwondo practitioners of all levels. They help improve your striking accuracy, speed and power. They come in different shapes and sizes, and with different features. Some have handles, while others do not.
How we chose the
There are several factors to consider when choosing the best Taekwondo strike pads. These include:
Size: The size of the strike pad should be appropriate for the height and weight of the Taekwondo practitioner.
Material: The material of the strike pad should be able to withstand strikes from a Taekwondo practitioner of any level.
Shape: The shape of the strike pad should be such that it allows for proper striking techniques to be used.
Features: The features of the strike pad should include those that are necessary for the Taekwondo practitioner, such as a handle or strap.
How we find reliable products:
Search for retailer reviews: merchant name + 'customer reviews'
Look for red flags: repeat failure to fulfill order, fulfill wrong items, poor customer customer service.
Read policies: check to see at least a 30 day warranty. For big expensive items at least a one year manufacturers warranty. For mid-priced items a 60 day warranty is good. 
Look for Digital Payment Methods: Do they have digital wallet services like PayPal or Amazon Pay.
Third-party sellers: Check if they're fulfilled by Amazon. Check to see if the seller has consistent reviews. Check for a high customer satisfaction rating; 85% with 4+ stars.
FAQ
Q: What is the best Taekwondo strike pad?
A: The best Taekwondo strike pad is the one that is the appropriate size for the Taekwondo practitioner, is made of a durable material, and has the features that are necessary for the Taekwondo practitioner.
Q: What are the different types of Taekwondo strike pads?
A: There are different types of Taekwondo strike pads, including flat strike pad, curved strike pad, muay thai pad, paddles, disk shaped shields and more.
Q: What are the different features of Taekwondo strike pads?
A: Taekwondo strike pads come with different features, including handles, straps, and different shapes.
Q: How much do Taekwondo strike pads cost?
A: Taekwondo strike pads can cost anywhere from $10 to $100. The price depends on the size, material, shape, and features.
Q: What is the best material for a Taekwondo strike pad?
A: The best material for a Taekwondo strike pad is one that is durable and can withstand the strikes of a Taekwondo practitioner.
Q: What are the different features of Taekwondo strike pads?
A: The different features of Taekwondo strike pads include handles, straps, and shapes that are specific to Taekwondo techniques.
Final thoughts
In conclusion, the best Taekwondo strike pads are the ones that are the appropriate size for the Taekwondo practitioner, made of a durable material, and have the features that are necessary for the Taekwondo practitioner.
Sources
https://www.ncbi.nlm.nih.gov/pmc/articles/PMC3289223/
https://sportsgratitude.com/taekwondo-kick-pads/