There are several factors to consider when purchasing a Gi for Brazilian Jiu-Jitsu. Gis generally come in either light, medium, or heavyweights. Medium weights are the typical entry-level uniform for beginners to the sport. Heavier weight Gis tend to be more durable for those who train more intensely or more frequently. Lightweight Gis are made of less material and more lightweight cotton.
They are the choice of many athletes but not for all. Key reasons for not choosing a lighter Gi include durability and feel. Many students are more comfortable in a medium weight Gi, and others grow accustomed to the heavier variety. In this article, I will set out some reasons to consider purchasing a lightweight Gi. I will move on to some essential considerations before purchasing and will conclude with the seven best lightweight Gis available on Amazon today. 
A quick look at the best lightweight Gis
Budget Friendly: Sanabul: Essentials V2
Best Value For Money: Hayabusa Ultra Lightweight Pearl-weave
Best Design: Shogun Fight: Ultra Light 'Kanji'
Best Overall Lightweight Gi: Fuji: Submit Everyone
Great for Warmer Climates: Fuji Summer Weight
Best For Competitions: Gold: Ultra Light Weight
Recommended: BJJ Sizing Guide
What is a Lightweight Gi in BJJ?
In the world of BJJ, a lightweight gi often refers to garments in the range of 350 grams per square meter (gsm) or less.
This can vary somewhat depending on factors like personal preferences and styles of training, but generally speaking, a BJJ Gi that is less than 350 gsm is considered a light garment. What sets a lightweight Gi apart from other types of clothing may not be immediately obvious to the naked eye, but it can usually be distinguished by its lower weight when compared to an average BJJ Gi.
While most Gis weigh around 450-550g, a lightweight Gi typically weighs around 30% less–making it suitable for competition and rolling activities where every ounce counts! Whether you're looking for a new gi for your next tournament or simply want to lighten up your training rig, a lightweight gi is an excellent choice for anyone looking to optimize their performance on the mats.
When to buy A Lightweight Gi
The most common reasons to buy a lightweight gi for BJJ include competition, the heat, and comfort. A lightweight gi will make weight reduction easier for you while also being less hot to wear in hot weather. Most individuals believe that their favorite BJJ gi is made of lighter material. Because they use less cloth, some lightweight gis are often less expensive than regular ones. As a result, a lightwight Gi is normally the best option for jiu-jitsu.
How is the Weight of a BJJ Gi Measured?
When shopping for a new BJJ gi, one of the most important factors to consider is the weight of the fabric. This is typically measured in grams per square meter (gsm), which indicates how much fabric there is in a particular area. Though gsms can vary depending on the type of fabric used and other factors, it generally provides an accurate measure of a gi's overall weight and density.
In addition to looking at grams per square meter, it's also important to consider how a gi actually fits. Because different brands use slightly different sizing conventions, a particular size may fit slightly differently from one brand to another. To ensure that you get the best possible fit, it's important to shop for a gi that's slim fit or tailor-fit. This will help ensure that your gi doesn't feel too bulky or loose in any areas. Ultimately, finding the right weight for your BJJ kimono is about striking a balance between durability and comfort, so it's essential to keep both these factors in mind when making your purchase.
What is the Lightest BJJ Gi?
Of all the BJJ gis on the market today, I believe that the Gold BJJ Ultra Lightweight Aeroweave gi stands out as the lightest. This gi is made from highly durable materials at a lightweight 275gsm and features reinforced patches in high-wear areas. It also has a tailored cut that provides a comfortable fit without restricting movement or impeding your techniques. In addition, this gi features mesh ventilation in high-heat areas on both the interior and exterior of the jacket, allowing for greater breathability and cooling during intense sparring sessions. Ultimately, if you're looking for a lightweight BJJ gi that delivers superior performance without weighing you down in your training and competition, then look no further than the Gold BJJ Ultra Lightweight Aeroweave gi.
Different Types of Lightweight Gis
Lightweight gis come in two forms: low-cost lightweight gis and high-end lightweight gis. The difference between the two is that the lower-cost one is designed to be less expensive, whereas the higher-quality one is intended to be of a higher quality.
Affordable Lightweight Gis
The less expensive, lighter BJJ gis are of lesser quality and are produced by small BJJ companies. They aren't horribly bad, but they aren't perfect either. The manufacturers of cheap lightweight gis don't attempt to create higher-quality gis because they can save money by using less cloth, which is the funniest thing.
If you're searching for a low-cost, lightweight BJJ gi that can withstand competition intensity, this isn't the one. Because it is not particularly robust and can't handle the energy of a competition, it is not ideal for competition. A more premium BJJ Gi is the finest type of gi for competitions. If you train in hot weather or only twice a week or less, a low-cost lightweight gi will work well for you.
Premium Lightweight Gis
Premium lightweight BJJ gis are highly functional and durable garments that are specifically designed for use in BJJ competitions. These gis offer several key advantages over other types of gis, including improved strength and durability as well as increased flexibility and range of motion. Furthermore, the best BJJ competition gi is always a premium lightweight model, making them ideal for BJJ competitors who are looking for an edge in weight cutting.
For those who train in hot weather conditions, a premium lightweight BJJ gi is an excellent choice. These garments provide added comfort and breathability during intense training sessions, while still offering superior protection against wear and tear or damage from exposure to the elements. And finally, many people believe that a lightweight gi is simply more comfortable and less restrictive than heavier models, making it a great choice for any BJJ enthusiast. Whether you train multiple times per week or just once in a while, a premium lightweight BJJ gi is the perfect choice for anyone who wants to achieve their full potential on the mat.
Best Lightweight Gis for BJJ
1. Sanabul: Essentials V2
The first Gi on our list is also the highest rated on Amazon. It is made from a single weave, features tapered sleeves, pant hems, and a rubber collar to ensure protection in essential places. It weighs around 3lbs depending on size. Although not world-renowned, the Sanabul team advocates include coach John Danaher and UFC start 'Sugar' Sean O'Malley. The Gi features a few brand logos, which means less stitching and more strength to the uniform overall.
The Gi tends to run big, so sizing is not consistent with other, more popular Gis on the market. I would always recommend getting a larger size and shrinking in the wash. As I have learned over the years, you can make a Gi smaller, but you can never make it bigger. The Gi is extremely affordable and also comes with a free belt of any color. Featured colors include green, grey, and navy alongside the traditional choices.
Best Budget Friendly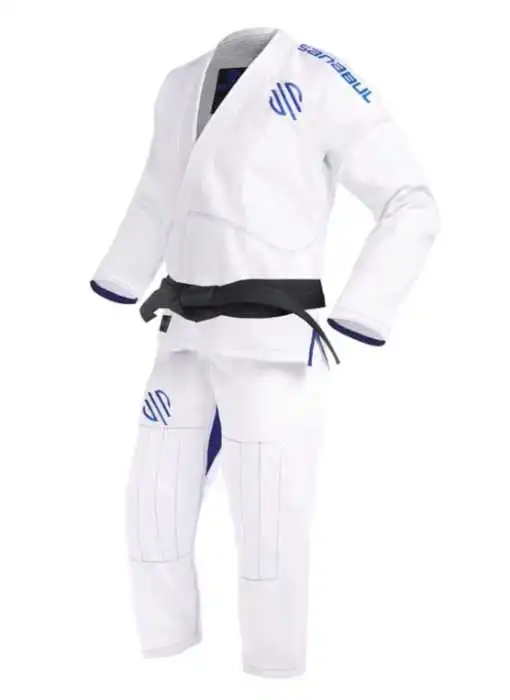 2. Hayabusa Ultra Lightweight Pearl-weave
Hayabusa is becoming a larger presence online and on Amazon, particularly with their wide variety of Gi and No-Gi uniforms. This Gi features a reasonably lightweight jacket at 350 gsm (N.B. Heavier jackets tend to run 400-500 gsm) and 8oz ripstop pants (reduces the spread of tears). The Gi runs from 3-4lbs but is reinforced in critical areas, including shoulders, knees, and sleeves.
The Pearl weave is not the cheapest product on the list, but it is quite good-looking and features some favorable reviews to boot. The Gi is pre-washed but not pre-shrunk. This generally results in less color fading, but some customers have reported fading after a couple of washes. As a result, I would advise a black or grey uniform as opposed to navy or white.
Best Value For Money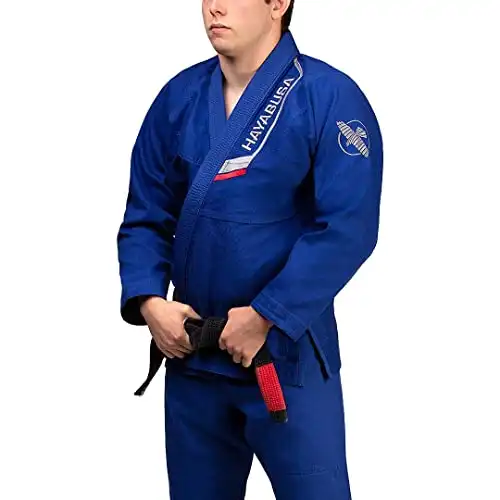 3. Shogun Fight: Ultra Light 'Kanji'
The Kanji features a 350 gsm jacket and ripstop pants to match. Weighing in at around 3.5lbs, the Kanji is a traditional-looking GI and features some very positive reviews from past buyers. Crucially, for durability purposes, the Kanji is reinforced at the shoulder, knees, sleeves, and pant hems. Additionally, the Shogun Fight brand features a strong endorsement from ADCC Champion and current PFL fighter, Vinny Magalhães. 
The Kanji is available in some L sizes and potentially H sizes in the future. Although not essential, it is nice to have these options for those who don't fit the traditional A/F sizing structure. For what it is, the Kanji is reasonably priced. One reservation I would have is the quantity of Shogun Logos featured on the Gi. Not only are they slightly jarring to the traditional white uniform, but they also provide more opportunity for rips and tears to occur. However, this was not highlighted in any of the reviews online.
4. Fuji: Submit Everyone
Regardless of the performance of this one, it certainly has the most enticing name on the list. Fuji's offering is the first of the 'premier' brands on the list. As with Shogun's Gi, the Fuji features a 350 gsm jacket and ripstop pants. The collar is tapered, and the sleeves and pant hems are also reinforced to provide peace of mind while rolling. There are also overwhelming reports that the Gi feels great, unlike others, which can feel like plastic.
As you would expect, the Fuji comes in L and H sizes. It costs a little more than the others but also comes with the backing of Fuji's customer support and heaps of good ratings. You can get the Submit Everyone in Black, Blue, or White. Similar to the Shogun Gi, my only concern here is the quantity of Fuji logos. Inevitably, the more you stitch into the uniform, the more you infringe on its strength.
Best Overall Lightweight Gi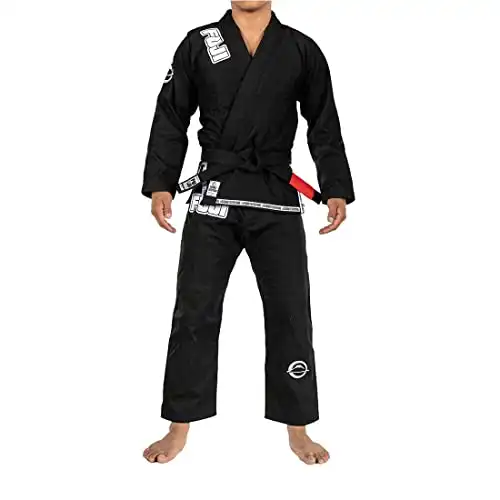 5. Fuji Summer Weight
The second entry from Fuji is their Summer Weight Gi. As implied, the Gi is geared towards those in warmer climates and need a reprieve from their heavier uniforms. The Gi weighs around 4lbs and features tapered collars, sleeves, and knees. Like the Zero-G, the Sumer Weight uniform sits around the midpoint of our list in terms of price. 
An interesting aspect of the Summer Weight is the elasticated drawstring cord on the pants. Some like it and others don't. It's certainly not the norm in BJJ, and preference is probably entirely subjective. Unlike their 'Submit Everyone' the Summer Weight has fewer logos, and those featured are away from frictional areas. The Gi is currently only available in black online.
Great for Hot Weather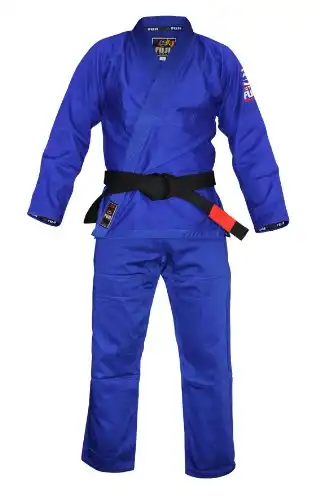 6. Gold BJJ: Ultra Light Weight
When it comes to advertising a lightweight Gi, Gold has nailed it. Sitting at the higher end of our price list, the Ultra features a 450 gsm jacket and 10 oz ripstop pants. Overall the Gi weighs around 3lbs, making it one of the lightest on the list. The jacket and pants are reinforced and tapered in all of the key areas. Although not a household name, Gold has received excellent reviews for this model and others.
The Ultra Light Weight comes in traditional Black, Grey, or Navy and, you guessed it, Gold! The Gis are also available in L and H sizing, which is unique for such a new brand. Although I don't have much experience with the brand, I must say that it could make for an excellent purchase given the weight and reviews of this product. 
Best For Competitions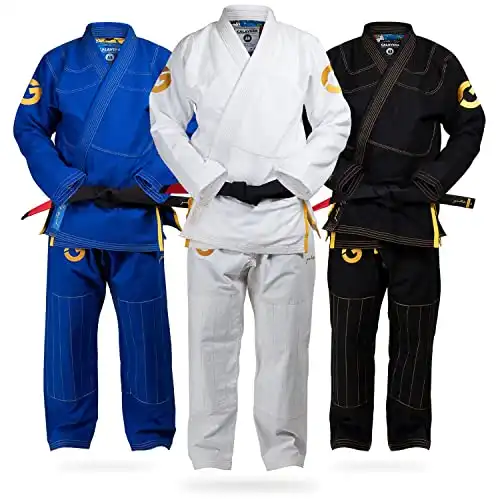 7. Gold BJJ: Ultra Light Weight Women's Cut
Women's Cut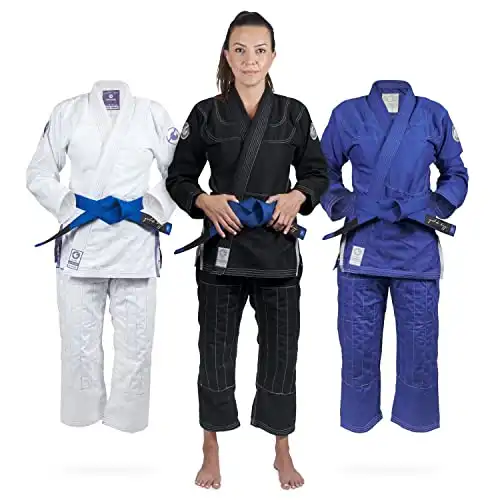 The Research
How we do the research
We start by looking at hundreds of product reviews on major retailers, forums and product databases. Where possible, we then check with experts on what to consider when purchasing and what their top picks are. For each product, we check to see if the retailer and the manufacturer are reliable. You can see more about our process here. You can also read more about who we are on the about page.
Who this is for:
Lightweight Gis are for anyone looking for a BJJ gi that can withstand competition intensity without weighing you down. These high-quality gis are particularly useful for those who train in hot weather or compete frequently. If you're looking for the best BJJ competition gi, then a premium lightweight model is the way to go.
Key Decision-Making Factors
When choosing a lightweight gi, there are several key factors you'll need to consider in order to find the right one for you. These include the weight of the gi, the weave, the fabric, and the price.
Weight
The first factor to consider when choosing a lightweight gi is the weight. As a general rule, the lighter the gi, the better it will be for competition purposes. However, if you're looking for a gi to use during training sessions, then a heavier gi may be more suitable.
Weave
The second factor to consider is the weave of the gi. The most popular type of weave for BJJ gis is the pearl weave. This type of weave is light and strong, making it ideal for competition use.
Fabric
The third factor to consider is the fabric of the gi. The best BJJ gis are made from a lightweight, breathable fabric that is durable and comfortable.
Price
Finally, you'll need to consider the price of the gi. Lightweight gis tend to be more expensive than other types of gis due to their high quality construction and materials. However, they are an investment that will pay off in the long run.
Frequently asked questions
What is Pearl Weave?
'Weave' refers to how the fabric in the gi is woven together. The Pearl Weave is the most popular way to do this because it is light and tough.
Judo Gi vs BJJ Gi
A judo gi is typically lighter than a Brazilian Jiu Jitsu gi because it doesn't have to be as tough. This means that you can get away with using less fabric, which makes it lighter.
However, there are some BJJ gis that are designed to be lightweight, such as the Gold BJJ Ultra Lightweight Aeroweave gi. These gis are just as tough as a regular BJJ gi but don't weight as much.
What does GSM Stand for in BJJ?
GSM stands for Grams per square meter. This is a way of measuring how heavy a fabric is. This is often used to measure the weight of a gi, because it doesn't depend on the size of the gi.
Final Thoughts
If you're looking for the best BJJ gi for competition use, then a premium lightweight model is the way to go. These gis are designed to be lightweight and breathable, while still providing superior protection and durability. When choosing a lightweight gi, be sure to consider the weight, weave, fabric, and price in order to find the right one for you.