Vulkan Gis is one of the most well-known BJJ Gis on the market.
In my early days of Brazilian Jiu-Jitsu, the Vulkan Pro Gi was a trendy new Jiu-Jitsu Kimono on the scene, that was different than most big and bulky Gis of the time.
It had a fitted slick design that I always liked and was just so much better than the Gracie Barra Standard Kimono I owned.  The Vulkan Pro Gi was the first Gi that I really loved and every 2 years I would buy a new one.
To this day, 7 years later, the Vulkan Gi is part of my arsenal of training Gis I use consistently.
Even though the designs of Brazilian Jiu-Jitsu Gis have changed a lot over the years and many Bjj Gis are lightweight and beautifully designed and tapered, the Vulkan BJJ Gi is as relevant today as it was back when I first started BJJ.
Since I already love this product so much, I thought it'll make perfect sense to write a Vulkan Pro Gi review. I'll talk about the benefits, what I didn't like, and if it's worth buying in 2022.
Recommended: Best BJJ Gi
Let's get started.
Vulkan Pro Gi Review: What I Liked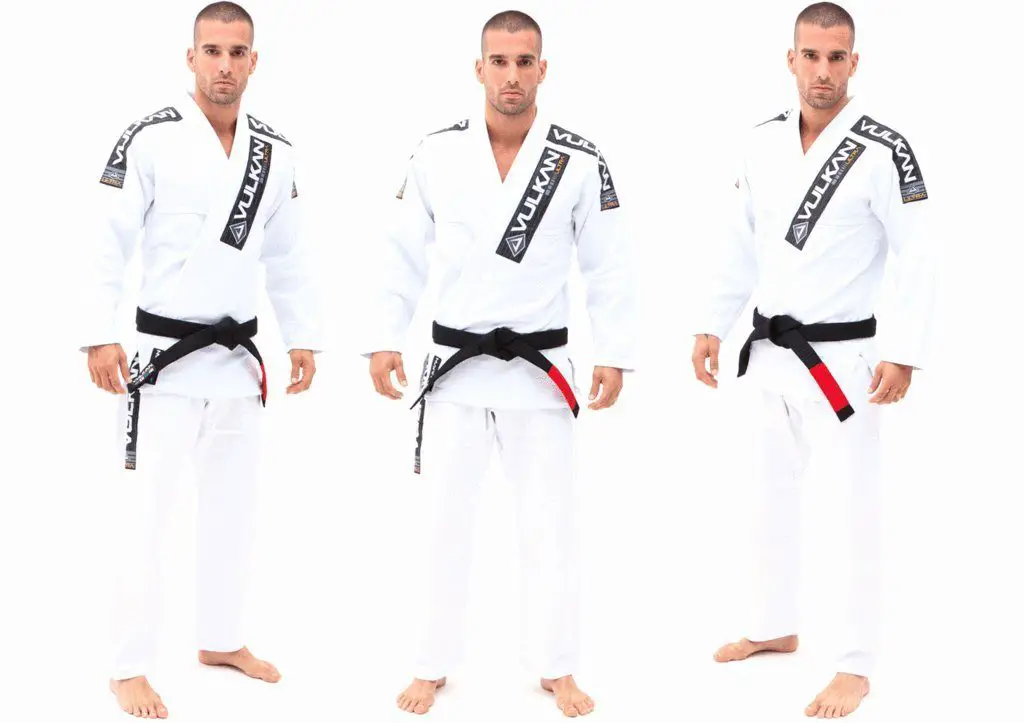 #1. Keeps You Well-Ventilated
The Pro Vulkan Gi is amazing for training if you train in very hot weather, are prone to claustrophobia, heat adverse or sweat a lot.
I felt that with the Vulkan Pro Gi, I can train harder with more intensity and don't feel as weighed down as with other heavy fabric Kimonos.
Sometimes, I have bouts of anxiety or heat sensitivity if I train too hard with other BJJ Gis, but with the Vulkan Gi, I always feel great, light, and well-ventilated.
#2. Made with High-Quality Fabric
The jacket itself is very durable with a solid collar and good cotton fabric. It takes 1-year or more of hard training before you ever see any real wear and tear on the Gi.
During a good rolling session, you will love its soft cotton, cozy feel, and good ventilation. I also feel that it doesn't hurt you as much as the tougher heavy fabric kimonos that tend to give me Gi burns everywhere if I roll with some tough guys.
The Sleeves of the Vulkan Pro Gi are a little bit longer than usual which is great if you are a lanky guy like me. I went with an A1 that fits me perfectly at 155 pounds and 5 feet 8 inches.
#3. IBJJF Approved
The Vulkan Pro Gi is IBJJF (The International Brazilian Jiu-Jitsu Federation) approved which means it satisfies all the strict rules.
If you dream of yourself participating in some of the biggest Brazilian jiu-jitsu tournaments in the world, you can take part in this Gi.
#4. Easy To Carry
Lastly, the best thing about the Vulkan Gi is the ability to travel with it. The Vulkan BJJ Gi is light and occupies the most minimal space you can expect for a Gi in your luggage.
I traveled to many countries in Europe with only a backpack and my Vulkan BJJ Gi fit perfectly in my backpack.
Also, the Gi dries very quickly that even if you hand wash and hang it, by the next morning the Gi is ready to use.  The Vulkan Pro Gi is perfect for hot locations like Brazil where training in some of the academies feels like training in a sauna.
Vulkan Pro Gi Review: What I Didn't Like
The only disadvantage of the Vulkan Gi is probably the pants.
The pants feel great and are cotton, so they are soft and lightweight. But the knee pads lack reinforcement. The new generation of Gis has ripstop technology which is much better for stopping rips and makes these pants seem outdated.
I think it isn't a huge issue because after a year of use a rip or tear seems normal for cotton pants. Some people love the way cotton feels rather than ripstop material, so I don't think it's a big deal. You can buy ripstop pants for around $30 dollars if you are truly worried.
Another issue worth mentioning is the sizing. If you've read our Best BJJ Gi article, you'd know that each and every brand uses a different sizing. The Vulkan Gi has a different sizing factor than other Gis, so you should check the below Vulkan Gi size chart before ordering.
Apart from these two, there aren't any noticeable cons to Vulkan Pro Gi.
Vulkan Gi Size Chart
As discussed, I'm 5 feet 8 inches in height and weigh around 155 LBS. So, I went with the A1 size which fit perfectly for me. You should measure your height and do a weight scale to get the perfect size Gi.
| Height | Weight | Size |
| --- | --- | --- |
| 5'2″ – 5'5″ | 110 – 155 | A0 |
| 5'5″ – 5'8″ | 155 – 175 | A1 |
| 5'8″ – 6'1″ | 175 – 210 | A2 |
| 6'1″ – 6'4″ | 210 – 230 | A3 |
| 6'4″ – 6'6″ | 230 – 265 | A4 |
Approximate Vulkan Gi Weight
| Size | Weight(LBS) |
| --- | --- |
| A0 | 2.9 |
| A1 | 3.2 |
| A2 | 3.4 |
| A3 | 3.9 |
| A4 | 4.2 |
Is The Vulkan Pro Gi Worth it?
I would highly recommend the Vulkan Pro BJJ Gi if you are after a high-quality, lightweight, durable, and comfortable Gi.
It sells on Amazon for less than $100 for kids and around $150 for adults – well worth all the training you'll do with it. Like I mentioned earlier, if you are averse to heat, sweat a lot, need a good summer training Gi, or are claustrophobic, go for the Vulkan Pro Gi.
If you want something heavier, you can always choose the Vulkan Pro Gi. I also find that for a lankier person both are a great fit.
Vulkan Pro Gi is not for you if:
You completely swear by double weave thick Gis that have a heavy feeling
You want better pants with ripstop technology
In those cases, I'd recommend you check out my Sanabul Gi Review which is a great product and affordable.
I hope you enjoyed reading through my honest Vulkan Pro Gi Review. If you did, please share this article with your friends and BJJ lovers.