If you're looking for the best womens BJJ rash guards on the market, then you've come to the right place. In this article, we'll be ranking and reviewing the 7 best options currently available, providing a description, list of features and benefits, pricing, and more for each one.
Benefits of Rash Guards
Before we get into the finest womens jiu jitsu rash guard, let's go over a few things. Rash guards are crucial for training and competition, particularly for females. They have a number of benefits in BJJ and come in a variety of forms and materials.
Protects Against Mat Burn
Wearing a rash guard prevents your skin from being scraped against the mat. Fluid can gather on the surface of the mat and cause friction between your skin and the surface, which might irritate you. It's a good idea to put on a rash guard to avoid this.
A rash guard protects your skin from sunburn. You can acquire a skin infestation if you don't wear one. People may pass on illnesses, therefore some gyms have a policy of requiring you to wear one while training and competing.
Keeps You Covered
Rash guards protect you from mat burn and, while you're training or competing, keep you covered. This is significant because t-shirts may roll up when grappling, exposing your skin. Women may find that their clothing rises and exposes private portions when they wear regular t-shirts. Rash guards are tightly fitted to the skin and made of smooth material, ensuring that you are well covered.
Injury Prevention
As previously said, practicing or competing on a mat can induce mat burn. Furthermore, while training, you may acquire other wounds and abrasions. A rash guard protects your skin from minor injuries and compresses your muscles to prevent additional serious injuries.
Moisture Control
If you fight in a regular t-shirt, you will sweat a lot. The fabric utilized in rash guards is a combination of Polyester and spandex, which helps to regulate moisture. Not only will your perspiration be kept at bay, but your grip when fighting will be improved since your hands will stay dry.
Bacteria Control
If you're rolling, grappling, or fighting, a rash guard is a smart idea. This will help to prevent cuts and burns on your skin from becoming infected. Wearing a rash guard will also keep you from coming into contact with another combatant's germs.
Body Temperature Regulation
When purchasing a rash guard, you have many options to consider. One of these alternatives is the thickness of the rash guard. A thicker rash guard will keep BJJ practitioners warm in chilly weather while also encouraging weight loss by forcing your body to sweat more.
Women's BJJ Rash Guard Buying Guide
Now that we've seen why BJJ rash guards are so important, how do you pick the right one for you? There are several different types of rash guards available, and it might be difficult to decide which one is best for you.
When selecting a rash guard, think about the following items:
Thickness
There are many different varieties of rash guards, and the thicker the better when it comes to losing weight. If it's chilly outside, a thicker rash guard will make you sweat more and keep you warm. You'll want to select a thinner option if it's hot outside so that your body doesn't overheat.
The difference between rash guards manufactured for surfing and other outdoor sports is that they are constructed with a thicker, more durable material. The ones made to protect your skin against cuts and burns are generally thicker.
Stitching
When purchasing a rash guard, the quality of the stitching is crucial to consider. This is because you will likely be wearing your rash guard several times each week, if not every day. You want to go for one that will last a long time. Stitching that is well done will prevent your rash guard from tearing apart. You get what you pay for in terms of stitching quality.
A women's BJJ rash guard with high-quality stitching might cost you a bit more. It will last longer, so you won't have to replace it as frequently. Look for flatlock stitching when shopping for the greatest. It utilizes four to five threads, ensuring that the shirt does not tear at the seams.
Brand
Comfortable rash guards are essential for people who do BJJ for both health and sports-based reasons. The brand is an important aspect in the decision to buy. This is especially true when it comes to women's BJJ rash guards. Some BJJ manufacturers don't even offer female cuts. Some companies specialize in creating products just for men, those that specialize in producing items just for women, and unisex choices. When selecting your equipment, seek a brand with a line of female rash guards specifically designed to meet your needs.
If you like a certain brand, look for a women's rash guard line from that firm. The cost of the product is also determined by the brand. Popular brands are generally more expensive, yet they may be of greater quality. There are various designs offered by various companies, so shop around to find what works best for you.
Material
Quality rash guards are made from a mix of Polyester and Spandex. This is the best option because the materials are stretchy and last. They're ideal for grappling. If you lose or gain weight throughout your BJJ journey, you won't need to run out and get a new rash guard that fits because the materials are stretchy.
Sleeves
This is a matter of personal choice. The majority of rash vests come with long or short sleeves. Long-sleeved garments are more protective against skin infections, cuts, and burns.
You can concentrate on your training without being concerned about irritation or harm. When it comes to long sleeves, you should be sure you're getting a lady's cut. The majority of unisex or male rash guards have sleeves that are too long for women. This might get in the way while exercising. Short sleeves have their benefits. They're considerably cooler than long sleeves. Furthermore, they provide a better fit. Whatever option makes you feel more at ease is the best choice.
Style
There are several different types of rash guards available. Some have antibacterial properties that aid in the treatment of skin issues. You should also consider what color you want your rash guard to be. Because dark tones don't display dirt and stains as easily, they're preferable.
It's fine to have a bright, enjoyable design for your training. However, you should think about competition rules before spending too much money on these sorts of rash guards. You should also think about what the designs are made of. When you're rolling, anything that is screen printed or ironed on may rub off and fade away. When it comes to designs, sublimated patterns tend to last longer and look better.
A quick look at the best women's rash guards
Best Women's BJJ Rash Guards
#1 ROAR MMA Grappling Rash Guard
This rash guard is made of 100% spandex. It is lightweight, ultra-strong, moisture-wicking, and compression material. The rubber waistband prevents scratches, cuts, and burns. The 4-way stretch fabrication allows greater mobility in any direction. The graduated compression in the arms and upper torso improves blood flow throughout muscles.
This rashguard is perfect for MMA, BJJ, Circuit training, surfing or any other exercise. It meets the International Brazilian Jiu-Jitsu Federation (IBJJF) requirements. Plus, it comes with a Long Term Money Back Guarantee.
ROAR Rash Guard
Pros:
IBJJF Approved

100% Spandex

Lightweight

Ultra-strong

Moisture-wicking

Compression material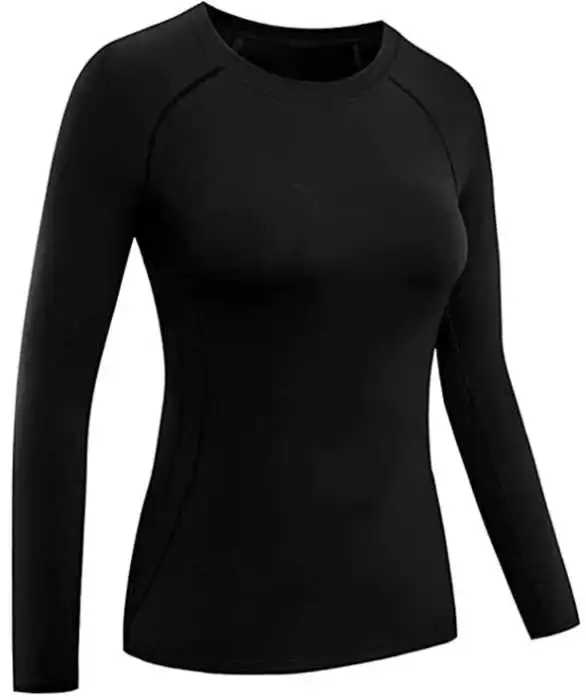 #2 SicChic Women's Rash Guard
Polyester and Lycra are blended together to make this fabric. The fabric absorbs sweat and keeps you dry while you work out. It is lightweight so it will not be a burden, and the graphics are beautiful and sublimated so they will not fade. The material feels smooth on your skin for comfort.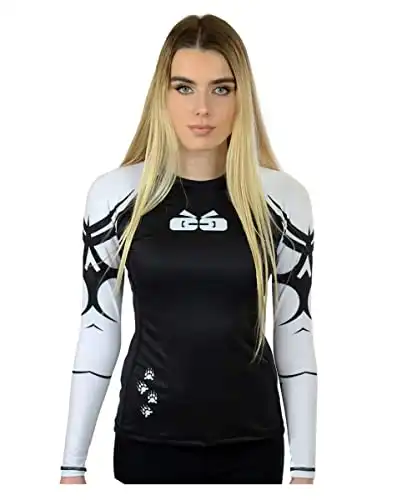 #3 Sanabul Essentials Rash Guard
The Sanabul Essential rash guard is a simple design that comes in 6 different colors. It can be used to show your rank in Jiu-Jitsu (approved by IBJJF for competitions) or just to match the rest of your outfit.
The Essential series rash guard includes a revolutionary underarm mesh panel that helps moisture escape. It also includes other features, such as a performance fabric treatment. The compression will help you stay comfortable and safe while you're active. This shirt is great for other activities such as surfing, running, and swimming too.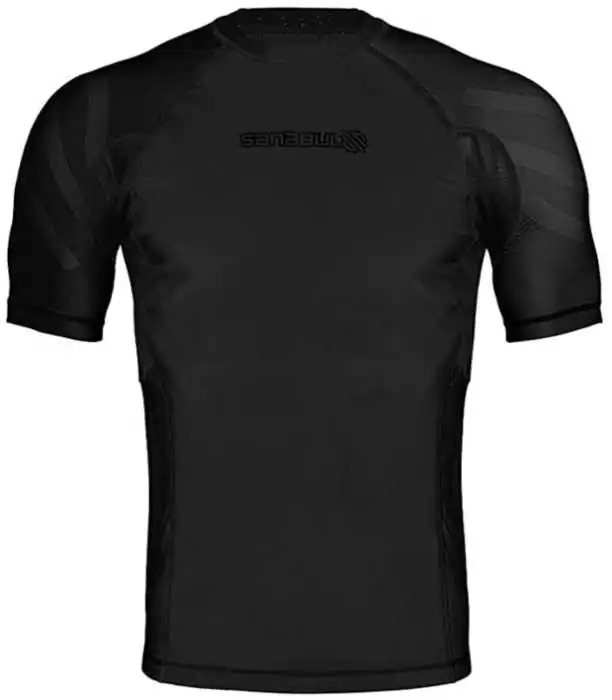 #4 Raven Fightwear Women's Aerial Assault Rash Guard
The Raven Fightwear Women's Aerial Assault Rash Guard is a beautiful shirt that will make you stand out in any class. It is made of a polyester and spandex blend that is designed to move with you. The compression fit will help support your muscles and prevent injuries. The flatlock seams will prevent chafing. This shirt is perfect for jiu-jitsu, MMA, BJJ, and surfing.
Raven Fightwear Women's Aerial Assault Rashguard
Pros:
Rubber lining at the waist keeps rashguard secure during movement

Reinforced flatlock stitching for long-lasting durability

Light-weight and breathable fabric keeps you cool and comfortable

Four-way stretch fabric stretches in all directions allowing for maximum range of motion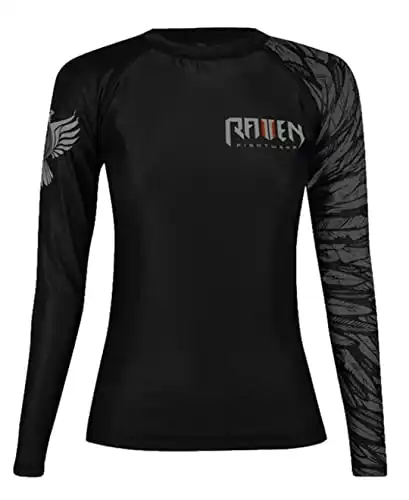 #5 Gold BJJ Long Rash Guard
The Camo Rash Guard is perfect for people who don't want to wear a gi. It's made out of a strong polyester blend with mesh vents under the arms to help keep you cool. It's slightly longer than a regular t-shirt so it won't ride up and show your stomach when you're rolling. You can choose between short sleeves and long sleeves, or get both to be prepared for hot and cold days.
Flatlock stitching is a type of stitch that is smooth and durable. It doesn't bother you or your training partners and it won't come undone.
Gold BJJ Rashguard
Pros:
Strong polyester blend

Mesh vents under arms

Flatlock stitching

Satisfaction Guarantee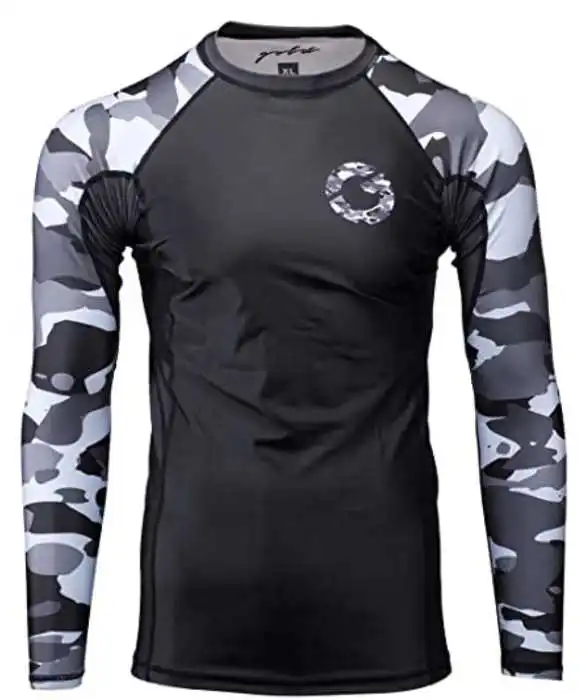 #6 Xmartial Grappler Women's Rash Guard
This compression shirt is designed for comfort and style. It has a single sleeve design and it is made to withstand intense training and competition. The long sleeve white geometric design is also available. This shirt can be used for activities like jiu-jitsu, MMA, BJJ, surfing, and watersports.
Xmartial Grappler Women's Rash Guard
Pros:
Long sleeve

Can be used for multiple activities

Anti-slip gel panel technology

Moist-wicking

Fully sublimated graphics

Breathable

One-Year Warranty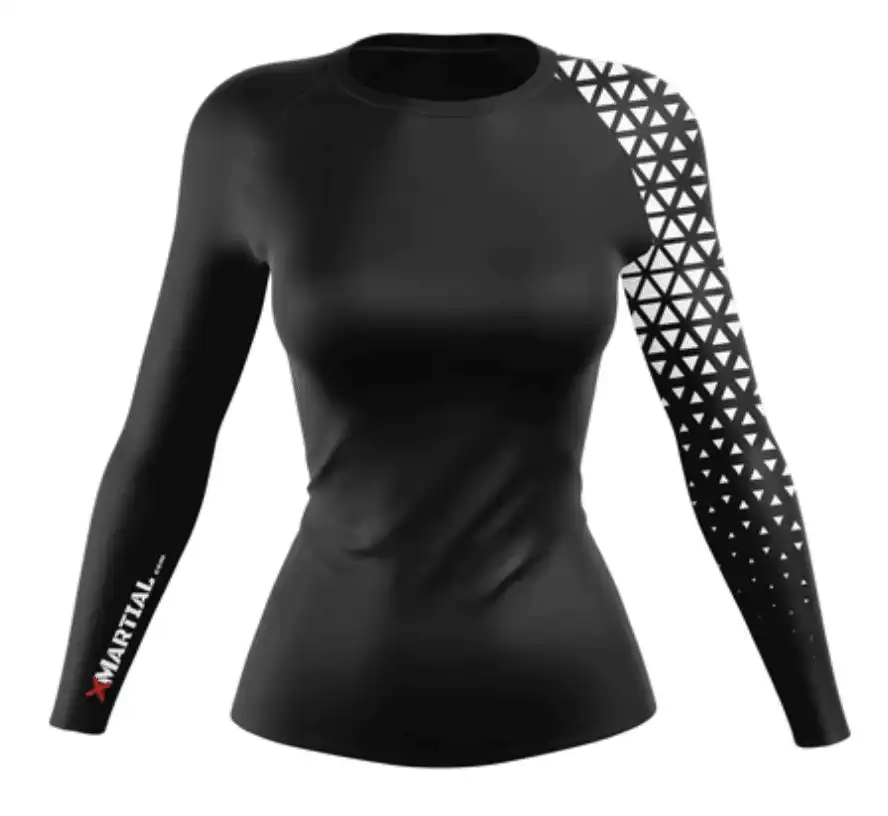 #7 Under Armour Women's HeatGear Compression Shirt
The Under Armour HeatGear Compression Shirt can also be used as a rashguard. Note that you can wear HeatGear when it's hot, ColdGear when it's cold, and AllSeasonGear between the extremes. This clothing may be utilized for a number of purposes.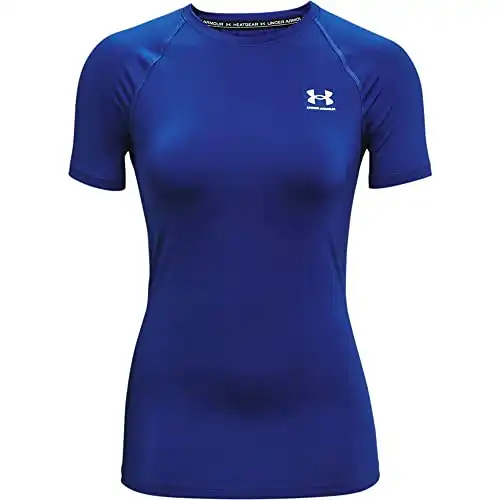 The Research
How we do the research
We start by looking at hundreds of product reviews on major retailers, forums and product databases. Where possible, we then check with experts on what to consider when purchasing and what their top picks are. For each product, we check to see if the retailer and the manufacturer are reliable. You can see more about our process here. You can also read more about who we are on the about page.
Who this is for
Combat sport rash guards are for people who want extra protection from injuries. These shirts are perfect for jiu-jitsu, MMA, and other martial arts training. They also work for surfing and other water sports but aren't optimized for those use cases. This article deals with compression clothing specifically designed for women.
How we picked
We looked at dozens of different compression shirts and narrowed it down to the seven best options. We considered factors like fit, fabric, design, and price. We also read through hundreds of reviews to see what people had to say about each shirt.
Frequently asked questions
What is a rashguard?
A BJJ rash guard is a practical and diverse athletic garment worn by BJJ athletes all over the world. It is important to know what to look for when choosing a rash guard for someone just starting out in BJJ (or considering a switch from the Gi).
What is the history of rash guards?
Rash guards started out as a way to train without the gi. The rash guard is a modern development in sport jiu-jitsu. They were originally developed for surfers but have been used by Brazilian Jiu-Jitsu fighters.
What are rash guards made of?
Nylon, polyester, spandex, and (rarely) lycra are common materials for rash guards.
Is a Rash Guard Necessary for No-Gi Training?
A rash guard should be worn for training, but a t-shirt or sleeveless shirt will suffice if you are not comfortable with it.
What Should I Look for in a BJJ Rash Guard?
Rash guards come in a variety of styles and should be chosen based on personal preference.
Rash guards come in a variety of styles and should be chosen based on personal preference.
The Quality of the material should be high and flatlock stitching is preferable.
Sublimated logos on rash guard are preferred because they will not peel off after a few rolls.
A rash guard with a rubber strip at the waistband will prevent ride-ups.
Rash Guard Alternatives
Compression shirt: The article recommends the use of cheap compression shirts to people who are just beginning at Brazilian Jiu-Jitsu.
Non-BJJ Rash Guard: A surf rash guard is a garment worn by water sports participants to block friction and protect the body.
How to Clean and Maintain your Rash Guard
To avoid damaging your rashguard, don't come into contact with velcro. Velcro can split the polyester. Instead, use a delicate net/bag to clean them. To avoid damaging the threads, cut off any loose ends before washing.
You can dry your rash guard on low heat, but you don't need to use a lot of heat. The material in rash guards helps them to dry quickly.
Turn your rash guard inside out.
IBJJF No-Gi Uniform Regulations
You must wear a shirt that is tight and covers your torso. It can be black, white, or black and white. It must be long enough to reach the waistband of your shorts. You must also have at least 10% of your rank color on your shirt.
The Final Word
Rash guards are an essential piece of BJJ training gear. They have many benefits and should be chosen based on personal preference. The quality of the material, flatlock stitching, and sublimated logos are important factors to look for when choosing a rash guard.