If you're looking for a good quality rash guard to help protect your skin while training Brazilian Jiu-Jitsu (BJJ), then you've come to the right place. In this article, we'll be taking a look at seven of the best BJJ rash guards on the market in 2023 and comparing them side-by-side.
We'll be looking at a variety of different factors including price, material, durability, comfort, and more. By the end of this article, you should have a good idea of which BJJ rash guard is the best option for you.
A quick look
Best BJJ Rash Guards
Recommend: Best Women's Rashguards
Here is my list of the best Brazilian jiu-jitsu rash guards from this year.
Best Overall
#1 Under Armour Men's HeatGear Rashguard
Their HeatGear® fabric is comfortable and has all the benefits of UA Compression. The stretch-mesh underarm panels deliver strategic ventilation. The 4-way stretch material moves better in every direction. The material wicks sweat and dries quickly. Anti-odor technology prevents the growth of odor-causing microbes.
#2 Hayabusa Fusion Long Sleeve Rashguard
The ultra-soft 4-way stretch fabric provides a comfortable compression fit that conforms to your body, allowing for movement. Protects your skin from potential infection, scratches, and mat burn. Wicks sweat to move moisture away from your body, keeping you as cool and dry as possible. Unique fabric shifts color as you move, utilizing an 8-panel construction with flatlock stitching for durable seams. This can be washed in a machine. Hang them to dry. Do not dry clean, bleach, or iron them.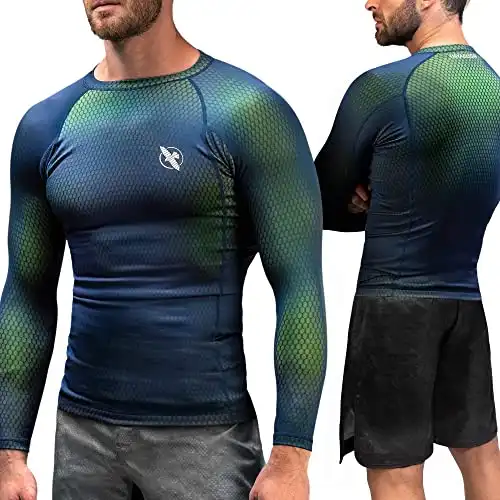 #3 Sanabul CORE Long Sleeve Rash Guard
Sanabul Essentials rashguards are a classic, clean style that you can wear with confidence. They are also legal to wear in IBJJF tournaments. Their rashguards have been tested by some of the best in the sport, like John Danaher, and they have proven that their designs are tough and provide good ventilation.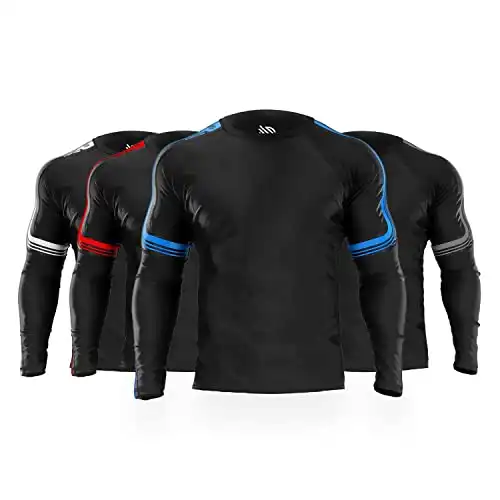 #4 Hayabusa Geo Short Sleeve Rash Guard
This Jiu-Jitsu rash guard has a geometric pattern that is helpful when you roll. It is designed to fit like a second skin and keep you cool and dry while you train. The fabric is silky and the seams are flatlock to avoid chafing. This rash guard will help to protect you from mat burns, scratches, and more.
The Geo series provides a comfortable fit that allows you to move freely. The fabric is smooth and lightweight so you can move easily, and the waistband keeps the shirt in place. This shirt is perfect for multiple activities. You can machine wash it in cold water and hang it to dry. Do not dry clean or bleach it and do not iron it.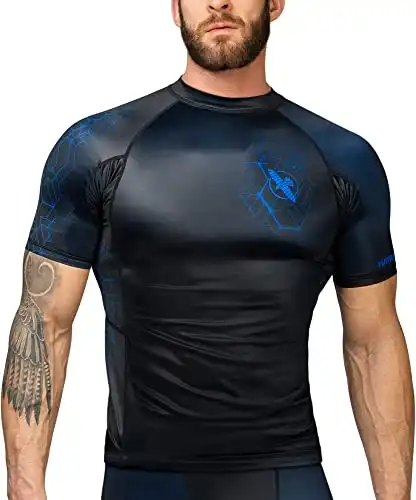 #5 Sanabul Essentials Rash Guard
This BJJ rash guard is a great value. It is low-priced and has good quality. You can choose from six designs and five sizes. It also has an antimicrobial treatment to prevent bacteria and fungi, and ventilated mesh under your arm to disperse heat. Plus, it has strong UV protection so you can wear it during other outdoor sports activities.
The IBJJF accepts this model for competitions. The flexibility and comfort are good, and this cheap BJJ rash guard will maintain improved blood flow throughout your muscles during high-intense activity. It also prevents you from hurting your elbows and arms.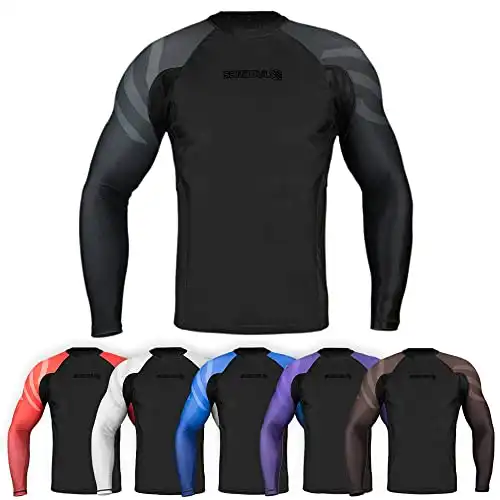 Best Simple Design
#6 Gold BJJ Foundation Rash Guard
The Gold BJJ Foundation Rash Guard is approved for IBJJF Competition. IBJJF Competition rules require at least 10% of your rash guard to be the color of your belt rank. It's best not to get disqualified for an illegal uniform. Even if you're not competing some gyms have dress codes that you have to follow.
Gold Foundation Rash Guard
This is a simple design and a reputable brand. It is IBJJF competition approved. This rash guard is comfortable, breathable, and durable.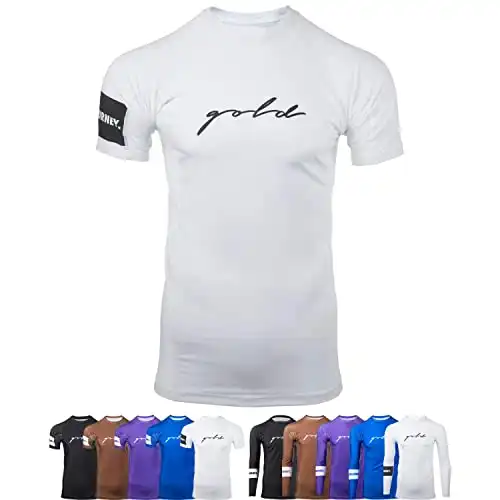 Budget Pick
#7 Elite Sports Full Long Sleeve Rashguard
Elite Sports Full Long Sleeve Compression is a cheap BJJ rash guard that draws the best from flexibility, comfort, durability, and price. It is my top choice when it comes to affordable BJJ rash guards.
It can be used for a variety of sports, has antimicrobial, and antifungal treatment. The rash guard has flatlock stitching, and it is made of spandex and polyester – it won't peel, crack, fade, or irritate your skin.
Your blood flow remains constant all the time and IBJJF approves this model. It is also our recommendation for women's rash guard for BJJ.
You can choose between five sizes and 7 designs, which makes it suitable for both genders. Long sleeves improve the level of protection. It also has anti-slip bands on the waist and sleeves, which is fantastic to keep your ground game sticky.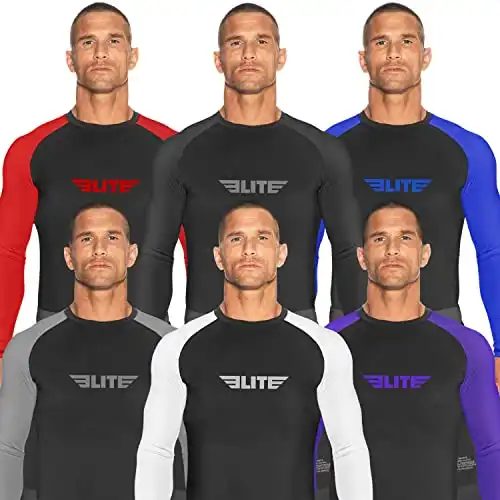 The Research
Why trust us
We start by looking at hundreds of product reviews on major retailers, forums and product databases. Where possible, we then check with experts on what to consider when purchasing and what their top picks are. For each product, we check to see if the retailer and the manufacturer are reliable.
We combed through a broad range of Amazon client evaluations, significant online shops, Reddit, and the companies' own websites to produce this list of top purchases.
We took into account the benefits and drawbacks of each product based on user feedback. In January 2022, we compiled data. Fakespot was used to analyze and eliminate products on Amazon with suspicious reviews.
Who this is for
This guide is for people who want to buy a new BJJ rash guard. This list includes the best options available, whether you are looking for a durable model or one that focuses on comfort and flexibility.
How we picked
If you have decided to buy affordable BJJ rash guards, of course, your primary option will be the price to quality ratio. However, we recommend you check material and design, size, hygiene, sleeve length, durability, flexibility, and comfort.
While we could easily neglect other parameters, these seven are the basis for a successful choice of cheap BJJ rash guards – you will not spend too much money but you will still be able to enjoy the same quality and performances as more expensive brands.
Material and Design
We would highly recommend picking a combination of polyester and elastane if you need maximum durability and flexibility. For those who want the best rash guard BJJ for easy maintenance, choose polyester and synthetic lycra.
Synthetic-lycra material, alongside the combination of polyester and spandex, keeps your ground game as sticky as possible. Spandex also means you will have to use a good washing machine.
If you rather have less grippy material, try the combination of nylon and spandex, polyester and spandex or polyester and elastane – can also result in the best rash guard for BJJ.
Make sure you pick sublimated designs – it means that dye should be printed directly on the garment.
Size: Good quality cheap BJJ rash guard should offer at least five sizes or more. Also, make sure to go through the provided rash guard size charts before ordering. Most brands use different measuring so you should properly measure your body and then order.
Hygiene: Look for anti-odor and anti-microbial technology. Make sure the chosen model has both or at least one of them.
Sleeve Length: Short-sleeved models are easier to maintain but the level of protection is worse. However, we recommend it to someone who trains in hot temperatures with lots of humidity.
Durability: BJJ is a contact sport and you will be dragged on the ground. Your BJJ rash guards should be able to handle all the friction. Spandex and reinforced stitching are the ultimate combinations for maximum durability.
Flexibility and Comfort: You should never feel too much pressure on your shoulders. You need to rotate on the ground with ease. Always take a look at whether your model has fabric stitching.
Our process:
Search for retailer reviews: merchant name + 'customer reviews'
Look for red flags: repeat failure to fulfill orders, fulfill wrong items, poor customer service.
Read policies: check to see at least a 30-day warranty. For big expensive items at least a one-year manufacturer's warranty. For mid-priced items a 60-day warranty is good. 
Look for Digital Payment Methods: Do they have digital wallet services like PayPal or Amazon Pay.
Third-party sellers: Check if they're fulfilled by Amazon. Check to see if the seller has consistent reviews. Check for a high customer satisfaction rating; 85% with 4+ stars.
FAQs
Q: What is the best rash guard for BJJ?
A: The best rash guard for BJJ is the one that offers a combination of polyester and elastane for maximum durability and flexibility.
Q: What are the benefits of wearing a rash guard?
A: Wearing a rash guard can help protect your skin from scrapes and cuts, as well as sunburn. It can also help to keep you cool in hot weather.
Q: How do I choose the right size rash guard?
A: Most brands offer size charts on their websites. Make sure to properly measure your body and then consult the size chart before ordering.
Q: How do I care for my rash guard?
A: Most rash guards can be machine-washed. Always consult the care instructions on the garment before washing.
Q: What is the difference between a short sleeve and a long sleeve rash guard?
A: A short sleeve rash guard offers less protection than a long sleeve rash guard, but it is easier to maintain.
Final Words
Choosing the best BJJ rash guard doesn't mean you should stick to the cheapest model. Think about all the performances before you pick your rash guard.
We believe the best value model for a cheap price is Elite Sports Full Long Sleeve Compression. If you enjoy mostly no-gi, try Sanabul Essentials Long Sleeve Rash Guard out. Long sleeves will protect you during rotations and your muscles remain flexible during all types of the ground game.
End of the day, you're the one who decides so make sure to scour the Amazon and check other models too. Enjoyed reading? Make sure to comment down and share this buying guide with your friends.