If you're looking for a cheap gi that won't break the bank, the Sanabul Gi is a great option. It's made of 100% cotton and comes in a variety of colors, so you can find one that fits your style. The gi is also pre-shrunk, so you don't have to worry about it shrinking in the wash.
The Sanabul Gi is a great choice for beginners or anyone on a budget. It's comfortable and durable, and it won't cost you an arm and a leg. So if you're looking for a cheap gi that won't let you down, the Sanabul Gi is the way to go.
How we chose
Quality. We included items produced by reputable manufacturers that adhere to good manufacturing processes.
Vetting. We take product selection seriously. We only want to recommend the highest quality products, which is why we carefully vet every potential supplier.
Price. We try to provide options for everyones budget preferences.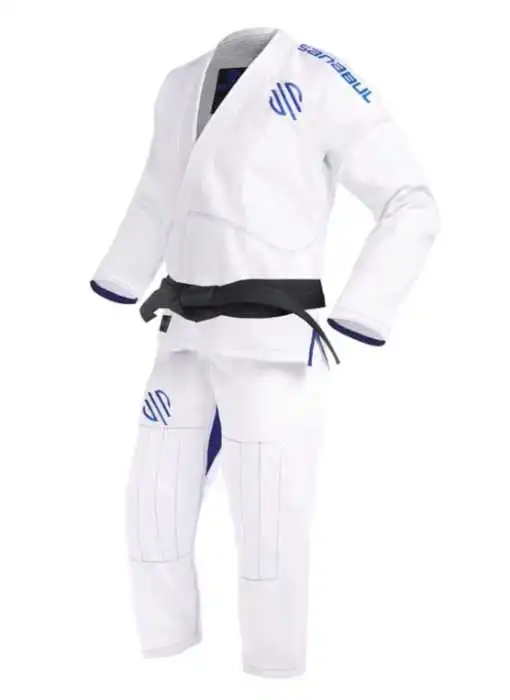 Sanabul Essentials 2 Review
This Gi's stitching is nicely done and it seems quite durable. The fabric is light and airy making it great for hot weather training, or if you just run warm. The price is fantastic, and it comes in a wide variety of colors to choose from.
Weaving
Single weave kimonos, though less resistant to tearing than twin weaves, are well suited for lightweight training.
If the gi only lasts for 1-2 years, it doesn't matter.
The Sanabul Gi is very lightweight and very sturdy. One of the verified buyers said that he has been training for 2+ years without any tears in his Gi. That sounded genuine to me.
The fabric used in Sanabul Gi has an Antimicrobial and Anti-Odor treatment. I can confirm this because after hanging it outside (before washing it), it still smelled clean.
If you're looking for a good gi, it's important to find one that has antimicrobial fabric. This will help keep the gi clean and free of bacteria.
Aesthetics
The contrast stitching of grey stands out and makes it look like a Gi double its price. The embroidery is clean and stylish, but also has a nice minimalist feel, which is great for adding your own patches of your club.
The gi did not shrink a lot when I washed it. This is always a concern when you wash a gi.
I always wash my gis in cold water, but even then they can shrink. So it's important to consider this when choosing a gi.
The Sanabul Gi has not become tougher over time, but has actually gotten softer. This is a good thing because it means that the quality of the Gi is good.
I have used the Sanabul gi over 6 times in training. This is based on my experience writing this Sanabul gi review.
This is a great training gi because it's breathable and lightweight. It feels slim, so it's comfortable to wear.
Specifications
Features:
The tapered athletic cut eliminates the excess Gi material and bagginess of a traditional Gi.
Reinforced stitching in the jacket and pants
These pants are lightweight and have a contrasting gusset. The rope drawstring makes them easy to adjust to your size.
The company uses preshrunk ultra-lightweight pearl weave fabric. This is the same type of fabric that does not shrink in cold water.
This Pearl Weave fabric is perfect for summer training or competitions because it is lightweight and durable.
Note:
Not IBJJF Competition Ready: The main problem with Sanabul Gi is that it's not IBJJF Competition ready. Which for me is not a huge downer as I will rather use a nicer Gi for my competition. But for those that have only 1 Jiu-Jitsu Gi, this is probably an important consideration. My advice is if this going to be your only Gi is to get the IBJJF ready Sanabul Highlight Gi which costs under $100.
Pants Are A Little Baggy: The only other negative thing was the pants which were slightly big for me. I did a hot drying cycle 2 times and they fit perfectly (so, everything worked out eventually).
You can also get the Sanabul Gi for Kids.
Sanabul Gi Size Chart
One of the biggest problems of buying a BJJ Gi online is sizing. Each brand has its own sizing chart which makes it difficult to understand the correct size you need.
The Sanabul BJJ Gi runs small. I recommend you order one size down for the perfect fit.
You can check our complete Gi size chart to understand how to find a perfect fit.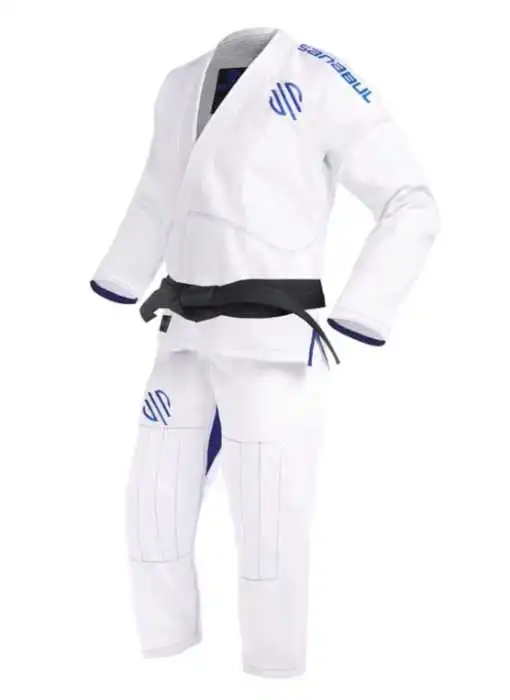 The final word
A good BJJ Gi will last for years and accompany you in every training or competition. Some of the most popular Gis sell for hundreds of dollars which can be out of budget for many.
With Sanabul BJJ Gi in the market, you don't have to invest in a costly BJJ Gi to get good quality.
I hope it helped you.