Traditional Brazilian Jiu-Jitsu cannot be performed without a Gi. If you really want to find the best bjj gi to fully satisfy your needs, you need to do some good research.The best BJJ Gi is usually a combination of individual needs as well as finding a high-quality and well-built kimono.
It can be the best-looking BJJ Gi, its performances can be world-class, but maybe the sleeve length won't be the proper length or maybe your body cannot breathe in it. Jiu Jitsu gis aren't the cheapest so its good to put some thought it buying one.
That's why it's good to look at as many factors as possible when choosing the right Gi.I would also highly recommend keeping in mind some aspects of a BJJ Gi that are important to your individual needs (shared below.)
A quick look at the best gis
Recommended Reading: Jiu Jitsu Gear List
Best BJJ Gi
Here is my list of the best BJJ gi from this year.
1. Gold Bjj Aeroweave Ultralight Gi
This is one of the lightweight gis on the list. Their Aeroweave Gi is a great choice for your next training session. It is 40% lighter than a standard pearl weave gi, making it more comfortable and allowing you to breathe better. It is also very durable, so you can be sure it will last for many sessions to come.
The Aeroweave gi is one of the lightest gis available. This gi is breathable and light. It is made with a 275 GSM jacket and 10oz ripstop pants. This makes it perfect for hot days at the academy. All of their gis are pre-shrunk, so you can wear them as soon as you get them and be confident about the fit.
This gi is designed for durability. The EVA Bolstered Collar, Ripstop-lined cuffs, and reinforced stitching at all high-stress points make it strong and long-lasting.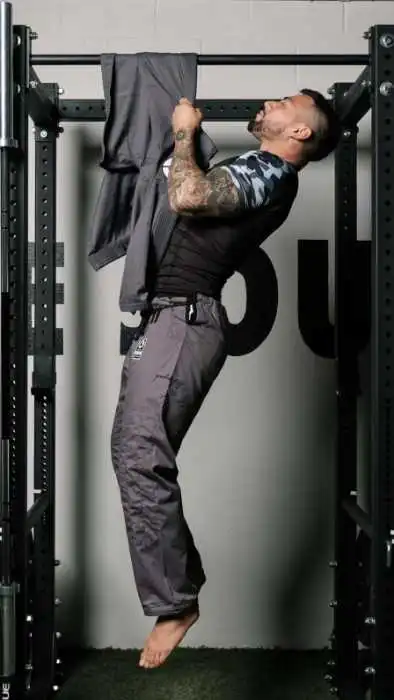 2. FUJI All Around Bjj Gi
The FUJI All Around is a comfortable, durable, and affordable Judo Gi. It is built to last and designed for heavy-duty daily training. The simple look and feel good on the mats make it popular with world-renowned organizations such as Ribeiro, Team Renzo Gracie, Rilion Gracie, and thousands of others.
This shirt has a few minimal decorations with FUJI embroidered logos on the sleeve, back of the neck and pants.
Fuji All-Around BJJ Gi
This is a mid-weight traditional weave gi with cotton twill pants. It's durable and has a simple design. It is IBJJF (White, Black, Blue), NABJJF, and UAEJJF Approved.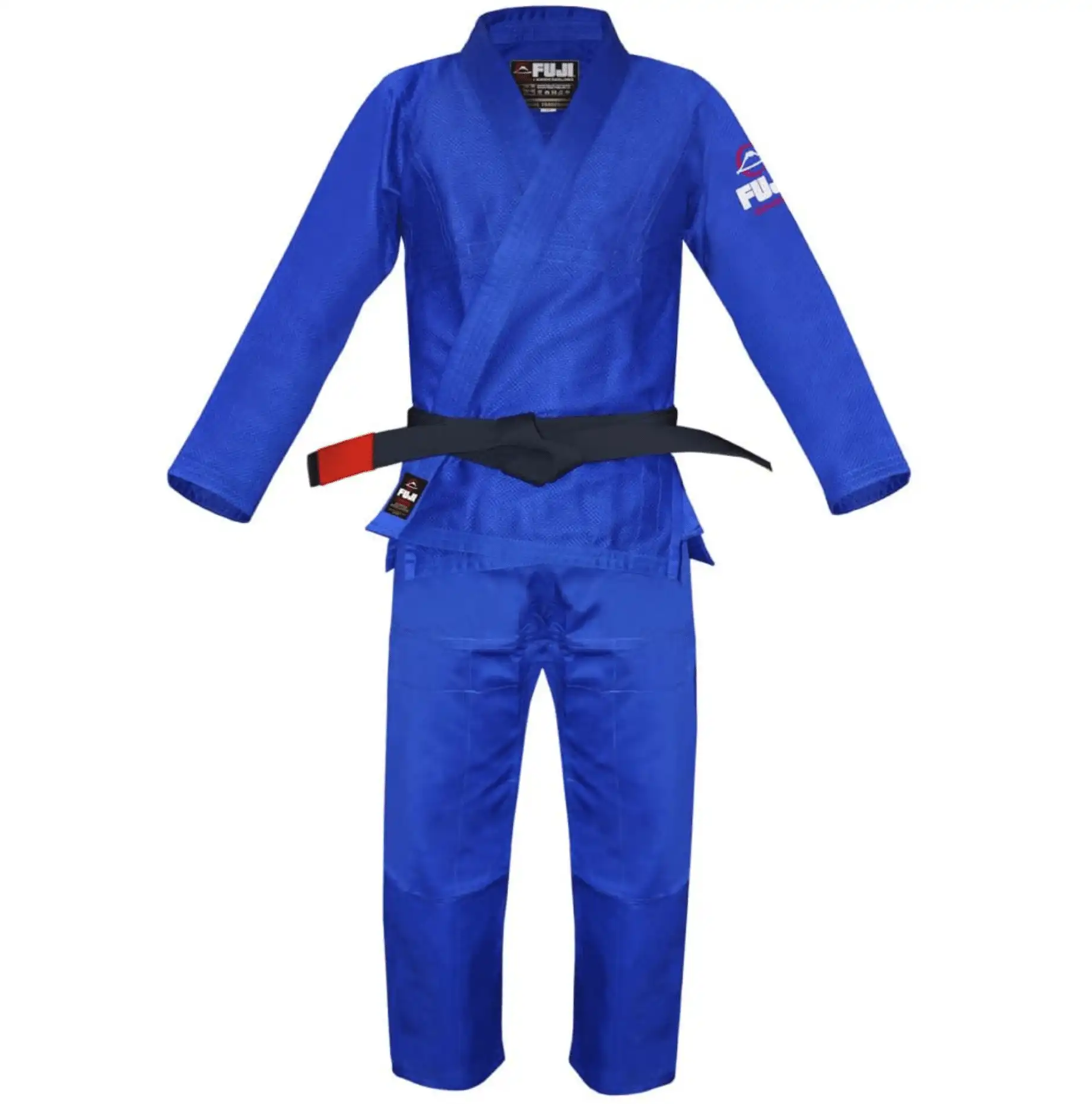 3. Sanabul Essential v.2 Ultra Light Gi
The Essentials Series is designed to be a great gi for anyone – whether you're just starting out or you're already experienced in Jiu-Jitsu. Their gi you buy will be the right size when you buy them. If they are too big, you can wash them in cold water and hang them to dry. If they are still too big, you can wash them in hot water and put them in the dryer to make them fit better.
Their gi is both lightweight and durable. The fabric is breathable and perfect for training in all weather conditions.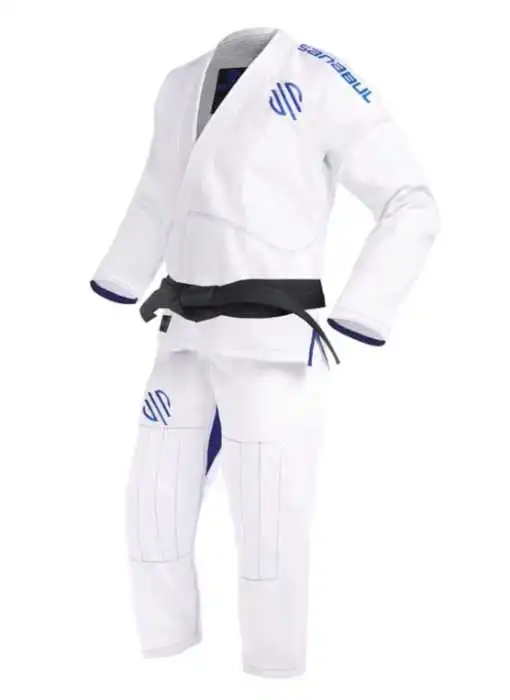 4. Senso Bjj Yuki Gi
The Yuki is inspired by a legend of a fish called the koi. This fish is said to swim up a waterfall and become a dragon.
This gi has a Coolmax lining inside the jacket. This helps keep you cool during training. The jacket skirt and gusset also have Coolmax fabric. This helps keep you dry and comfortable. The gi also features a colorful Koi pattern.
Senso Jiu Jitsu Yuki Gi
Pros:
450 GSM Pearl Weave 100% Cotton Jacket

10 oz 100% cotton RIP STOP pants

COOLMAX® fabric lining inside the jacket (shoulders and waist) and pants (gusset)

Ripstop lapel

High definition embroideries

Brushed cotton jacket (soft/comfortable)

Slim fit

Reinforced knee pads

Competition Gi

Traditional white gi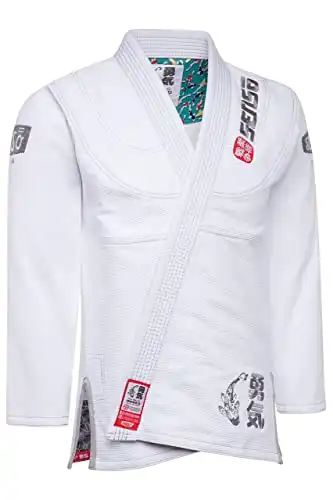 5. Tatami Nova Absolute Gi
The Nova Absolute is a 350 GSM Pearl Weave Jacket and 10 oz Ripstop pair of pants, the Nova Absolute Black Gi is one of the most comfortable and stylish gis on the market. The pants feature a reinforced knee area to help prevent wear and tear, while the jacket is designed to provide a snug fit without being restrictive.
The Nova Absolute Black Gi is available in sizes A0-A6
Tatami Nova Absolute Gi
Pros:
Available in black, white, blue & khaki

Lightweight gi

350 GSM pearl weave jacket

10oz cotton tapered pants

Free white belt

Competition Gi

Gilbert Burns is 5ft10 and wears a size A2

100% cotton

30° wash cold/hang dry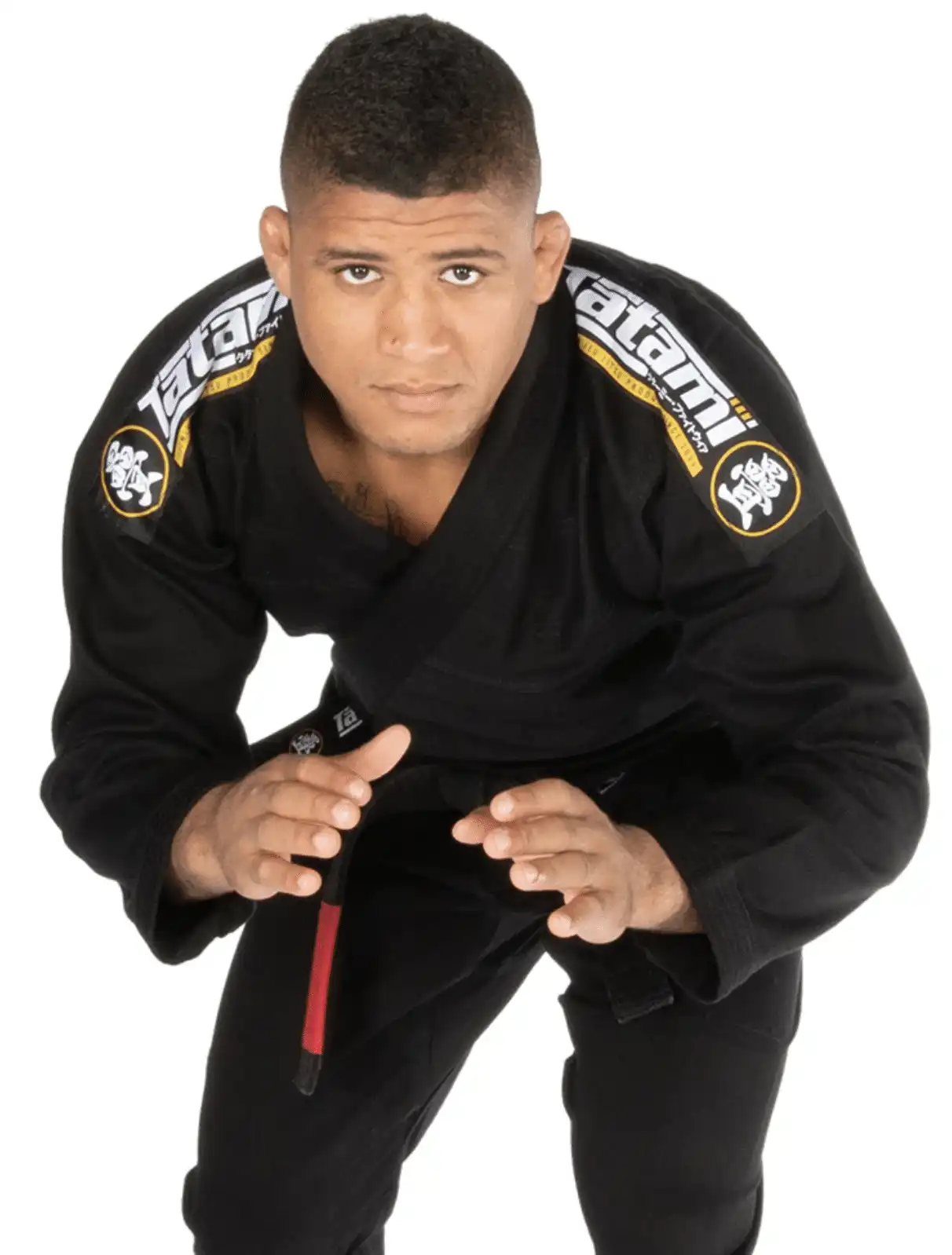 6. Origin Competition DNA Atleta Gi
The White Comp DNA Atleta is a new type of weave that is inspired by older weaves. It has American Smart Pearl© Gen 3 tech which makes it better than older versions.
The Comp DNA Atleta comes with Origin's classic style pants. But don't be tricked by the word "classic." The pants are made with their Atomic Twill GEN 2 performance textile. They're resistant to abrasion, they wick moisture away from your skin, and they release soil. Plus, they're made in the USA. You can upgrade your Comp DNA Atleta to Origin Pro Pants for an extra $20.
They have developed a new type of yarn that is much stronger than their current yarn. This new yarn is also much stronger than the industry standard. The yarn is made up of hexagonal shaped fibers that interlock with each other. This allows moisture to pass through, but the yarn does not absorb any moisture. This is a high quality gi.
The first fabric that came off the loom was almost too good to be true. People were excited about it and they tried to destroy it. But the more they washed and dried it, the better it became.
Origin Competition DNA Atleta Gi
Pros:
Approved for IBJJF Competitions

American Smart Pearl© Gen 3 tech for improved weave pattern

Moisture Wicking

Premium Gi

Durable gi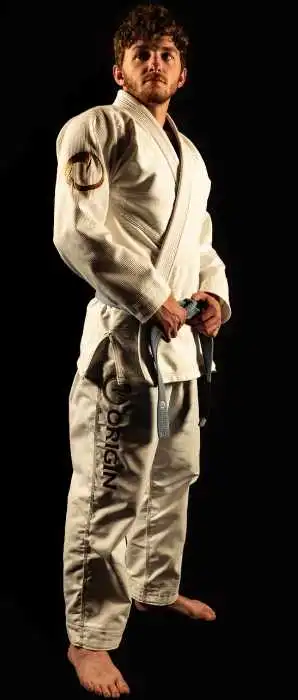 7. Hayabusa Lightweight Jiu Jitsu Gi
The Hayabusa Lightweight Jiu Jitsu Gi is made with a lightweight, yet durable fabric. It is breathable and comfortable, making it perfect for hot days at the academy. The gi is available in sizes A0-A5.
This Jiu-Jitsu gi is versatile and perfect for all styles. It is lightweight, cool, and comfortable. You will be able to move easily on the mat with this gi. The construction is tough and it can withstand intense training sessions.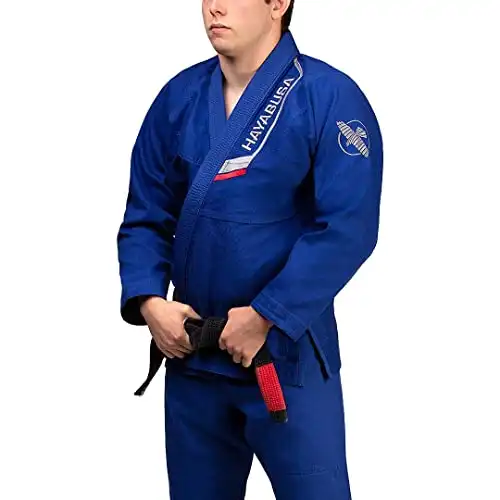 8. Twister Progress 5.0 Bjj Gi
This BJJ Gi is perfect for all types of training and competition. It is made with a combination of softness and weight, making it better than other brands. The patches and embroidery on the lapel, chest, shoulders, back, and legs make it attractive and stylish. It is available in one color.
The Twister Jiu Jitsu Gi is made from pre-shrunk fabric, so you don't need to worry about it shrinking after the first wash. Simply wash your Gi in cold water and hang it to dry.
Twister Progress 5.0 Gi
Pros:
A0 - A4

EVA Rubber Colar

Pearl Weave fabric

Premium materials

Premium embroidery

Budget Gi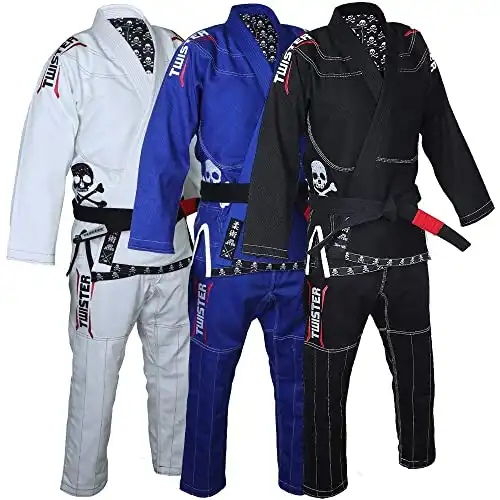 9. Kingz The ONE Jiu Jitsu Gi
Jiu Jitsu is for everyone, regardless of how much money they have. That's why Kingz created The One Jiu Jitsu Gi.
The One Jiu Jitsu Gi is made from a 400 GSM High-Tech Pearl Weave jacket and has ample reinforcements in all the major stress points. The lapel is made from a synthetic heat resistant vulcanized rubber that keeps the gi light, allows for faster drying, and prevents fungus and bacteria build-up.
The design on each arm is simple and elegant, with an iconic Kingz crown on the back of the neck and The One logo on the front of the skirt. The pants are made of 100% 10 oz cotton and are extremely comfortable. They have a Kingz crown on the right thigh and The One logo on the left shin. The interior seams, which are most likely to fray, are reinforced with soft cotton taping.
The One kimono is a high-quality, comfortable kimono that is perfect for everyday training at any experience level.
Kingz The ONE Jiu Jitsu Gi
Pros:
400 GSM High Tech Pearl Weave jacket

Triple reinforced stitching across all stress points

Made of one piece fabric for superior strength and durability

Synthetic heat resistant vulcanized rubber lapel insert

Soft cotton seam taping

Competition Gi

10 oz cotton material

Double reinforced knee padding

Cord drawstring with 6 loops

Free white belt included

100% IBJJF Legal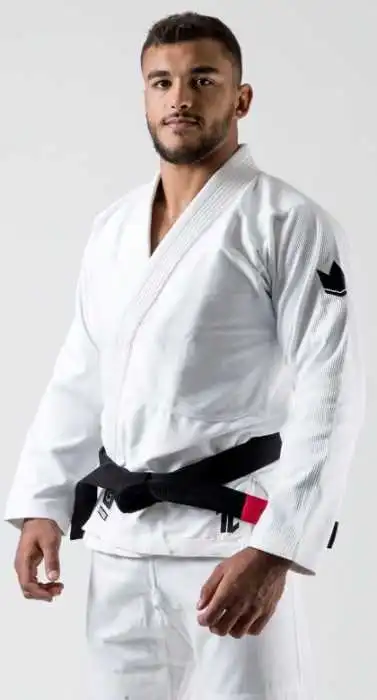 10. Venum Contender 2 Gi
This is the second version of their Venum BJJ Contender Gi. It is more durable and comfortable than the previous model!
The jacket is made of Pearl Weave Cotton which is strong and comfortable. The seams are also reinforced for extra strength.
The collar is reinforced with EVA foam to help you resist grabs and defend against your opponent's attacks.
The pants are made of 100% cotton. The fabric is also strengthened at the bottom of the legs and around the cuffs.
Venum Contender 2.0 BJJ Gi
Pros:
Pearl Weave cotton

Jacket 350 gsm with rounded, reinforced slots.

Collar EVA foam soft

Moisture management

Trousers are made of 100% cotton and are reinforced at the inside of the leg and ankle.

Fast clamping system that uses a rope.

Pre-shrunk

Competition Gi
11. Vulkan Essential ND Gi
The Essential ND has a great fit that is carefully designed to meet Vulkan's quality standards. It is pre-shrunk and made in Brazil on Vulkan's own production line so you know it will be a good fit. It is also light and sturdy, making it perfect for adding patches from your team, school, or professor.
The EVA foam collar is resistant to microbial contaminants, odors, and stains. This makes it a comfortable and safe choice for use on the mats and in competitions. The ultra-reinforced seams resist wear and tear, making it ideal for daily use.
The Vulkan Essential is available in white only, and it comes in adult sizes from A00 to A4. This product is designed in California, and it is 100% manufactured in Brazil.
Vulkan Essential ND Gi
Pros:
SMART FIT cut

Pre-shrunk 100% Brazilian cotton fabric

EVA foam collar

Reinforced seams

Clean Style with Vulkan Patches on both shoulders and upper side of the legs.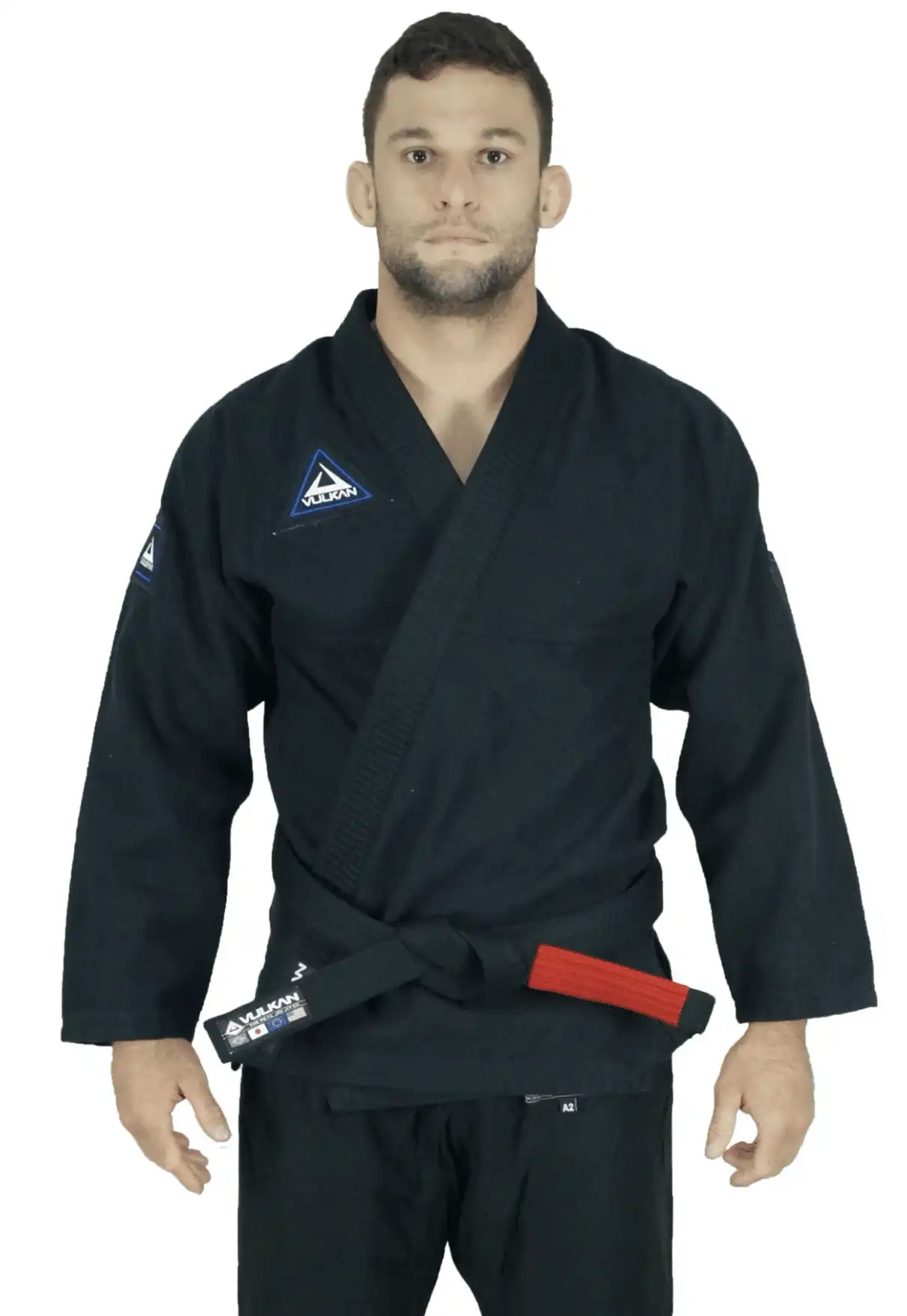 The Research
How we do the research
We start by looking at hundreds of product reviews on major retailers, forums and product databases. Where possible, we then check with experts on what to consider when purchasing and what their top picks are. For each product, we check to see if the retailer and the manufacturer are reliable. You can see more about our process here. You can also read more about who we are on the about page.
Who this is for
This is for anyone who wants to buy a new Gi for Brazilian Jiu Jitsu (BJJ). It includes reviews of some of the best BJJ Gis on the market, as well as what to look for when purchasing a Gi.
Key Decision-Making Factors
When purchasing a Gi for BJJ, there are a few key factors to consider:
Size and Fit
The first thing you need to do is make sure you get the right size. Gis typically come in sizes A0-A5 (or 00-5). You can use this size chart to determine what size you need. Once you have your size, you need to make sure the Gi fits you properly. This means that the jacket should not be too big or too small, and the pants should be the right length.
Durability
The material of the Gi is also important. You want a Gi that is made of a durable material that can withstand a lot of wear and tear. Cotton is the most common material used for Gis, but there are also Gis made of hemp, bamboo, and other materials. We looked at the quality of the collar, jacket, pants, seams, draw strings, the wear and tear after washing, how much the Gi held up after washing it, and how it held up after rolling.
Reputation of the Retailer and Manufacturer
When purchasing a Gi, it is important to purchase from a reputable retailer or manufacturer. We looked at the reputation of the retailer or manufacturer, as well as their return policy. We also looked at customer reviews to see if there were any common complaints about the Gi.
Price
The price of the Gi is also important. You want a Gi that is affordable, but you also want one that is made of high-quality materials.
How to get the best fitting gi
At first, the "A" size system for Brazilian Jiu Jitsu gis may be perplexing. However, it is not difficult to figure out which size will suit you best, depending on your weight and height. A basic sizing chart is included below. However, keep in mind that different brands' size charts might vary significantly, so double-check before buying a Jiu Jitsu uniform.
This size chart is only a guide. I'm 5'10" and 160 pounds, so this size chart may not be suitable for everyone. Every individual is unique, therefore your Gi should reflect that. It's awful to wear a gi that isn't the right fit. Brazilian jiu-jitsu Gis shouldn't be restrictive or painful to move in.
Remember that if you are overweight and starting Jiu Jitsu for the first time, you could lose weight while training. I know several friends and training partners who have transformed their bodies dramatically in a short amount of time through martial arts practice.
If you're attempting to reduce weight by practicing Jiu Jitsu, make sure you don't spend too much money on a gi that will eventually be too big for you. Before spending lots of cash on a more pricey gi, consider beginning with an inexpensive one like Elite or Sanabul's.
Price/Quality Ratio:
Remember, a cheaper Jiu-Jitsu Gi doesn't mean it will necessarily be bad quality, and vice-versa. On average better quality BJJ kimonos usually cost more money, but you can freely purchase a mid-price Gi which fulfills all your needs.
The best Jiu-Jitsu Gi usually costs around $100-200 dollars but you can find amazing Gis below or above this price range. A general thumb of rule is that if you're paying more, you should get more features, better quality, and better look.
Available Sizes:
The best model is the one which has a large selection – from kids sizes to tall and husky sizes. A minimum of four sizes would be optimum when choosing your gi.
Individual Needs:
Maybe the best reason why 90% of the population will say the best BJJ Gi 2018 has to be very modern in terms of style and quality, weight, while others enjoy a traditional heavy Gi. Individual taste and preference vary especially when it comes to the design, feel of the fabric and the weight of the gi.
Design:
Take a good look at whether the stitching is reinforced. Double or even triple protection of your lapels and weak spots like knee or elbow reinforcement is also a big plus. The best BJJ Gi should be able to maintain all the drags, rolls, and position switches.
Material and Build-Quality:
It needs to be made of something that will last. It is usually a Santec fabric or honeycomb cotton that really makes a gi last a long time. Make sure the label is also made of high-quality material. We recommend the collar to be rubber reinforced.
Comfort, Weight, And Durability For Best BJJ GI:
A lightweight gi would be the best BJJ Gi for beginners because many new BJJ practitioners exert too much energy and can get overheated. A heavier Gi is excellent for hard training with more experienced practitioners. If your shoulders are too narrow or the length of the sleeve is too long, it might also be an issue and worth considering when buying a Gi.
Women's Jiu Jitsu Gis
Many companies produce gis for women now. I reviewed the best BJJ gis for women in a previous article, including some of the top choices accessible.
Frequently asked questions
What gi does Joe Rogan wear?
Datsusara hemp jiu jitsu gi.
A premium gi can cost anywhere from $100 to $400.
What Is The Best Jiu Jitsu Gi Material?
Pearl Weave tends to be the best material; however, new tech is being worked on constantly by manufacturers.
What are the different types of Gi
Beginner – typically made from a single weave or ripstop material. They are less expensive, but the difference in price means that they are of lower quality.
Lightweight – These weigh less than a regular gi and are good for hot weather.
Double Weave – A double weave gi is a very strong and heavy gi.
Competition – A competition BJJ gi is designed for tournament play. These are strong and designed so they follow common competition uniform requirements.
Travel – A BJJ travel gi is a really light gi that you can take with you when you travel.
Premium – A premium BJJ gi is for when you want to look your best.
What are the types of BJJ Gi Weaves
Single Weave – single weave gi pattern
Double Weave – this need twice as much material.
Gold Weave – This is a mix between the double and single weave.
Pearl Weave – The air flow will go through, but it will be tight and form little balls or "pearls" in the material.
Ripstop – The lightest of all gi weaves is the square/grid pattern.
Hemp Weave – soft, strong and durable
What are the best BJJ gi brands?
There are many high quality bjj brands. Below are a few with a good reputation.
Gold Bjj
FUJI
Vulkan
Sanabul
Venum
Final Thoughts
Picking the best BJJ Gi can be quite confusing at times. This is because it should fit you well and give you a comfortable feel, last longer, and allow you to enjoy the sport.
The search for the best Jiu-Jitsu Gi has never been easy, that is why this article was to give you some good insight into which were my tried and tested best picks for BJJ Gi.
In the end, it should be your final decision to buy the Best BJJ Gi that'll stay with you for years to come.
You might also be interested in picking up a good BJJ headgear to protect your head against injuries. Also, buy a knee pad if you want to be extra protected while rolling.