In this guide, we'll cover everything you need to know about Brazilian Jiu-Jitsu for kids. We'll discuss why BJJ is an excellent martial art for kids, what gear they need, where to find classes, and how to get started.
BJJ is a great martial art for kids because it teaches them practical self-defense while also helping them build confidence and character. Unlike other martial arts, BJJ does not require its practitioners to be physically strong or aggressive. Instead, BJJ focuses on leverage and technique, which means that smaller, weaker kids can often defeat larger, stronger opponents.
In terms of gear, kids will need a jiu-jitsu gi (uniform) and belt, as well as some basic protective equipment, such as mouthguards and headgear. Most gyms offer jiu-jitsu classes specifically for kids, and many also provide kids' programs that combine martial arts with other sports, like wrestling or gymnastics.
If you're ready to get your kids started in BJJ, the first step is finding a reputable, experienced instructor. Once you've found a good fit, your child will be well on their way to becoming proficient!
Reasons Kids Should Train Jiu-Jitsu
1. Jiu-jitsu can help kids stay safe and self-defense
As kids get older, they become more independent and are often left to walk or take the bus to school by themselves. This can be a scary time for parents, as they worry about their child's safety. Jiu-jitsu can help give kids the confidence and skills they need to defend themselves if they are ever attacked.
It can also help with bullying. Bullying can be a big problem in schools, and many kids may feel helpless to defend themselves against their bullies. With jiu-jitsu, kids can learn how to protect themselves from physical attacks and stand up for themselves verbally.
2. It teaches self-discipline and focus
In today's world, kids are constantly bombarded with distractions. From phones and tablets to video games and TV, it can be hard for them to focus on anything else Jiu-jitsu can help kids learn to focus and be disciplined. It requires them to pay to detail and stay focused on the task at hand, which can transfer over to other areas of their life.
3. It builds self-confidence and self-esteem
Jiu-jitsu is often referred to as a "mind game" because it requires mental toughness and focus. Practicing Jiu-jitsu can help kids learn to believe in themselves, boost their confidence, and feel more comfortable in all kinds of situations. This can be especially helpful for kids that struggle with low self-esteem or anxiety.
4. It's a fun and challenging sport
For kids, learning Jiu-jitsu is often an exciting and fun experience. They get to learn new moves, compete in tournaments, and make friends along the way. Jiu-jitsu can also be a challenging sport that requires dedication, focus, and perseverance. This can help kids develop important mental toughness skills like determination and resilience.
5. It helps kids make friends and stay active
In addition to the physical and mental benefits of training Jiu-jitsu, kids can also enjoy socializing with other kids who share their love for the sport. They can make new friends and get in some good exercise at the same time.
6. It can improve academic performance
Jiu-jitsu requires focus, discipline, and concentration—skills that are also important in the classroom. Practicing Jiu-jitsu can help kids improve their concentration and focus, which can lead to better grades and academic performance overall.
Best Kids BJJ Gis
Here is my list of the best BJJ gis of 2023 — ranked and reviewed.
The Ultimate Jiu Jitsu Gi is a lightweight and unrestrictive garment for children. Pro Fighters use the same uniform as their adult counterparts, but with a thinner material. This jiu-jitsu gi is designed specifically for kids and provides the comfort, strength, and range of motion they need.
This shirt is made of a soft and lightweight fabric that's comfortable to wear while training. The perfect fit allows for unrestricted mobility so kids can train comfortably.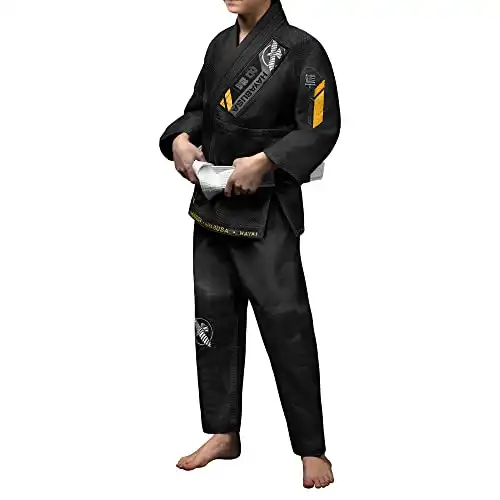 A limited-edition, this world, collection of Jiu-Jitsu Gi's inspired by the NASA insignia and colors. The single weave fabric in this gi is resilient and sleek, and it has an athletic fit for a tailored look. Sanabul Gis run larger than other brands and they created a size chart to help you figure out what size gi to buy.
The gi won't shrink if you wash it in cold water and hang dry it. If you want to intentionally reduce the size of the gi, wash it in hot water before drying it in a dryer. The washer and dryer's hottest settings will reduce the gi by 2-3 inches in length while also making it more form-fitting.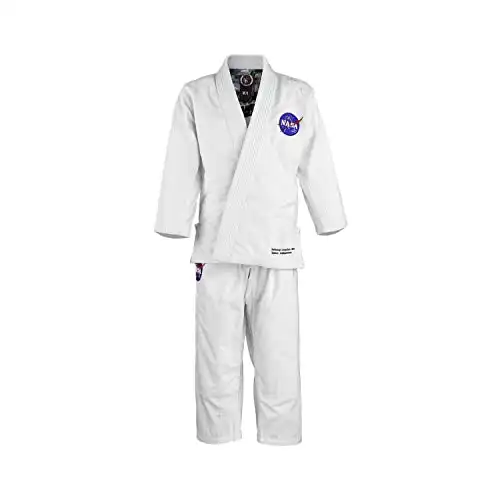 FUJI's BJJ uniform for kids is a strong and durable Gi made of premium cotton material. It is a sturdy and comfortable choice. It comes in multiple sizes and colors, so there is something for everyone.
The FUJI Jiu-Jitsu Gi for kids is made with extra reinforcements to make it last longer and be more resistant to tears. It is made of a cotton-blend material. The pants have an elastic waistband and are available in sizes C00-C3.
The BJJ Gi for kids includes a white belt and free sew-on patches!
This Brazilian Jiu-Jitsu Gi is made from 60% cotton and 40% polyester. The belt is tied closed and it comes in 6 sizes. You can find the size you need by looking at the product images. This Gi is made from preshrunk fabric, so you don't have to worry about it shrinking in the wash. The fabric is strong and durable, making it a good choice for training. This Gi is approved for IBJJF competitions. It comes in pink, black, and other traditional colors, and both boys and girls can wear it in different sizes.
This jiu-jitsu Gi for kids comes with a free white belt. The belt has a stripe bar to show off your accomplishments. The belt is made of lightweight and durable material. This will help reduce bad smells. The material disperses sweat faster, so the odors won't distract you during training. You can wash the BJJ kimono after training and wear a clean jiu-jitsu Gi every time you train.
Elite Sports Kids GI
Pros:
60% Cotton, 40% Polyester

Belted closure

6 sizes

No shrinking

Ibjjf approved

Free white belt

Reduces bad smell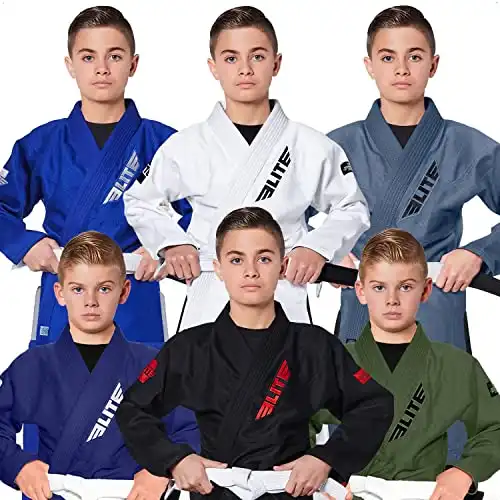 This jacket has a belt closure and a new, improved size chart. The fabric is made of lightweight Santec weave cotton which is more comfortable than the traditional, heavier fabric used in most other BJJ gis. Kids will hate having to wear a heavier jacket.
If you want to avoid shrinkage, wash your gi in cold water and hang it to dry. However, if you want the gi to shrink, you can wash it in hot water and put it in the dryer. The lightweight cotton pants with the new elastic waistband prevent the need for a drawstring. The reinforced double stitching in the jacket and pants makes this gi extra durable. The performance fabric helps extend the lifespan of your gi.
Sanabul Future Legend Kids Gi
Pros:
Belted closure

Note: for past buyers they have a new gi chart

A new and improved size chart for a lightweight cotton gi that is more comfortable than most other brands, but will shrink if you want it too.

The pants have a new, elastic waistband that prevents the necessity of tying the drawstrings.

Durable and longer-lasting

Does not include belt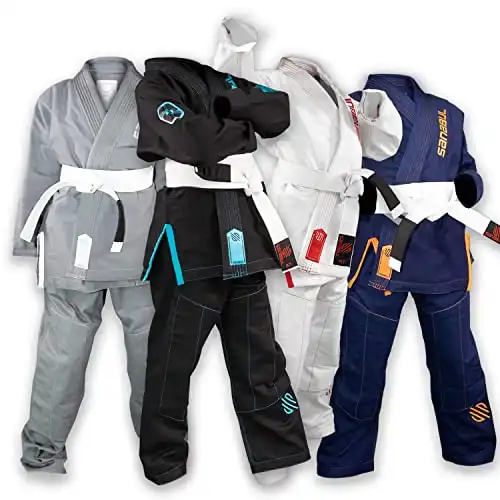 This is a competition gi that is made from 100% cotton. It is 450 GSM and has a pearl weave top. The fabric has been pre-shrunk and the colors are very eye-catching. There is double fabric in the knees and lower leg, as well as a rope belt for a secure fit. The inner lining band on the inside cuff of the pant leg makes it more comfortable to wear.
The Venum contender kids BJJ GI is very comfortable and strong. This will help your child develop fully. The jacket is reinforced in the armpits and at the bottom of the jacket so it does not tear. The kimono collar is also reinforced with foam to help your child resist grips and improve his attack technique. The 100% cotton trousers are also very strong, with reinforcements at the crotch and ankle. Plus, the Venum contender kids BJJ GI comes with a free white belt.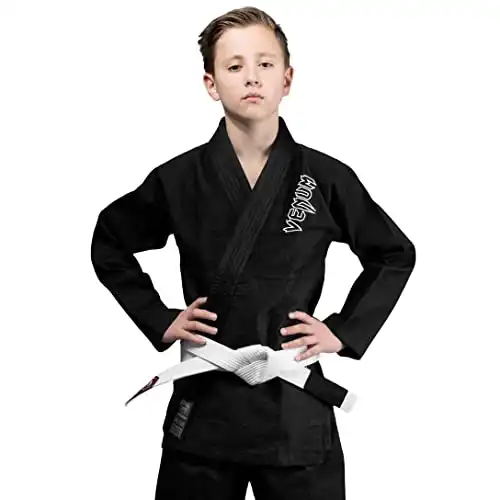 Recommended: Gi Sizing Guide
Frequently asked questions
What should kids wear to Jiu-Jitsu?
There is no one-size-fits-all answer to this question, as different kids may prefer different styles or brands of Jiu-Jitsu Gi. Some popular options include the Elite Sports Kids Gi, KO Sports Gear Kids Gi, Sanabul Future Legend Kids Gi, and the Venum Contender Kids BJJ GI. When choosing a gi for kids, you should look for a lightweight and breathable fabric, reinforced stitching, and comfortable fit. Additionally, it is important to choose a gi that has been approved by IBJJF competitions if your child plans on competing in tournaments.
How long does a Kids BJJ Gi last?
With proper care, a kid BJJ gi can last for several years. However, kids grow quickly, so you may need to buy a new gi every one to two years.
How do I wash a Kids BJJ Gi?
To avoid shrinkage, it is best to wash your gi in cold water and hang it to dry. However, if you want the gi to shrink, you can wash it in hot water and put it in the dryer. Additionally, some lightweight gis is designed to be machine washable, which can make laundry easier. Always follow the care instructions provided by the manufacturer of your gi when washing or drying it.
How many Gis should my kid have?
There is no definitive answer to this question, as it will depend on a number of factors such as how often your child trains, how long he or she wears each gi before washing it, and personal preferences. However, most kids will want at least two or three different Gis for use during different training sessions or competitions. This can help prevent wear and tear on the gi, as well as making sure that your child always has a clean gi to wear. Additionally, some kids may prefer having different-colored Gis for different training sessions or competitions, which can help them stay organized and visually motivated during their Jiu-Jitsu journey.
Guys vs Girls in BJJ
A young girl walks into a boys' jiu-jitsu class. She's small but determined. The boys in the class already know not to hit girls, but they're still hesitant to spar with her. They try to go easy on her, but she quickly proves that she can hold her own. She's so good that the boys start to respect her as a fellow fighter. Soon, she's one of the best in the class. Girls can do jiu-jitsu just as well as boys – sometimes even better.
Final Thoughts
Jiu-jitsu is an incredibly rewarding and empowering sport for kids of all genders. Whether your child wants to compete, learn self-defense, or just get in better shape, jiu-jitsu can provide the tools they need to succeed.